DeSantis Strikes at Sheriff's Probe with Reference to Migrant Tragedy
Florida Governor Ron DeSantis is defending his migrant relocation program after a Texas sheriff launched a criminal probe into whether Venezuelans were illegally lured to Martha's Vineyard with false promises of jobs and housing.
Bexar County Sheriff Javier Salazar announced during a press conference on Monday an investigation would begin into reports that migrants living in his county, which includes San Antonio, had been "preyed upon" for "political theater." DeSantis, a Republican, took credit last week for the surprise arrival of two planes of migrants to the affluent Massachusetts enclave. Despite accusations of human trafficking laws being violated and now a local investigation, DeSantis maintains that he wishes to help.
Salazar, a Democrat, stressed during the press conference that the 48 migrants taken to Martha's Vineyard were legally in the U.S. seeking a better life before being "unceremoniously stranded in Martha's Vineyard."
Saying he believes there was "criminal activity," he said another Venezuelan migrant was paid a "bird dog fee" to recruit the others from a migrant resource center in San Antonio with the promise of work and other resources.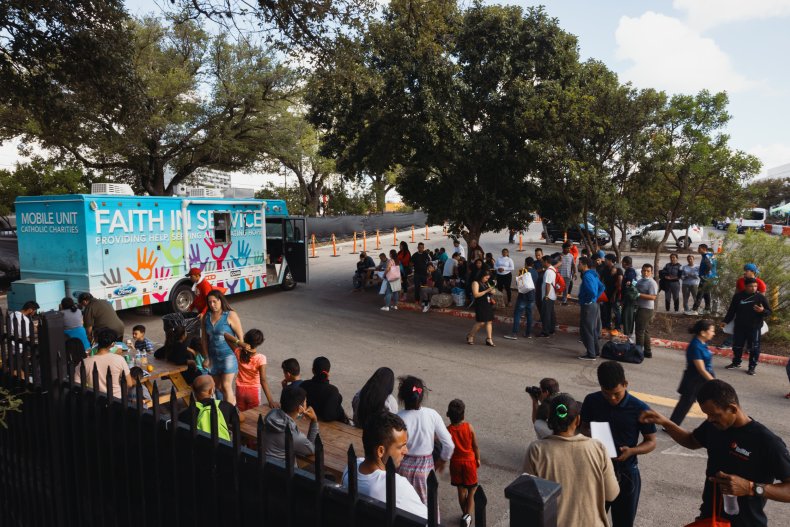 "I can tell you right now, the allegations that we've heard is absolutely distasteful," Salazar told reporters. "It's disgusting. It's an abuse of human rights. But I would like to find out sooner rather than later what charges if any are going to apply and to whom."
Salazar said the migrants were fleeing hardship in Venezuela, which is seeing economic collapse and repression, and thought their problems had been solved by boarding the flight to Martha's Vineyard only to made "fools of" for "a video or photo op."
DeSantis has justified the relocation, saying he was sending the migrants to a so-called "sanctuary jurisdiction" that's more accommodating to migrants and unauthorized immigrants. DeSantis again defended sending the migrants in a statement to Orlando NBC affiliate WESH, and also took a dig at Bexar County, where in late June at least 50 migrants were found dead in a tractor-trailer.
"Immigrants have been more than willing to leave Bexar County after being abandoned, homeless, and 'left to fend for themselves,'" he said. "Florida gave them an opportunity to seek greener pastures in a sanctuary jurisdiction that offered greater resources for them, as we expected."
After Martha's Vineyard scrambled to provide for the migrants, Massachusetts Governor Charlie Baker said the men, women and children flown to the island have been taken to Joint Base Cape Cod where they are provided housing and services.
DeSantis said the migrants are now being cared for and have "options to succeed following their unfair enticement into the United States, unlike the 53 immigrants who died in a truck found abandoned in Bexar County this June."
Salazar had few details about the investigation so far, but said he is working with the League of United Latin American Citizens (LULAC), which has been in touch with the migrants.
Domingo Garcia, national president of LULAC, told Newsweek in an interview that all the migrants taken to Martha's Vineyard had earlier surrendered to immigration authorities and were given parole while awaiting hearings for their asylum claims in the U.S.
He said that human trafficking schemes targeting migrants aren't new and often involve the promise of steady work but end with the migrants becoming indentured servants.
Nearly a dozen Venezuelan migrants told his organization that a woman, identified as "Perla" in other reports, approached them in a McDonald's across the street from the refugee center in San Antonio and enticed them with three months of employment, transportation, housing and food if they agreed to board the plane, said Garcia.
The migrants didn't know where they were going, but with no opportunities, they agreed, said Garcia. Once aboard the plane they were given a folder with a map of Martha's Vineyard and a brochure of services at the refugee center, he said.
But the location of the refugee center turned out to be an empty parking lot, said Garcia. One migrant told Garcia she couldn't believe they had been played with for politics while another described being totally lost.
"They were given false documents from folks and lies on top of lies to be used as political props by Governor DeSantis," said Garcia. "It was one of the most cruel, sadistic political propaganda actions ever seen in American history."
Refugee services are currently helping the migrants, who have immigration lawyers and are applying for work permits, he said.
Now at the military base, Garcia said the migrants are seeking to be reunited with family and friends in the U.S. After crossing the border, the migrants gave immigration authorities addresses of where they have family or connections, he said.
However, these addresses are spread across the country, said Garcia. He described how one man asked the distance to Portland, Oregon, not realizing it was on the other side of the country. They are now in jeopardy of missing immigration court dates scheduled across the country, he said.
"They don't have a dollar to their name," he said. "How are they going to get from Cape Code, Massachusetts, to Washington state?"