At Least 50 Migrants Found Dead in 18-Wheeler Near San Antonio: Reports
At least 50 migrants were found dead inside a tractor-trailer in San Antonio, Texas, on Monday.
In a tweet on Tuesday, the Mexico's Secretary of Foreign Affairs Marcelo Ebrard announced that the death toll has increased to 50.
"I update Texas information provided by US authorities. 50 deceased. 22 Mexicans. 7 Guatemalans. 2 Hondurans. The others are yet to be identified. We are in mourning. Huge tragedy. Mexico joins investigations in the US, coordinated with DHS," the translated tweet said.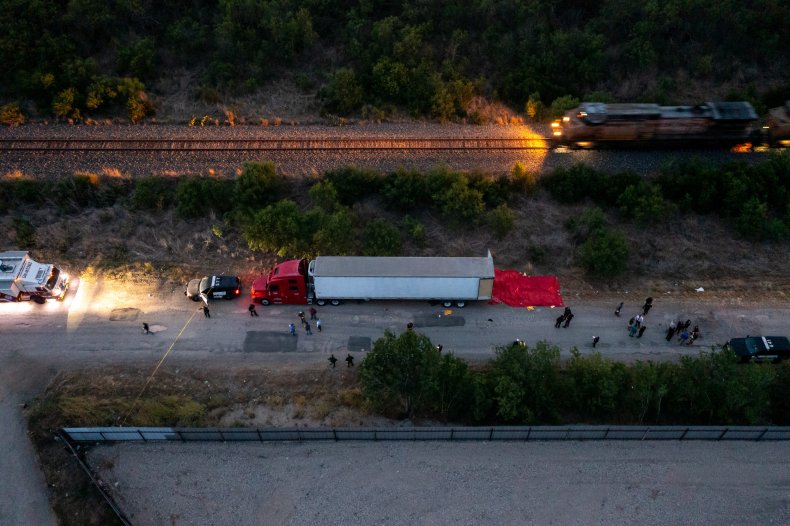 Previously, San Antonio law enforcement officials confirmed during a press conference that 46 people had died, with another 16 being transported to local hospitals for treatment. Authorities said that the surviving victims, which included 12 adults and four children, were suffering from heat exhaustion and heatstroke and were "conscious and alert" while leaving the scene by ambulance.
All of the 46 confirmed dead were adults, according to San Antonio Fire Chief Charles Hood. He added that "some" of the occupants of the tractor-trailer, which was found near railroad tracks in San Antonio's Southwest Side neighborhood, "got out" before authorities arrived. It is unclear how many people were originally inside the vehicle.
A federal investigation by the Department of Homeland Security Investigations (HSI) was quickly launched. San Antonio Police Chief William McManus said that three people had been taken into custody, although authorities were uncertain that they were "absolutely connected to this."
"The plight of migrants seeking refuge is always a humanitarian crisis, but tonight we are dealing with a horrific human tragedy," San Antonio Mayor Ron Nirenberg said. "We hope that those responsible for putting these people in such inhumane conditions are prosecuted to the fullest extent of the law."
According to McManus, police received a call at around 5:50 p.m. local time from a worker who had heard a "cry for help" near an 18-wheeler before discovering "a number of deceased individuals inside." San Antonio firefighters then responded to the scene and discovered "stacks of bodies" inside, according to Hood.
There have been multiple incidents of undocumented migrants being found inside tractor-trailers in Texas in recent years, presumably due to human smuggling. In 2017, nine people were found dead, with 20 others hospitalized after they were discovered packed into a truck in a Walmart parking lot in San Antonio.
Gustavo Garcia-Siller, archbishop of the Archdiocese of San Antonio, said in a series of tweets that the discovery was made while many in the area were still mourning the tragic deaths of 19 children and two adults from last month's Uvalde, Texas, elementary school massacre.
"Faithful of the Archdiocese of San Antonio, we are still holding in prayers our people in Uvalde; now, we are told that over 40 migrant people, our people, have died here in San Antonio," he added. "Once again, the lack of courage to deal with immigration reform is killing and destroying lives. We do not learn."
A tweet from Republican Texas U.S. Representative Tony Gonzales earlier tonight said that it had been "102 degrees" in San Antonio when the bodies were discovered.
"Imagine being abandoned inside an 18-wheeler left to die—42 people died today—will [Homeland Security Secretary Alejandro Mayorkas] even mention their names?" he added.
When asked for comment, a Department of Homeland Security spokesperson pointed Newsweek to a late-night tweet from Mayorkas.
"I am heartbroken by the tragic loss of life today and am praying for those still fighting for their lives," Mayorkas tweeted. "Far too many lives have been lost as individuals—including families, women, and children—take this dangerous journey."
In a release obtained by Newsweek, the League of United Latin American Citizens (LULAC) blamed the incident on the immigration policies of former President Donald Trump and Republican Texas Governor Greg Abbott.
"This tragedy is only the latest case of unscrupulous coyotes putting profit over the lives of real human beings," said LULAC National Immigration Chair Lydia Guzman. "Sadly, this is a result of our broken immigration system. The lack of real immigration reform puts migrants in danger of falling victims to unscrupulous smugglers."
Newsweek reached out to the Texas Department of Public Safety for additional information and comment.
Update 6/28/22, 12:05 a.m. ET: This story has been updated with additional information and background.
Update 6/28/22, 11:40 a.m. ET: This story and the headline have been updated to reflect the new death toll from the incident.