Migrants Flown to Martha's Vineyard Were 'Kidnapped'—Immigration Attorney
An immigration lawyer says the almost 50 migrants who were flown in to Martha's Vineyard, Massachusetts, on Wednesday under a program sponsored by Florida Governor Ron DeSantis can be considered victims of kidnapping.
Rachel Self, who has an immigration law firm in Boston, Massachusetts, said accounts from the migrants "make it clear that they were lied to again and again and fraudulently induced to board the planes."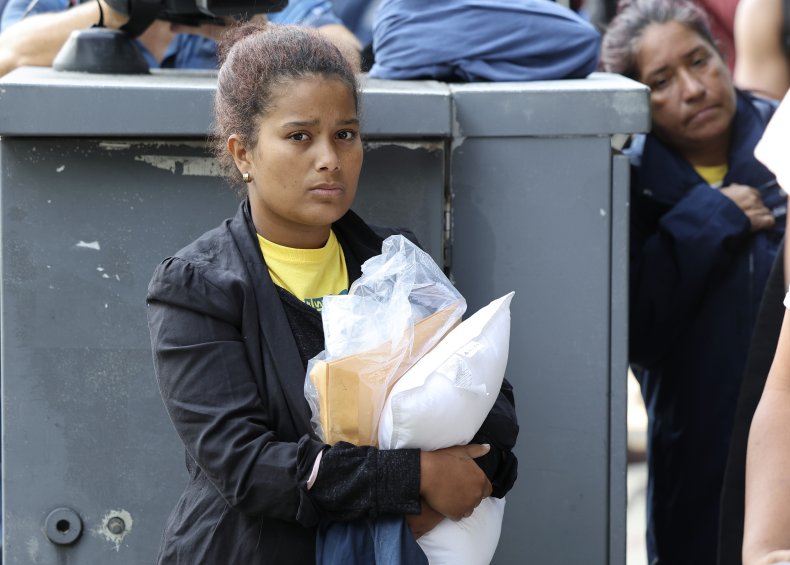 Most of the migrants, including children, have fled from crisis-torn Venezuela. While migrants from other countries who have crossed the U.S. southern border this year were quickly expelled under a pandemic-related health order, Venezuelans do not fall under that order.
The lack of diplomatic ties between the U.S. and Venezuela has also meant that these migrants cannot be sent back to their country, and Mexico refuses to accept them as the Venezuelan government won't allow deportation flights from there.
In July, President Joe Biden signed an extension for a temporary protection status allowing some Venezuelan migrants to apply for asylum, preventing the deportation of some 343,000 people for an extra 18 months.
The attorney said that the migrants were promised jobs and housing on their arrival, while Martha's Vineyard barely has the facilities to accommodate them. DeSantis is said to have allocated $12 million of the state's budget to transport them outside of Florida.
Self said Florida authorities also "very intentionally chose not to call ahead to any single office authority on the island so that even the most basic human needs arrangements could be made, ensuring that no help awaited the migrants at all was the entire point."
Volunteers and authorities have been scrambling to take care of the migrants who unexpectedly landed on the small Massachusetts island, distributing COVID-19 tests, food and clothing.
If the migrants had boarded the plane voluntarily after being released from the government custody, the flights would be completely legal. But Self, as well as Massachusetts Rep. Dylan Fernandes, said the migrants were lured with the false promise of being flown to Boston, where jobs and housing awaited them.
"We believe they are victims of kidnapping, and the perpetrators of this breathtakingly cruel political stunt should know that it may well result in every individual who was induced onto those planes by fraud becoming eligible for a U visa," Self wrote in a statement she read to reporters.
"A U visa is a non-immigrant visa granted to victims who cooperate with law enforcement, prosecutors, or other authorities in the investigation of a crime, and in the First Circuit (the federal jurisdiction that includes Massachusetts), people with pending U visas are protected from deportation."
California Governor Gavin Newsom, a Democrat, has asked the Department of Justice (DoJ) to investigate whether the "transporting families, including children, across state lines under false pretenses" was illegal and in particular whether it constituted "kidnapping."
"Several of the individuals who were transported to Martha's Vineyard have alleged that a recruiter induced them to accept the offer of travel based on false representations that they would be transported to Boston and would receive expedited access to work authorization," Newsom wrote in a letter to Attorney General Merrick Garland.
"I urge US DOJ to investigate whether the alleged fraudulent inducement would support charges of kidnapping under relevant state laws."
Self said that a clear attempt was made by authorities in Florida to make sure that those migrants were removed from the U.S. after reaching the northern state.
According to the attorney, the migrants were given instructions to change their address with the United States Citizenship and Immigration Services (USCIS) once they relocated. Self said it's "troubling" as the agency isn't the one with which the migrants should have recorded their addresses.
"It's clear that this was an intentional attempt to ensure that these migrants were removed in absentia once they failed to change their address with the proper agency," Self said.
It was a "purposeful derailment designed to prevent people from complying with federal immigration policy," which the attorney said that states should not do.
Self said that agents of the Department of Homeland Security falsified addresses on the migrant's paperwork before allowing them to board the planes to Martha's Vineyard, in what she called an attempt to ensure that these people were removed from the U.S..
Self added that she is now looking at potential legal avenues to prosecute DeSantis and the Florida authorities responsible for flying the migrants to Martha's Vineyard.
"We call on federal, state, and local authorities to collect and preserve evidence, beginning with the tail numbers of the aircraft used in the commission of this offense," Self said.
On Wednesday, DeSantis wrote to several newspapers claiming responsibility for the flying of migrants to Martha's Vineyard, saying it was part of his "relocation program for illegal immigrants" to sanctuary jurisdictions.
"Using human beings – families and children – as political pawns says far more about Governor DeSantis's callousness and disregard for human life than it does about the people of Martha's Vineyard," Self said.
"He sent those planes here hoping to expose hypocrisy; he does not believe anyone when they say they care about people like migrants fleeing an oppressive socialist regime in Venezuela, because he himself cannot conceive of caring about them.
"He's made it perfectly clear he views them as subhuman," Self said. "He has revealed nothing but his own heartlessness – and the truth that the people of Martha's Vineyard are as good as it gets and better embody the moral values he purports to have."