GOP Accused of Using Venezuelans as 'Pawns' Despite Vocal Support
A Massachusetts state lawmaker who represents a wealthy vacation spot has called Florida Governor Ron DeSantis' transporting of migrants "evil and inhumane."
At about 3 p.m. Wednesday, two planes consisting of about 50 men, women and children—most originally from Venezuela—arrived in Martha's Vineyard. Officials from the Florida governor's office confirmed the $12 million move facilitated by DeSantis involving migrants from a country that in the past have been at odds with Republicans.
Volunteers and officials distributed food, clothing and COVID-19 tests to migrants upon arrival.
"Republicans who call themselves Christians have been plotting for some time to use human lives - men, women, and children - as political pawns," tweeted Dylan Fernandes, a Massachusetts state representative who represents Martha's Vineyard.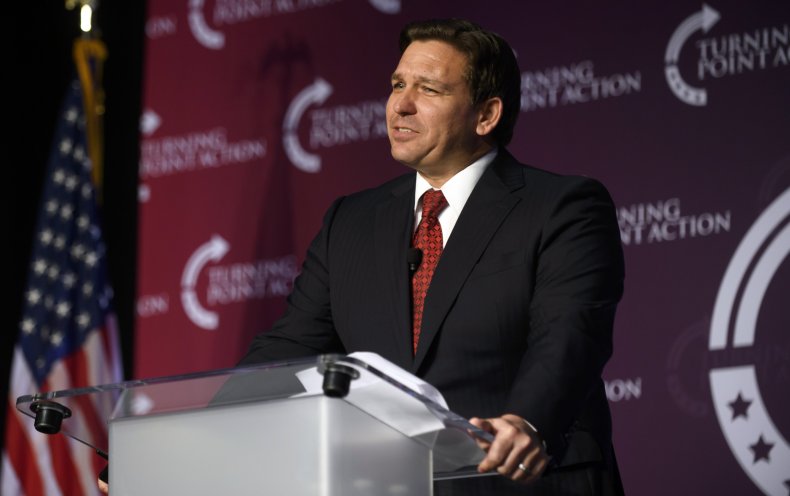 In a separate tweet, Fernandes said "our island jumped into action" by providing good meals, a play area for children and health care.
"We are a community that comes together to support immigrants," he added.
Christina Pushaw, rapid response director for DeSantis' re-election campaign, tweeted to Fernandes: "Great, then you won't mind taking in a few thousand more."
"They vote for sanctuary cities—they get a sanctuary city of their own," Pushaw said in another tweet. "And illegal aliens will increase the town's diversity, which is strength. Right?"
DeSantis took credit for Wednesday's transport as part of his "relocation program for illegal immigrants." It mimics similar programs overseen by Texas Governor Greg Abbott and Arizona Governor Doug Ducey.
On Thursday, Abbott sent between 75 and 100 migrants—originally from Venezuela, Uruguay, Colombia and Mexico—to Kamala Harris' residence at the Naval Observatory in Washington, D.C. They were reportedly picked up at Eagle Pass in Texas, then sent on Abbott's orders.
Abbott, who has consistently criticized President Joe Biden's border policies, has transported migrants to major cities including Chicago and New York City. Mayors Lori Lightfoot (Chicago) and Eric Adams (New York City) have called out Abbott for his actions, including statements that they say contradict Abbott's Christian theology.
Push for permanent stay
Florida Republican senators Marco Rubio and Rick Scott, along with other members of Congress, participated in a press conference Thursday in front of the White House. They said the purpose was due to "Biden abandoning Latin America."
But in a period of 18 months during the Trump administration, Senate Republicans blocked temporary protected status for about 200,000 Venezuelans in the U.S. five times.
The legislation would have prevented refuge from deportation back to a country led by "dictator" Nicolás Maduro, as described in 2019 by Democratic New Jersey Senator Bob Menendez, who moved to pass the legislation.
"His regime is a cruel criminal cabal that has destroyed Venezuela....[Venezuelans] are unable to safely return to their homeland and would benefit from Temporary Protected Status," Menendez said from the Senate floor on September 30, 2019. "I believe we have to do the right thing, we must uphold American values and offer them protection."
In September of 2020, before Menendez made his comments about Maduro, the United Nations Human Rights Council released an independent fact-finding report on Venezuela. Of 223 cases investigated, 48 were described as "in-depth" and all were in a 411-page report.
"The Mission found reasonable grounds to believe that Venezuelan authorities and security forces have since 2014 planned and executed serious human rights violations, some of which—including arbitrary killings and the systematic use of torture—amount to crimes against humanity," Marta Valiñas, chairperson of the Mission, said in the report.
In April of 2020, the Washington Office on Latin America (WOLA) and about 200 other organizations urged the U.S. Department of Homeland Security to designate Venezuela for Temporary Protected Status due to "inaction" from the Trump administration.
"These are people who are fleeing not just a political crisis but a deep humanitarian emergency," WOLA Director Geoff Ramsey said at the time. "We've heard a lot about solidarity with Venezuelans from this White House, but it seems this solidarity ends when Venezuelans leave their borders."
NBC News reported in September of last year that 49 percent of Venezuelans said they would no longer support Rubio and Scott if they opposed granting permanent legal status to Venezuelans who have temporary protected status.