Ron DeSantis' Team Says Martha's Vineyard Could See Thousands More Migrants
Christina Pushaw, rapid response director for Florida Governor Ron DeSantis' re-election campaign, challenged officials at Martha's Vineyard to take in "a few thousand more" migrants flown in from Florida.
The small island south of Cape Cod, Massachusetts, unexpectedly received two planeloads of migrants on Wednesday, according to local officials, as Florida joins other Republican-led states including Texas and Arizona in moving thousands of migrants to the likes of New York, Washington and now Martha's Vineyard, a wealthy vacationing spot.
The controversial tactic is part of these states' Republican leaders' protest against President Joe Biden's immigration policy.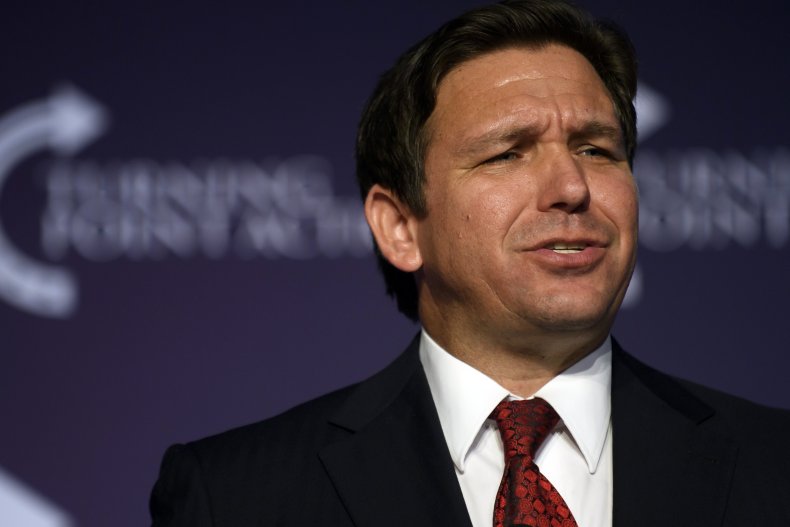 Democratic state Senator Julian Cyr, who represents Cape Cod, Martha's Vineyard and Nantucket, said the group of 50 migrants—which included children—arrived without warning at 3 p.m. on Wednesday. DeSantis said he had sent the migrants, who are mostly from Venezuela, as part of his "relocation program for illegal immigrants," as reported by Fox News.
Migrants were reportedly flown in from Texas, though DeSantis told Fox News that it was his program. In Massachusetts, volunteers and officials helped take care of the migrants, distributing COVID-19 tests, food and clothing.
Dylan Fernandes, state representative representing Falmouth, Martha's Vineyard, Nantucket and Gosnold, wrote on Twitter that: "These immigrants were not met with chaos, they were met with compassion. We are a community & nation that is stronger because of immigrants. The community coming together with water, food, interpretation help, & resources to support these families represent the best of America."
He added that: "Our island jumped into action putting together 50 beds, giving everyone a good meal, providing a play area for the children, making sure people have the healthcare and support they need. We are a community that comes together to support immigrants."
That's when Pushaw intervened, responding to Fernandes: "Great, then you won't mind taking in a few thousand more." Newsweek has contacted DeSantis' team for comment on whether the state actually intends to send more migrants to Massachusetts and Martha's Vineyard.
In a later tweet, Pushaw, DeSantis' former press secretary, added that Martha's Vineyard residents "should be thrilled" about welcoming migrants.
"They vote for sanctuary cities—they get a sanctuary city of their own. And illegal aliens will increase the town's diversity, which is strength. Right?," she wrote on Twitter, as the case of the migrants flown to Martha's Vineyard sparked outrage on social media.
In response to author Mark Russell's comment that "I'd take a hundred migrants any day of the week over a hundred DeSantis voters", Pushaw responded, "Duly noted, sir. I hope you have a large mansion or else it might get a bit crowded."
Former U.S. Representative Charlie Crist, DeSantis' Democratic opponent in the November election, said Florida "is spending $12 million to fly innocent migrant children out of our state when that money could be spent on fighting to help Floridians and lower costs.
"This is just another political stunt that hurts our state," he said on Twitter.
According to Taryn M. Fenske, communications director for DeSantis, the two flights were part of a state program to transport undocumented migrants to 'sanctuary destinations' like Martha's Vineyard.
"States like Massachusetts, New York and California will better facilitate the care of these individuals who they have invited into our country by incentivizing illegal immigration through their designation as 'sanctuary states' and support for the Biden administration's open border policies," Fenske said in a statement on Wednesday.
The Florida Legislature has set aside $12 million for the transportation program, according to The New York Times.