Charlie Crist Chances of Beating Ron DeSantis, According to Polls
Florida Democrats on Tuesday nominated Representative Charlie Crist to challenge GOP Governor Ron DeSantis in November as Democrats hope to win the governorship for the first time in more than 20 years.
Crist, who represents Florida's 13th Congressional District, which includes St. Petersburg, secured his primary victory by winning more than 60 percent of the vote, defeating Agriculture Commissioner Nikki Fried, who won 35 percent of the vote at the time the Associated Press called the race. He previously served as the state's governor from 2007 to 2011, being elected as a Republican and becoming an independent in 2010.
Florida's governor race will be one of the most closely watched elections in November, as DeSantis has faced intense backlash from Democrats over his handling of the COVID-19 pandemic, his support for the controversial "Don't Say Gay" law and his dustup with Disney, whose theme park employs tens of thousands of people in the Orlando area.
Despite these controversies and Crist's previous statewide tenure, he still has an uphill battle to defeat DeSantis in November, according to recent polls.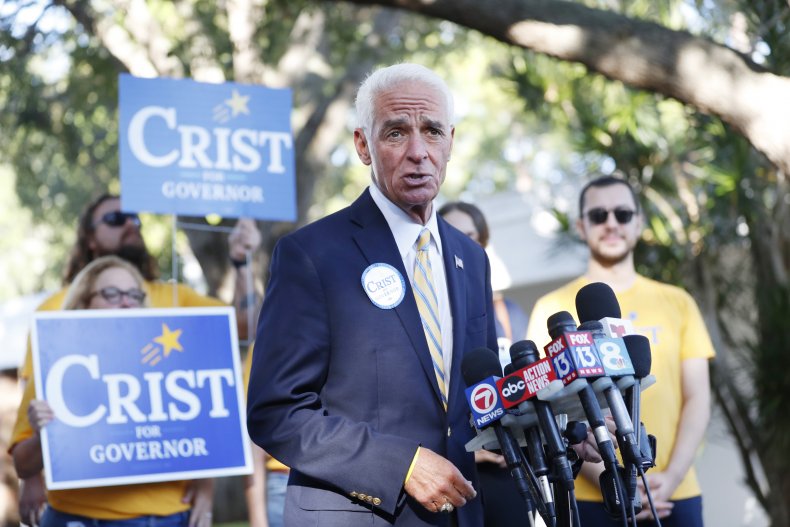 Florida has trended Republican in recent years—with former President Donald Trump winning the state by a larger margin in 2020 than in 2016—and DeSantis still remains fairly popular with Florida voters, according to polling firm Morning Consult.
The most recent independent polling in the race found DeSantis leading Crist by 8 percentage points. The Republican governor won 50 percent of support from respondents in a University of North Florida poll conducted from August 8 to 12, while Crist secured only 42 percent of the vote.
Other polling has similarly found DeSantis with a lead over Crist. A Cherry Communications poll conducted from August 4 to 15, sponsored by the Republican-leaning Florida Chamber of Commerce, found DeSantis winning 51 percent of the vote, compared to Crist's 43 percent.
Meanwhile, a poll conducted by Clarity Campaign Labs from July 26 to 31, sponsored by progressive groups Florida Watch and Progress Florida, also found DeSantis with a lead. The poll found DeSantis winning 47 percent of respondents' support, while Crist earned just 44 percent.
The gubernatorial race could have national implications as well, as DeSantis has become a national figure in the GOP and is considered to be a top presidential candidate in the 2024 GOP primary, should Trump decline to run. The gubernatorial race will serve as another test of his electability ahead of 2024.
Political experts anticipate that DeSantis will likely return to the governor's mansion following the November midterms. The Cook Political Report, an organization that tracks elections across the United States, considers the race to be "Likely Republican," meaning it is not considered competitive but may become so.