Charlie Crist Wants to Bring Florida 'A Better Tomorrow' in Challenge to Ron DeSantis
Charlie Crist is the Democratic representative for Florida's 13th congressional district. But from 2007 to 2011, he was the Republican governor of Florida and is the state's former Republican attorney general.
Now, Crist's unique political path may be leading him back to the governor's mansion as he mounts a challenge to Governor Ron DeSantis, a Republican who's rapidly become a nationally recognized conservative figure.
In an interview with Newsweek on Friday, Crist offered criticism of DeSantis, especially on the COVID-19 pandemic, but he also struck a hopeful note on the future of bipartisan cooperation.
Some recent polling has shown Crist defeating DeSantis in next year's gubernatorial election and the Democrat thinks he knows why.
"I think the rationale for that, if it is accurate, is what he's doing primarily as it relates to COVID and how he's treating it or mistreating it," Crist told Newsweek.
"Not really advocating wearing masks, not really advocating getting the vaccine and having these mandates on school districts - they can't have a mask mandate.
"My five-year-old niece goes to school in St. Petersburg - elementary school - and they started about two and a half weeks ago now," Crist said. "After a couple days, she contracted COVID and then of course brought it home to her family in the evening.
"And she has a two-month-old sister, my two-month-old niece, who now has also contracted COVID. And so that's the price Floridians are paying for the lack of leadership, if you will, of Governor DeSantis. And, you know, it's just - it's a tragic situation.
"We've been number one in hospitalizations, infections and, most sadly, deaths over the past several weeks now. And it's just a horrible situation that doesn't have to be that way."
"Lives are at stake"
Crist said that voters would not forget about DeSantis' handling of COVID-19 in the 2022 gubernatorial election.
"In politics, they talk about the fact that the voters' memory is not long and you know, some of these things can kind of fade into the background," he said.
"I don't think that's the case when you have 54,000 dead Floridians now and you have people that have had experiences like I have with family members. They're not gonna forget that. I think this is something that's long standing and long lasting.
"And so I think it will continue to be a significant issue in this campaign. There's no way around it. Lives are at stake and that doesn't just go away, like some other issue.
"But it's not just COVID where he's mishandling things," the former governor said.
Crist highlighted recently passed voting restrictions in Florida and a new bill in the state legislature modeled after Texas' highly controversial ban on abortion. DeSantis has said he is "pro-life" and described the Texas bill as "interesting."
"It really appears to me, and I think to many, that what he's doing is trying to appeal to the very hard right of the Republican party, today's Republican party, in Trumpian fashion," Crist told Newsweek.
"Clearly, now he's like mini Trump," Crist said. "And most Floridians don't agree with that. And as I say, if the polling currently is accurate, I think that explains why there's a gap that there is between the governor and our campaign.
"Something more moderate"
But Crist - a Republican turned Democrat - has not given up on bipartisan solutions in Florida or nationwide.
"Should we enjoy a victory, that'll make a huge statement to Republicans, particularly in the legislature," Crist said. "I think it will send a message that look, we want something more moderate. We want something more centrist. We don't want these hard right principles being banged on every single day.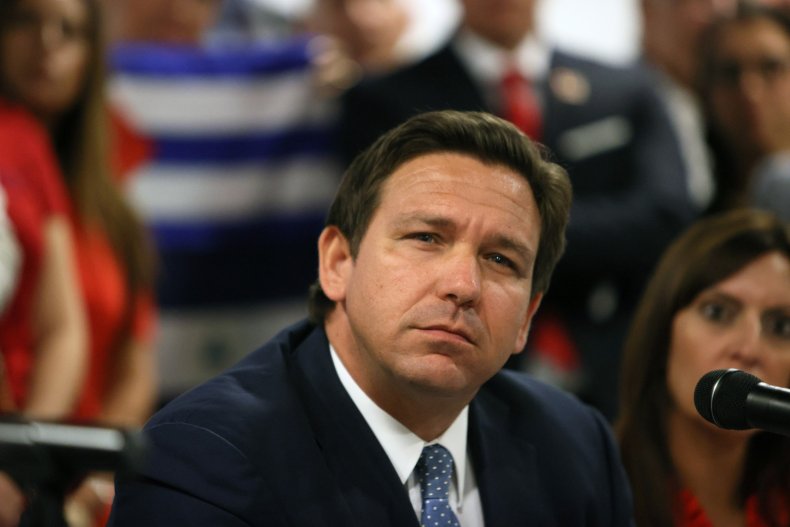 "It's not what we want. And a victory by our campaign would certainly evidence that in a powerful way. And so I think it opens up the opportunity to making inroads with moderate Republicans in the legislature - I know they exist. At this present time, it's difficult for them to give voice to that kind of legislation," he said.
Crist went on: "If we're able to change the equation in the Sunshine State in the November election in 2022, it opens up all kinds of possibilities for moderate Republicans to have an opportunity to have a significant voice once again, to work with a Democratic governor across the aisle and do things that are in the best interest of the state of Florida, staying away from ideological issues and going to mainstream issues."
"We're all children of God"
Crist said he believed most Americans did not belong to the ideological fringes of left or right.
"You hear a lot about the extremes on both ends of both parties but I believe fundamentally that most Americans are in the middle somewhere and that all the noise on the right and left is really just grabbing headlines," he said.
"But most people in their daily lives want somebody who fundamentally cares about them, cares about their children, cares about their future and not ideological spats or disagreements, or that kind of atmosphere because it's counterproductive.
"We all need to come together and realize that we're all children of God and whether people are Black or white or gay or straight or short or tall - we all are children of God and I think it's very important that we realize that."
Crist remains optimistic, not only about his chances in the governor's race but about the future of Florida as well.
"I'm extremely hopeful for this election," he told Newsweek. "I'm extremely hopeful for my Florida. I love Florida. I love her people. I know they're being suppressed right now and they're dying right now and I know they deserve better and I hope to bring them a better tomorrow."