Marjorie Taylor Greene Attacks Republicans Backing Infrastructure Bill: 'Surrender Caucus'
GOP Representative Marjorie Taylor Greene vowed to support primary challengers against Republican colleagues who vote for the Senate's $1.2 trillion bipartisan infrastructure bill, calling them the "surrender caucus."
The Senate passed the large infrastructure package in August with substantial bipartisan support. In addition to all 50 members of the Senate's Democratic Caucus, 19 Republicans—including Senate Minority Leader Mitch McConnell—backed the legislation.
When and if it passes in the House is not certain as tensions play out between progressive and moderate Democrats. Meanwhile, House Republican leaders are urging GOP colleagues to vote against the bill, and Greene is staunchly opposed to supporting the legislation.
"Rumor on Capitol Hill is Republicans, not Democrats, are surrendering to [House Speaker] Nancy Pelosi's pressure. It's pathetic that some Republicans are going to pass Biden's communist takeover," Greene tweeted on Thursday. She dubbed these Republicans the "#SurrenderCaucus."
Greene later shared an interview clip on Twitter, in which she promised to support primary challengers to Republicans who approved of the $1.2 trillion measure.
"I've already told almost every single Republican in the GOP Conference in the House that I will primary them and personally spend money against them in their primary if they vote for the infrastructure bill," the Georgia Republican said.
Former President Donald Trump has also criticized Republicans who support the infrastructure bill. Ahead of the August vote, he suggested he would no longer support GOP lawmakers who approved of the bill.
"Joe Biden's infrastructure bill will be used against the Republican Party in the upcoming elections in 2022 and 2024. It will be very hard for me to endorse anyone foolish enough to vote in favor of this deal," Trump said in an early-August statement.
On Monday, Trump issued another statement criticizing the GOP senators who voted with Democrats to move the legislation forward. "The 19 Senators who voted for the [non] Infrastructure Bill, of which only 11 [percent] is infrastructure as we know it, have created a big setback for Republicans," he said.
GOP House leaders are also campaigning against the bipartisan bill's passage, hoping to minimize the number of Republicans voting in favor. "We're working to keep that number as low as we possibly can," Representative Steve Scalise, a Louisiana Republican who serves as House minority whip, said this week, according to The New York Times.
But several GOP lawmakers—including Representatives Don Young of Alaska, John Katko of New York, Tom Reed of New York, Brian Fitzpatrick of Pennsylvania and Don Bacon of Nebraska—have said they support the legislation.
"I think this is a good infrastructure bill. It's popular in our district," Bacon told CNN on Friday morning, voicing his support for the legislation.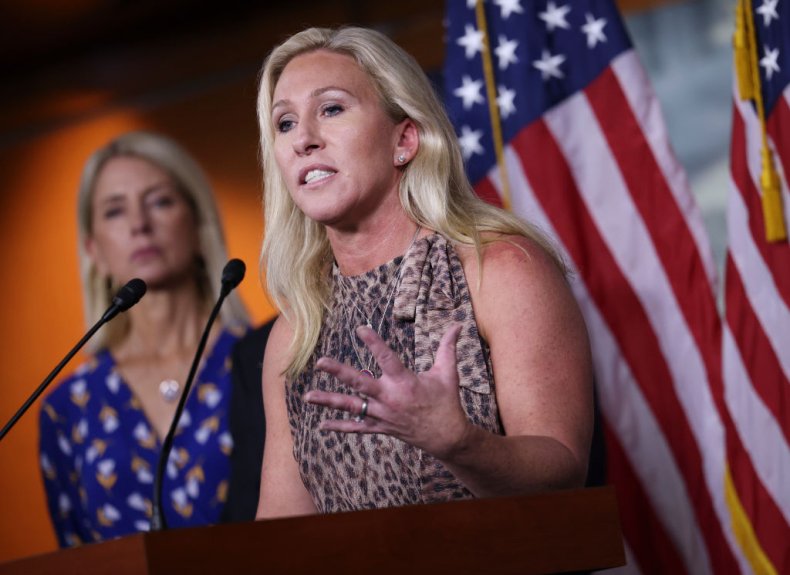 Pelosi had previously promised there would be a House vote on the infrastructure bill on Friday. But that vote has now been postponed as progressive Democrats doubled down on their promise to vote against the measure without the larger $3.5 trillion spending package being approved by the Senate. Although Democratic leaders continue to express optimism about passing both pieces of legislation, progressives and moderates remain far apart.
Newsweek reached out for comment to several Republicans planning to vote for the infrastructure bill but did not immediately receive a response.