Trump Warns Will Be 'Very Hard' to Endorse Republicans Who Vote for Infrastructure Bill
Former President Donald Trump on Saturday again voiced his opposition to the large bipartisan infrastructure bill nearing passage in the Senate, saying it would be "very hard" to endorse Republican lawmakers voting in favor of the legislation.
President Joe Biden, Democratic Senate leaders and a group of GOP senators have been negotiating for months to pass a sizable bipartisan infrastructure bill. The talks resulted in a nearly $1 trillion package to fund roads, bridges, water infrastructure, public transportation and broadband internet. The legislation now appears nearly ready to pass in the upper chamber of Congress.
"Joe Biden's infrastructure bill will be used against the Republican Party in the upcoming elections in 2022 and 2024. It will be very hard for me to endorse anyone foolish enough to vote in favor of this deal," Trump said in an official statement.
Trump called the package a "gift" to the Democrats and argued that it was only supported by "RINOs," an acronym meaning "Republicans in name only."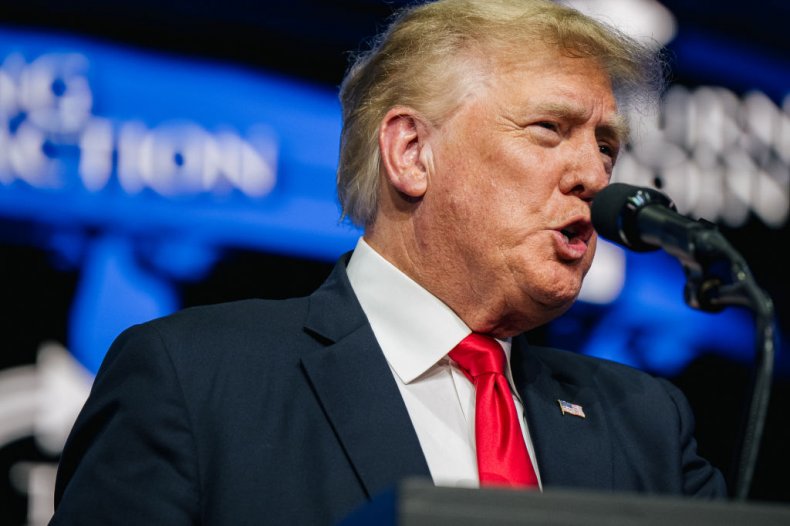 "Whether it's the House or Senate, think twice before you approve this terrible deal. Republicans should wait until after the Midterms when they will gain all the strength they'll need to make a good deal," Trump said. Many political analysts believe Republicans are likely to take control of the House of Representatives after the 2022 midterm elections. Control of the Senate will be in flux as well.
The Senate convened for a second consecutive weekend session as Senate Majority Leader Chuck Schumer, a New York Democrat, voiced his determination to pass the large package. Early Saturday afternoon, 18 Republican Senators—including Senate Minority Leader Mitch McConnell of Kentucky—joined Democratic colleagues to vote in favor of cloture on a substitute amendment to move forward the nearly $1 trillion package.
At the end of July, 17 GOP senators—including McConnell—voted to advance the nearly $1 trillion legislation. A group of 10 Republican and 10 Democratic senators worked to negotiate the deal. Senator Rob Portman, an Ohio Republican, and Senator Kyrsten Sinema, an Arizona Democrat, were key to leading the talks.
Trump took aim at McConnell in his Saturday statement, questioning the intelligence of the Republican leader.
"Joe Biden's infrastructure bill is a disgrace. If Mitch McConnell was smart, which we've seen no evidence of, he would use the debt ceiling card to negotiate a good infrastructure package," the former president said.
Tensions have been high between McConnell and Trump since the former president's Senate impeachment trial in February. Although the GOP Senate leader declined to vote in favor of convicting Trump—arguing the trial was unconstitutional—he condemned the former president for inciting his supporters to attack the U.S. Capitol on January 6.
McConnell said Trump was "practically and morally responsible" for inciting the violence of that day. The former president quickly responded at the time by calling the Kentucky Republican a "dour, sullen, and unsmiling political hack."
Newsweek reached out to McConnell's press secretary for comment but did not immediately receive a response.
Correction 5:40 PM ET: An earlier version of the story misstated that Kirsten Gillibrand is a senator from Arizona. Kyrsten Sinema represents Arizona.