Trump Slams McConnell, Other GOP Senators Who Voted for 'Destructive' Infrastructure Bill
Republican former President Donald Trump has criticized Republican Senate Minority Leader Mitch McConnell and 18 other Republican Congress members who voted for the "destructive" Democrat-led infrastructure bill.
"The Republicans in the Senate have the cards, including political cards, to stop the onslaught of Democrat Legislation that will further lead to the destruction of the United States," Trump wrote in a statement issued Monday.
"The 19 Senators who voted for the [non] Infrastructure Bill, of which only 11 [percent] is infrastructure as we know it, have created a big setback for Republicans," Trump continued. "They can't make mistakes like that again. They must play every card in the deck!"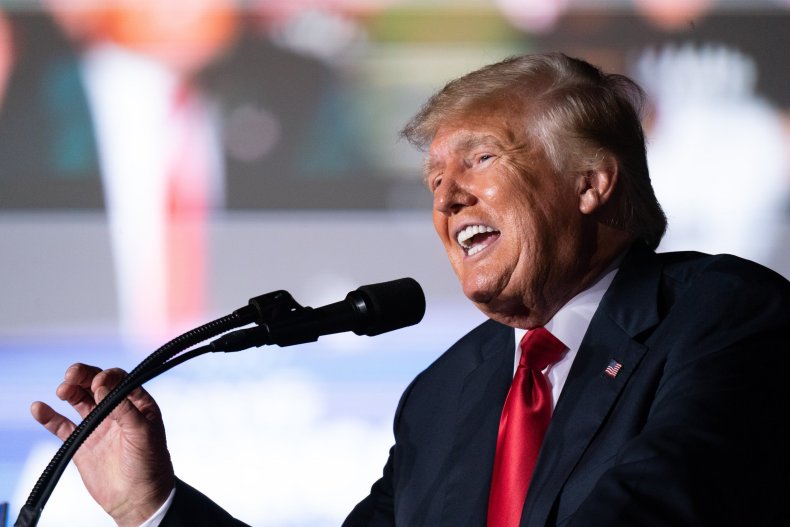 Trump's statement referred to McConnell and the 18 other GOP Senate members who voted in early August to advance a $1.2 trillion infrastructure package. The package includes funding for roads, bridges, water systems and other priorities.
A Senate majority chose to advance the bill in a 69-30 vote. The 19 Republicans joined every member of the Senate Democratic caucus in order to send the bill to the U.S. House for final vetting.
The bill's other GOP supporters included Senators Roy Blunt of Missouri, Susan Collins of Maine, Lindsey Graham of South Carolina, Lisa Murkowski of Alaska and Mitt Romney of Utah.
At the time, Trump complained that the package's passage will benefit Democrats in upcoming elections. He threatened to back Republican primary challengers to any GOP incumbents who voted to advance the bill.
"This will be a victory for the Biden Administration and Democrats, and will be heavily used in the 2022 election," Trump wrote. "It is a loser for the USA, a terrible deal, and makes the Republicans look weak, foolish, and dumb."
Last Thursday, Republican House Minority Leader Kevin McCarthy told reporters he didn't "view it as a bipartisan bill any longer." He urged his fellow Republican representatives to vote against the bill, especially since Democrats plans on coupling the bill with a $3.5 trillion "human infrastructure" proposal.
As it stands, the $1.2 trillion infrastructure bill would allocate $110 billion for roads, $73 billion for power grids, $66 billion for railways, $65 billion to expanded broadband access, $55 billion for clean drinking water, $50 billion for environment-proofing utility systems, $39 billion for public transit and $25 billion in airports, the White House reported.
Since the Senate voted to advance the bill, members of both parties have had time to amend or remove provisions from it. Congress could vote on the bill as early as this week.
The bill will reportedly be funded in part by redirecting $205 billion in COVID-19 relief funds, the recollection of $50 billion in fraudulently paid pandemic unemployment benefits as well as states returning any of their unused federal unemployment funds, according to the American Enterprise Institute, a D.C.-based policy think tank.
Newsweek contacted McConnell's office for comment.