DC Declares Immigration Emergency as Biden Admin Loosens Immigration Rules
Washington D.C. Mayor Muriel Bowser is taking emergency measures in response to migrants bused in from Arizona and Texas as President Joe Biden reversed a policy that made it harder for low-income immigrants to obtain green cards.
Bowser declared a public emergency Thursday, freeing up $10 million to address what she called a "humanitarian crisis," spurred by the influx of migrants sent by the pair of Republican border state governors to protest the Biden administration's immigration policies. Bowser's announcement came the same day that the White House completed flipping a hardline policy from the era of former President Donald Trump that denied permanent residence to some immigrants who received public benefits.
Speaking at a press conference, Bowser said her response includes setting up a new Office of Migrant Services to provide support to the estimated 9,400 immigrants bused to the nation's capital. While she said that most people bused in move on to other destinations, the new office will work with nonprofits to meet their needs.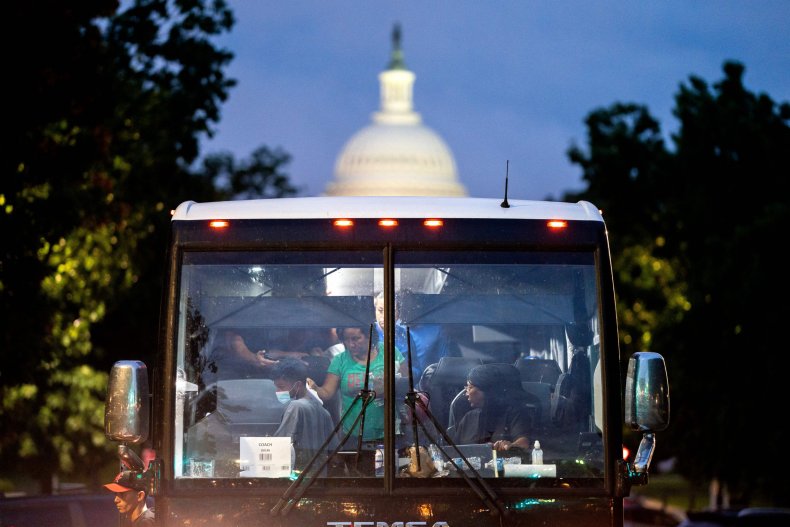 "We recognize that we don't know and we don't have control on all that is coming towards the district," Bowser said. "But we do have control over how our values are present on all that we do."
She added that the federal response to D.C.'s challenge "has been lacking in some respects."
Bowser in July asked the National Guard and White House for help, saying the deluge of migrants threatened to overwhelm the district's social services. One month later, the Pentagon rejected her request.
Governors Greg Abbott of Texas and Doug Ducey of Arizona this spring began paying for buses to send migrants who may have entered the country illegally to Washington D.C., and New York City.
In April, Abbott said Texas had been "overwhelmed by hordes of illegal immigrants who are being dropped off by the Biden administration," adding, "the [White House] will be able to more immediately address the needs of the people that they are allowing to come across our border."
"As we have said repeatedly, there is a process in place to manage migrants at the border, and Republican governors meddling in that process and using desperate migrants as political tools is shameful and it is wrong," a White House spokesperson told Newsweek.
Condemning Abbott for "repeated attempts to create chaos and confusion at the border," the spokesperson said the Biden administration will continue to support cities with Federal Emergency Management Agency grant funding and other efforts.
The president has promised to undo Trump's immigration policies, which has rankled Republicans. In April, the Biden administration rescinded a previous policy that blocked migrants from entering the U.S. as a COVID-19 health precaution.
The U.S. Department of Homeland Security on Thursday announced it had finished reversing the Trump administration's "public charge" rule, restoring the term's historical meaning. A public charge is someone who relies on public benefits.
"This action ensures fair and humane treatment of legal immigrants and their U.S. citizen family members," Secretary of Homeland Security Alejandro Mayorkas said in a statement announcing the rule change. "Consistent with America's bedrock values, we will not penalize individuals for choosing to access the health benefits and other supplemental government services available to them."
Under Trump's policy, immigrants who received benefits, such as housing, Medicaid and the Supplemental Nutrition Assistance Program, were ineligible to secure green cards or temporary visas to stay in the U.S.
The Trump administration defended its era's policy, saying it promoted self-reliance. But critics, including Ducey, said it penalized low-income immigrants. The Arizona governor told KAWC that the U.S. needed entry-level workers who "will climb the economic ladder."
Newsweek has reached out to Bowser's office for comment.
Update 9/9/22, 4:55 p.m. ET: This story has been updated with additional comment from the White House.