D.C. Mayor Requests National Guard Support for Migrants Being Bused In
Muriel Bowser, mayor of Washington, D.C., is pleading with the National Guard and White House for help with migrants being bused into the district by two Republican governors, fearing the influx could overwhelm the district's support services.
Bowser's office made the urgent requests to federal authorities for what she called a brewing humanitarian crisis in a pair of letters obtained by local Fox affiliate WTTG. Both correspondences placed the blame squarely on Greg Abbott of Texas and Doug Ducey of Arizona, who Bowser said were engaged in "cruel political gamesmanship."
Both border state governors earlier this spring began busing migrants to the nation's capital to bring attention to what they said is President Joe Biden's inaction on security at the U.S.-Mexico border. Abbott and Ducey justified the confrontational move, saying it would bring the humanitarian and safety issues experienced by their states to Biden's doorstep.
"Instead of rolling up their sleeves and working with the Biden/Harris Administration on a real solution, Governors Abbott and Ducey have decided to use desperate people to score political points," Bowser wrote in a July 22 letter to two senior Biden administration officials. "It is important to note that the only reason these migrants are being bused to Washington, DC, is that the federal government is based here, not because Washington, DC is their destination."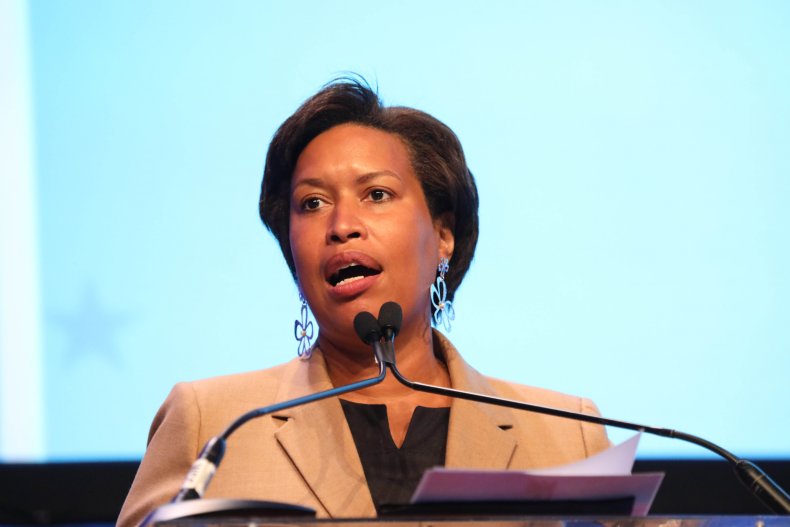 Bowser wrote the city has been working with FEMA and local nonprofits to disburse grants to migrants seeking asylum in the U.S. But she said the effort with the nonprofits is "not working and is unsustainable—they are overwhelmed and underfunded."
Christopher Rodriguez, director of Washington, D.C.'s emergency management agency, asked the D.C. National Guard to intervene "to help prevent a prolonged humanitarian crisis in the nation's capital" in a July 19 letter on behalf of Bowser.
Abbott and Ducey began shipping migrants to D.C. after Biden in April pledged to lift a Trump-era order restricting border crossings to prevent the spread of COVID, Rodriguez wrote in the letter. The nation's capital has since seen more than 4,000 people brought in with nearly 200 buses.
"In the last month, however, the pace of arriving buses and the volume of arrivals have reached tipping points," wrote Rodriguez.
He said the population boom is straining D.C.'s homeless service system, its regional welcome center in nearby Montgomery County, Maryland, is at capacity, and many families are arriving with nowhere to go.
Rodriguez requested the National Guard send 150 service members each day to help nonprofits with staffing issues, and to transport migrants to a temporary processing center at the DC Armory.
Abbott and Ducey shifted blame of the crisis to Bowser's "allies" and President Biden.
"D.C. is experiencing a fraction of the disastrous impact the border crisis has caused Texas," Abbott wrote on Twitter Thursday. "Mayor Bowser should stop attacking Texas for securing the border & demand Joe Biden do his job."
Ducey acknowledged on Twitter that D.C. is experiencing a humanitarian crisis, but blamed it on the inaction of "her allies in the White House and Congress."
"Mayor Bowser is lamenting 4,000 migrants—Arizona had 43,570 border encounters in June alone," wrote Ducey on Twitter.
Newsweek has reached out to the White House and D.C. National Guard for comment.