A bus with dozens of illegal immigrants arrived in Washington, D.C. from Texas on Wednesday, pulling up blocks away from the U.S. Capitol and allowing the people to disembark.
The arrival made good on Texas Governor Greg Abbott's announcement last week that he had directed the Texas Division of Emergency Management (TDEM) to bus migrants who had been released from federal custody out of Texas to D.C. or other locations, Fox News reported. Last week, White House Press Secretary Jen Psaki described Abbott's plans as a "publicity stunt" during a press briefing, according to The Hill.
Earlier this month, the Biden administration announced that it was rescinding Title 42, a Trump-era border policy that imposed sweeping asylum limits to combat COVID-19 spread allegedly caused by migrants. The move drew backlash among Republicans and even some Democrats, and Abbott announced a series of "aggressive actions" that Texas would take to "secure our border" ahead of halting the restrictions in late May.
The plans to charter buses, as well as flights, to transport processed and released migrants to Washington were announced as part of the initiative. Abbott's office said in a press release last week that a migrant would have to volunteer in order to board one of the buses or flights and be able to show documentation from the Department of Homeland Security (DHS).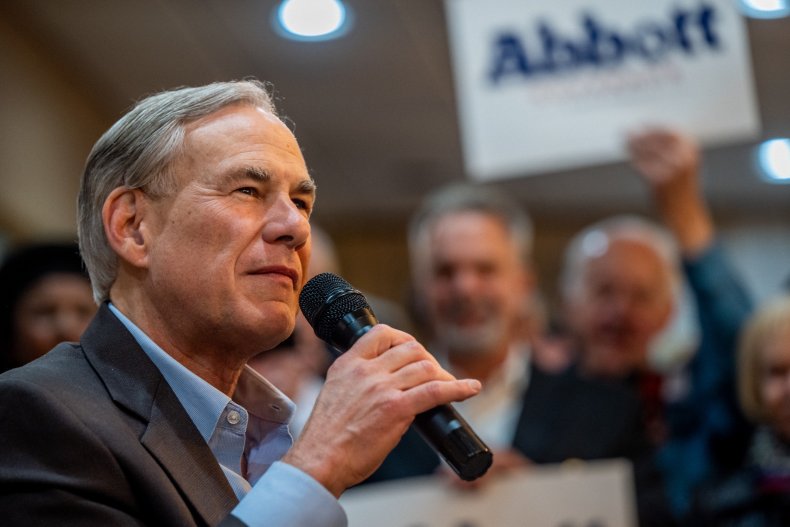 "Mayors and county judges can notify TDEM of any DHS-facilitated drop-off of migrants in their communities so that the agency can provide appropriate transportation," the release said.
The migrants who exited the bus in Washington on Wednesday checked in with officials and had wristbands they were wearing removed before they were informed they could leave, Fox News reported.
In the release, Abbott cited projections in a report, released last week by the Southwest Border Coordination Center of DHS, that migration and enforcement encounters at ports could be as high as 18,000 per day after the end of the Title 42 restrictions.
The DHS noted in the report that 18,000 encounters per day was ranked as a "very high" scenario and that it was also planning for scenarios with as few as 6,000 encounters per day.
The report also said that "current intelligence capabilities" can't "accurately forecast the timing, location, or composition of migrant surges with sufficient lead time to inform resource allocation decisions along the Southwest Border."
The release added that Abbott directed the Texas Department of Public Safety to "conduct enhanced safety inspections of vehicles as they cross international ports of entry into Texas" in anticipation of a "significant rise in cartel-facilitated smuggling via unsafe vehicles upon the end of Title 42 expulsions."
These enhanced inspections, which went into effect immediately, have already caused major traffic backups at the U.S.-Mexico border, the Associated Press reported. The Mexican government said that Abbott's new policy was causing "serious damage" to trade and decreased cross-border traffic, a message echoed by Psaki in a statement Wednesday.
"Governor Abbott's unnecessary and redundant inspections of trucks transiting ports of entry between Texas and Mexico are causing significant disruptions to the food and automobile supply chains, delaying manufacturing, impacting jobs, and raising prices for families in Texas and across the country," the statement read.
Newsweek reached out to the White House for comment.
Update 4/13/22, 11:30 a.m. ET: This story was updated with additional information and background.