Texas Sends Buses to Border to Transport Migrants Who Want to go to D.C.
The Texas Division of Emergency Management (TDEM) said it has begun to send buses to the United States-Mexico border after Governor Greg Abbott announced the state would send migrants who have entered the country illegally to Washington, D.C.
In a statement sent to Newsweek, TDEM said it has sent buses to "areas where communities have expressed concerns about the federal government dropping off migrants."
Abbott made the announcement Wednesday, saying Texas has been "overwhelmed by hordes of illegal immigrants who are being dropped off by the Biden administration," and that the "Biden administration will be able to more immediately address the needs of the people that they are allowing to come across our border" if the migrants are taken to the nation's capital.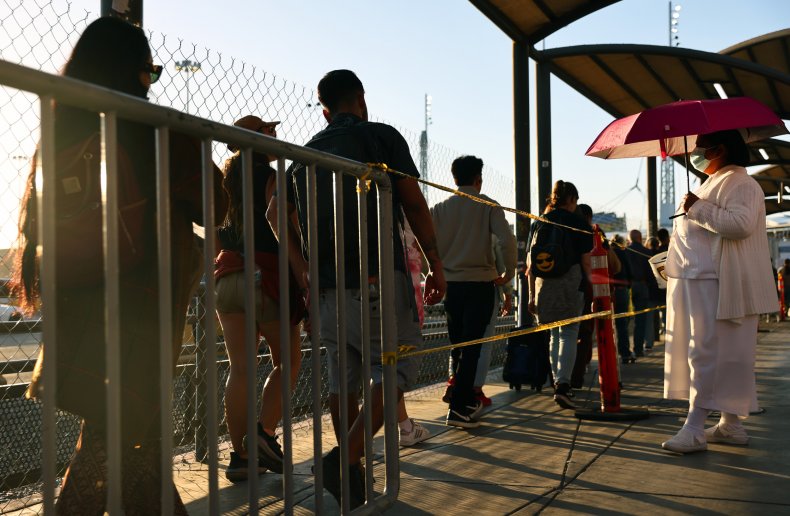 TDEM added that it would send as many buses as necessary "to fulfill the requests from mayors and county judges," but did not specify how many had been sent Friday. Each bus has the capacity to carry about 40 people, the agency added.
However, it appears that it may be a slow-growing operation, as TDEM said that "a large majority of communities that originally reached out for support through this operation have now said that the federal government has stopped dropping migrants in their towns since the governor's announcement on Wednesday."
Abbott said the move is voluntary, so the migrants can decide for themselves whether to go to Washington.
Estimates put Texas' illegal immigrant population at about 1.7 million. Though immigration restrictions under Title 42, which turned hundreds of thousands of migrants away from the southern border due to concerns over spreading COVID-19, kept illegal immigration numbers down, the Biden administration rescinded the measure earlier this month, angering its supporters.
However, opponents of Title 42 argued that there was not a "legitimate public health justification" for it. The Centers for Disease Control and Prevention said the rule was no longer necessary due to "current public health conditions and an increased availability of tools to fight COVID-19."
Groups like the American Civil Liberties Union of Texas supported the decision, calling it "long overdue."
"All people have the right to seek protection in the United States from violence and danger, and everyone deserves for their claims to be heard," the organization said in a statement. "Expulsions under Title 42 were never based on public health—they were simply an excuse to deny those facing danger access to protection in this country."
In a statement, Abbott argued that the decision to rescind Title 42 was "reckless," and that it would "signal to cartels and migrants alike that our southern border is now wide open—inciting even more violence, more trafficking and more lawlessness."
Senator Ted Cruz of Texas voiced his support for Abbott's decision but said the migrants shouldn't only go to the nation's capital. In a Twitter statement, he said he filed federal legislation to also send them to Martha's Vineyard and Nantucket in Massachusetts; Palo Alto, California; Greenwich, Connecticut; Scarsdale, New York; Newport, Rhode Island; and Rehoboth Beach, Delaware.
Update 04/08/22 5:20 p.m. ET: This story was updated to add more information and background.