Greg Abbott Slams Lori Lightfoot for 'Attacking Texas' Over Border Crisis
Texas Republican Governor Greg Abbott has fired back at Chicago Mayor Lori Lightfoot after she called his actions regarding the busing of migrants to the Midwestern city "racist" last week.
Lightfoot made the comments during a Thursday news conference in reaction to Texas sending two buses with approximately 95 migrants who arrived in Chicago on Wednesday. Abbott's office said the decision was made in response to President Joe Biden "putting the lives of Texans—and Americans—at risk" and "overwhelming our communities."
Southern border crossings are exponentially higher now, compared with the past few years, according to statistics from U.S. Customs and Border Protection. Border crossings in every month so far of the 2022 fiscal year besides July have exceeded the corresponding month's total in 2021.
"Mayor Lightfoot is attacking Texas instead of addressing the real cause of the border crisis: Joe Biden," Abbott tweeted on Monday. "His inaction at our border is putting the lives of Texans at risk & is overwhelming our communities. Texas is doing Biden's job to secure the border."
As part of Texas' Operation Lone Star program, Abbott's office said the state has bused over 7,600 migrants to Washington, D.C., since April and over 1,900 migrants to New York City since August 5.
The multi-agency endeavor initiated by his office, the Texas Department of Public Safety and Texas National Guard has reportedly led to over 300,800 migrant apprehensions and more than 19,400 criminal arrests, including approximately 16,800 felony charges. DPS has reportedly seized over 335 million lethal doses of fentanyl in that same timespan.
Conditions faced by migrants on the bus rides have been criticized, including 30-plus-hour rides often devoid of food, water, medical supplies or rest stops.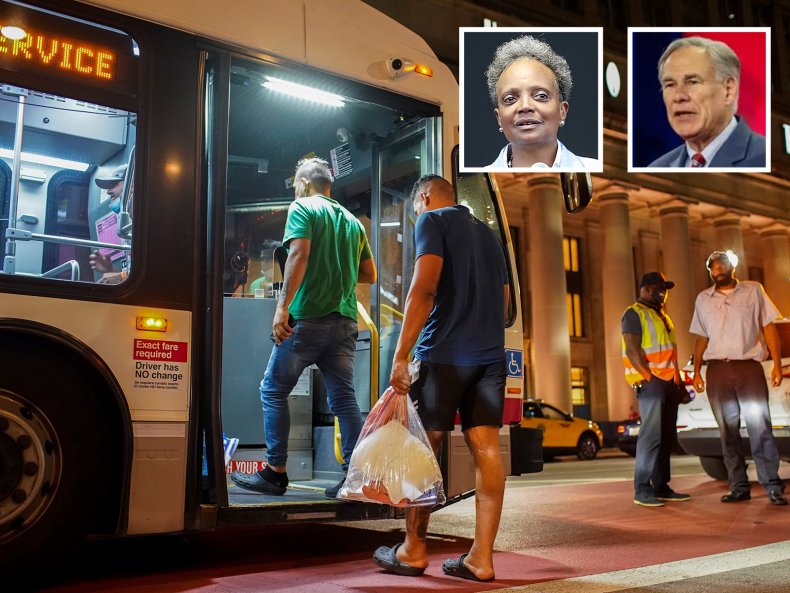 Abbott criticized Biden in July when the governor signed an executive order demanding that the Texas National Guard and DPS "begin returning migrants" to the border, in response to Biden ending the Trump administration-era Title 42 migrant expulsions that were part of the former "Remain in Mexico" policy.
Lightfoot said Sunday that Chicago is "a welcoming city" that will assure migrants are taken care of in terms of food, clothing and shelter.
"[Abbott] chooses to do none of those things and instead tries to send human beings—not cargo, not freight—but human beings across the country, to an uncertain destination....He is manufacturing a human crisis and it makes no sense to me," Lightfoot said.
She called out Abbott by name for his lack of "coordination and cooperation." While acknowledging the "pressure" Texas and other border states are under, she said migrants are seeking economic opportunity and a better quality of life.
"I don't think this is what we stand for [as Americans]," she continued. "I think it's decidedly unpatriotic and un-American.... He professes to be a Christian. This is not the Christianity and the teachings of the Bible that I know. And I think religious leaders all across the country are standing up and denouncing exactly this."
Abbott's press secretary, Renae Eze, told Newsweek that bringing up Abbott's Christianity "is a pathetic political ploy" meant to deflect from Lightfoot's upholding "her city's self-declared sanctuary status."
"Where was Mayor Lightfoot's outrage and condemnation of President Biden as he flew planeloads of migrants across the country and dropped them in communities in the cover of night?" Eze asked.
"Instead of lowly personal attacks on the governor and complaining about a few dozen migrants being bused into her sanctuary city, Mayor Lightfoot should call on President Biden to take immediate action to secure the border—something the president continues failing to do," Eze said.
Newsweek reached out to Lightfoot for further comment.
Update 9/6/22, 10:50 a.m. ET: This story has been updated with comments from Governor Greg Abbot's press secretary.