Governor Greg Abbott has directed the Texas National Guard and the state's Department of Public Safety (DPS) to start returning migrants who crossed into the U.S. and were apprehended back to the border.
In a news release Thursday, Abbott said that he issued an executive order "authorizing and empowering" the two entities to begin returning the migrants. He blamed the move on the Biden administration's decisions to end the Trump administration–era Title 42 migrant expulsions and a policy commonly referred to as "Remain in Mexico."
"While President Biden refuses to do his job and enforce the immigration laws enacted by Congress, the State of Texas is once again stepping up and taking unprecedented action to protect Americans and secure our southern border," Abbott said in a statement. "The cartels have become emboldened and enriched by President Biden's open border policies, smuggling in record numbers of people, weapons, and deadly drugs like fentanyl."
Abbott has become a top critic of what he describes as Biden's "open border policies" and refusal to enforce the law. When dozens of migrants were found dead in an abandoned tractor-trailer in San Antonio, Texas, last week, Abbott said that the deaths "are on Biden" and his "deadly" policies.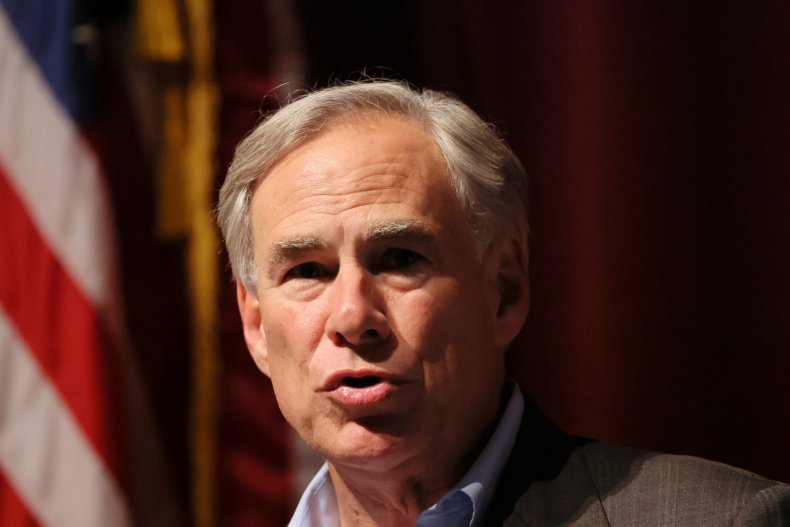 Earlier this year, he bused migrants to Washington, D.C., in a move that then–White House press secretary Jen Psaki denounced as a "publicity stunt." But while speaking about the move in a press conference at the time, Abbott said that he transported the migrants so "the Biden administration will be able to more immediately address the needs of the people that they are allowing to come across our border."
Last week, the Supreme Court ruled that President Joe Biden could end the Remain in Mexico policy, officially titled Migrant Protection Protocols, which allowed U.S. authorities to send migrants without proper documentation, including asylum seekers, back to Mexico to wait while going through court proceedings.
The Biden administration, via the Centers for Disease Control and Prevention, announced plans in April to end Title 42, a controversial policy that allowed for migrant expulsions in what officials described as an effort to limit the spread of COVID-19. Shortly before Title 42 was set to expire in May, a court blocked the ending of the restriction, CNN reported.
In another statement accompanying the announcement of the executive order on, Thursday Abbott pledged that Texas "will continue to take action to address those challenges caused by the Biden Administration."
"Governor Abbott's record on immigration doesn't give us confidence in what he has cooked up now," a White House official said in a statement to Newsweek.
It continues, "His so-called Operation Lone Star put National Guardsmen and law enforcement in dangerous situations and resulted in a logistical nightmare needing federal rescue, and his secondary inspections of trucks crossing into Texas cost a billion dollars a week in trade at one bridge alone without turning up a single case of human or drug trafficking."
The official was referring to when Abbott ordered the state DPS earlier this year to conduct inspections for illegal drugs and immigrants on every truck on the four international bridges that connect the U.S. and Mexico. Psaki said in an April statement that the inspections were causing "significant disruptions to the food and automobile supply chains, delaying manufacturing, impacting jobs, and raising prices for families in Texas and across the country."
The White House official said, "President Biden is focused on real policy solutions to actually secure our border—installing new border technology, securing record levels of funding for the Department of Homeland Security, making over 2,800 arrests in the first three months of launching an unprecedented anti-smuggling campaign, and bringing 20 world leaders together for the first time to take collective responsibility to manage increased migration flows across the Western Hemisphere."
Newsweek reached out to Abbott for comment.
Updated 7/8/22, 9:40 a.m. ET: This story was updated with a statement from a White House official.