SCOTUS Delivers Blow to Trump, Allowing Biden to End 'Remain in Mexico'
Former President Donald Trump was dealt a blow on Thursday when the U.S. Supreme Court issued a decision in favor of President Joe Biden and his administration regarding asylum seekers in Mexico seeking immigration hearings without proper documentation.
The court issued a 5-4 decision in Biden v. Texas regarding the Trump administration's Remain in Mexico policy, also known as Migrant Protection Protocols (MPP), which were enacted in 2019 and prevented thousands of migrants from entering the U.S. while going through legal proceedings.
Chief Justice John Roberts wrote the opinion, joined by Justices Stephen Breyer, Brett Kavanaugh, Elena Kagan and Sonia Sotomayor, in favor of ending the Trump-era policy while Justices Samuel Alito, Amy Coney Barrett, Neil Gorsuch and Clarence Thomas dissented.
The decision came after other recent controversial decisions made by the conservative-leaning Court regarding concealed-carry gun laws in New York and the overturning of Roe v. Wade.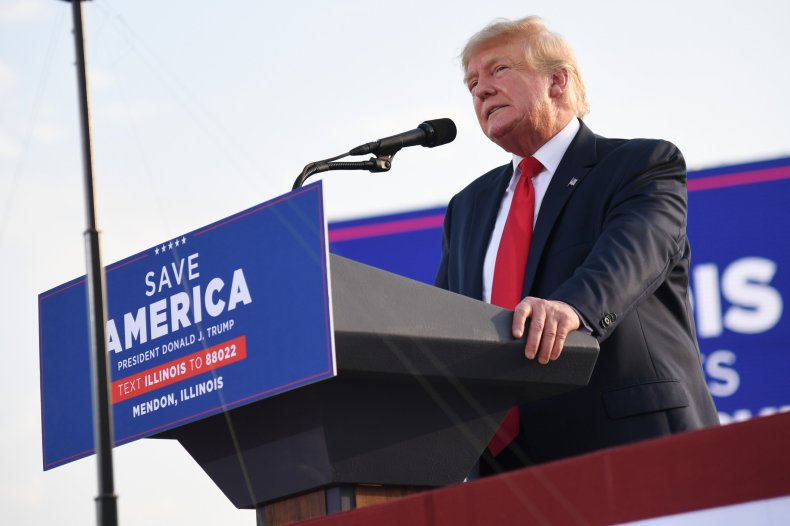 "The larger policy story behind this case is the multi-decade inability of the political branches to provide DHS [Department of Homeland Security] with sufficient facilities to detain noncitizens who seek to enter the United States pending their immigration proceedings," Kavanaugh wrote in his concurring opinion. "But this Court has authority to address only the legal issues before us. We do not have authority to end the legislative stalemate or to resolve the underlying policy problems."
"The District Court should assess, among other things, whether it is 'arbitrary and capricious' for DHS to refuse to use its contiguous-territory return authority to avoid violations of the statute's clear detention mandate; whether the deterrent effect that DHS found MPP produced in reducing dangerous attempted illegal border crossings, as well as MPP's reduction of unmeritorious asylum claims, is adequately accounted for in the agency's new decision," Alito said in the dissent.
U.S. Customs and Border Protection data has indicated a sharp rise in illegal immigrant encounters at the southwestern border involving minors accompanied by adults, individuals in a family unit, single adults and unaccompanied children.
Since fiscal year 2022 began last October, approximately 1.53 million encounters have been documented at the border. To put that in perspective, there were 1.73 million total encounters during the entire 2021 fiscal year.
Numbers spiked considerably between February and March this year, jumping from about 166,000 migrants to 222,000 migrants. In May, the number reached 239,000.
The Migration Policy Institute reported that for a two-year period between January 2019 and January 2021, about 68,000 Mexican migrants were enrolled as part of this policy—leading to immigrant court backlogs and questions about whether illegal immigration was actually deterred.
In August of 2021, a Texas judge ordered the reinstatement of the policy due to a lawsuit filed by Texas and Missouri against the Biden administration for improper termination. The U.S. restarted the program after that ruling.
Oral arguments were presented to the Supreme Court in April by U.S. Solicitor General Elizabeth Prelogar, on behalf of the Biden administration, and Texas Solicitor General Judd Stone in opposition.
SCOTUS Blog reported at that time that Prelogar told justices that Homeland Security Secretary Alejandro Mayorkas decided to end MPP after determining that the program's benefits "were outweighed by its domestic, humanitarian, and foreign policy costs."
Stone argued that ending MPP outright was a violation of federal law. He argued to the Court that the U.S has three options related to the policy: temporarily allowing migrants into the U.S. on a case-by-case basis, returning migrants to Mexico or Canada if they arrive by land, or holding migrants in a detention center until they are awarded a hearing.
During those oral arguments Kavanaugh asked Prelogar if Congress preferred detention when it passed immigration law, according to the Texas Tribune.
"There's no real explanation of how the public is benefited by more people coming into the United States who are not lawfully admitted into the United States rather than trying, if feasible, for some of those people to remain in Mexico," he was quoted by the Tribune.
Earlier in June, Preloger wrote a letter to the court saying that when the DHS implemented MPP along the entire southwest border in June 2019, border encounters "decreased rapidly" by 50 percent in the first three months.
Newsweek reached out to the White House and Trump for comment.
This is a developing story and will be updated as information becomes available.