What Is Title 42? Biden Faces Pressure to Extend Trump's Immigration Policy
President Joe Biden's administration is reportedly weighing whether to delay the repeal of Title 42, a controversial policy that has limited asylum at the U.S.-Mexico border for two years.
The U.S. Centers for Disease Control and Prevention's (CDC) Title 42 order was first issued in March 2020 under former president Donald Trump.
Officials at the time said the use of Title 42—named for a 1944 public health law to prevent communicable disease—was to limit the spread of COVID-19, but some criticized it as an excuse to keep migrants out of the U.S.
Since then, authorities have expelled migrants attempting to enter the U.S. more than 1.7 million times.
Biden kept Title 42 in place, despite pledging to roll back Trump's most hard-line immigration policies.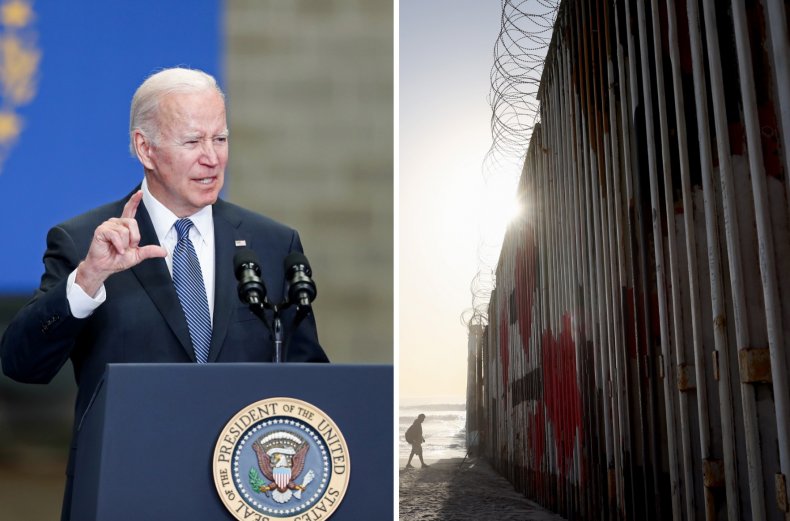 With COVID-19 cases declining, the CDC said earlier this month that the use of Title 42 at the border would end on May 23.
"After considering current public health conditions and an increased availability of tools to fight COVID-19 (such as highly effective vaccines and therapeutics), the CDC Director has determined that an order suspending the right to introduce migrants into the United States is no longer necessary," the CDC said in a statement on April 1.
The end of Title 42 is expected to attract more migrants to the U.S.-Mexico border, prompting a growing chorus of moderate Democrats to join Republicans in calls for an extension.
Arizona Senators Mark Kelly and Kyrsten Sinema, both Democrats, have been among those to question whether the Biden administration is sufficiently prepared for the restrictions to be lifted.
"It's unacceptable to end Title 42 without a plan and coordination in place to ensure a secure, orderly, and humane process at the border," Kelly said.
Biden's inner circle has been discussing delaying the repeal, Axios reported, facing pressure from Democratic incumbents up for reelection who are warning that a surge in migrants attempting to cross the border could prove disastrous in the November midterms.
However, a repeal could also incense progressive Democrats who have been critical of the continued use of Title 42.
According to U.S. Customs and Border Protection (CBP), authorities stopped migrants 221,303 times along the Southwest border in March—a 33 percent increase from February.
The number of unique individuals encountered nationwide in March was 159,900, a 37 percent increase from the prior month.
But the expulsions under Title 42 are a significant factor in the high number of encounters as migrants are turned back without any legal consequences, meaning many try to cross multiple times.
And some experts previously told Newsweek that they believe rescinding Title 42 will have little effect on the number of migrants crossing the border into the U.S.
White House press secretary Jen Psaki told reporters on Tuesday that the Department of Homeland Security has put out a "comprehensive" plan to tackle any increase in the number of migrants at the border when Title 42 is lifted.
"Title 42 is not an immigration policy. That's the point. It's a public health authority that Congress has given the CDC authority to make a determination about," she said.
"So, if we want to address immigration, let's have a conversation about that. But let's not hold COVID funding hostage because we're going to have to end a range of programs that going to hurt the American people. That's the issue."
The White House has been contacted for comment.
Update 4/20/22, 7:40 a.m. ET: This article has been updated with an image.