Biden Praises Florida School Superintendent's 'Leadership', 'Courage' Over Mask Mandate
President Joe Biden had strong praise for the interim superintendent of schools in Florida's Broward County, after the district committed to a mask mandate despite Republican Governor Ron DeSantis' opposition to such mandates for schools.
Biden called Superintendent Vickie Cartwright on Friday night to praise her "leadership and courage to do the right thing for the health and well-being of their students, teachers, and schools," the Miami Herald reported.

On Tuesday, the Broward County school board voted to make masks mandatory for all students and staff members ahead of its first day of classes on August 18. This came around the same time that four unvaccinated Broward County teachers died from COVID-19.
"After listening to comments from 48 public speakers and reviewing more than 350 written comments submitted by community members, the School Board voted eight to one to implement the rules set forth by the Department of Health and the Florida Board of Education," the district's official statement read.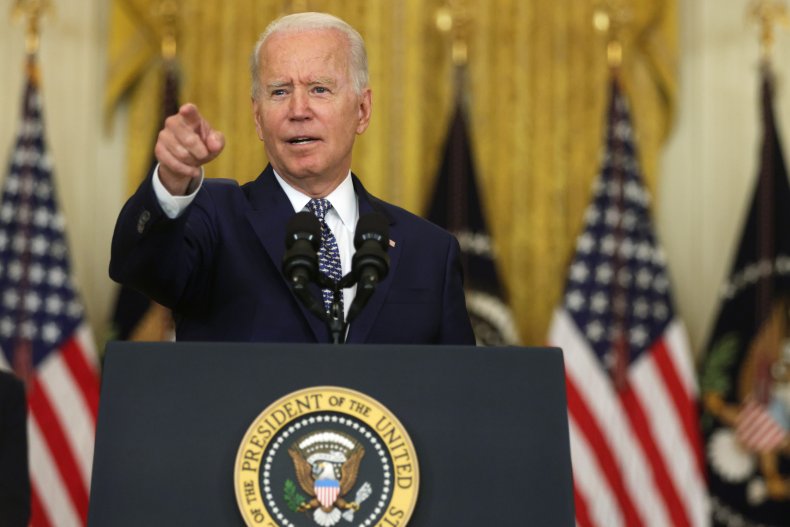 The Herald also reported that the president made a similar call to commend Arizona Union High School District Superintendent Chad Geston for his district's mask mandate.
Call transcripts provided by the White House revealed that Biden said his administration "stands ready to support their school districts and communities to get back to safe, full-time, in-person learning."
Near the end of July, DeSantis issued an executive order intended to give Florida parents the full authority to opt their children out of school mask mandates. The order also empowered the State Board of Education and the Florida Department of Health to deny funds to any districts that defied it and implemented mandates anyway. In response on Friday, U.S. Secretary of Education Miguel Cardona said that any schools denied funding under this executive order could use federal relief money to replace it.
DeSantis's office then softened its stance on the issue somewhat, saying that the state government had no authority to deny pay to faculty and staff members who are not state employees. Instead, funding will be denied equal to the salaries of superintendents and school board members.
"Those officials who infringe upon that right should own their decisions—and that means owning the consequences of their decisions, rather than demanding students, teachers, and school staff to foot the bill for their political grandstanding," DeSantis' press secretary, Christine Pushaw, said in a statement sent to Newsweek.
Several other counties in Florida, including Hillsborough and Palm Beach, moved to defy the executive order early on. Districts in Gainesville and Jacksonville also instituted masks mandate last week as students prepare to return to classes.