Biden Previews New North Korea Strategy Distancing Himself from Trump, Obama
U.S. President Joe Biden's administration has revealed a new strategy toward nuclear-armed North Korea, seeking to distance the approach from those pursued by his two predecessors.
White House Press Secretary Jen Psaki revealed a summary of the approach to reporters Friday as she confirmed a months-long "thorough, rigorous and inclusive" policy review regarding North Korea, officially the Democratic People's Republic of Korea, had been completed.
"Our goal remains the complete denuclearization of the Korean Peninsula, with the clear understanding that the efforts of the past four administrations have not achieved this objective," Psaki said.
She said Washington would continue to pursue diplomatic overtures to Pyongyang while tempering expectations of what that meant in line with U.S. interests.
"Our policy will not focus on achieving a grand bargain, nor will it rely on strategic patience," Psaki said, apparently referring to the strategies pursued by former Presidents Donald Trump and Barack Obama, respectively. "Our policy calls for a calibrated, practical approach that is open to and willing to explore diplomacy with the DPRK and to make practical progress that increases the security of the United States, our allies and deployed forces."
U.S. allies in the region include South Korea, officially the Republic of Korea, and Japan. Psaki officials "have and will continue to consult with both countries as well as "other allies and partners at every step along the way."
State Department spokesperson Jalina Porter emphasized this point, as well as the overarching goal of getting North Korea to abandon the nuclear weapons it considers critical to its survival.
"We have consulted closely with not only outside experts, but our predecessors from several previous administrations, and our way forward simply draws from their lessons learned and shared," Porter told a press conference. "I'll just continue to underscore that our ultimate goal remains clear, and that is complete denuclearization of the Korean Peninsula."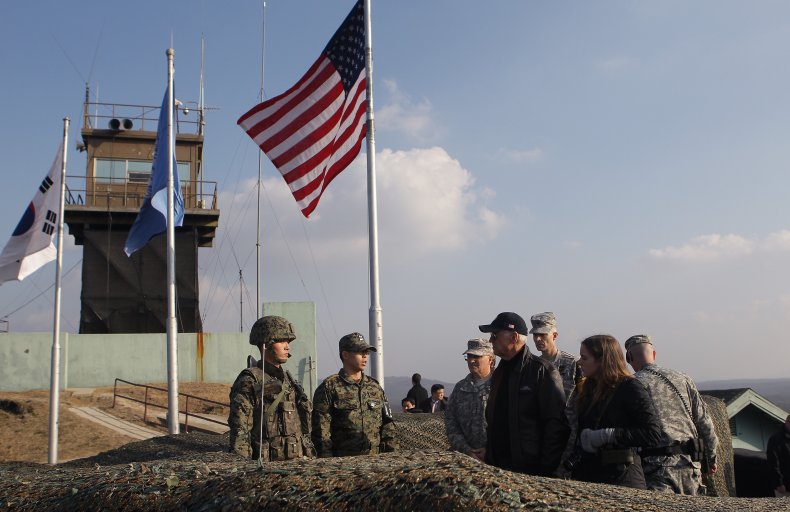 The announcement came a day after the White House announced that South Korean President Moon Jae-in would visit on May 21 for his first in-person meeting with Biden since the U.S. president took office in January.
In interviews and public remarks, Moon has encouraged the Biden administration to reinvigorate the Trump administration's peace process with North Korean Supreme Leader Kim Jong Un. That process has largely unraveled in recent years, however, and Pyongyang has ignored the Biden administration's initial overtures, demanding that Washington first change course before meaningful contact could be made.
Michael Madden, a leading North Korea expert who leads the Stimson Center's 38 North project-affiliated North Korea Leadership Watch blog, felt the Biden administration's approach, as it appears so far, matches Pyongyang's more confident position.
"It is certainly reflective of the paradigm shift on the part of the North Koreans. It used to be that the DPRK would seek smaller agreements," Madden told Newsweek. "Things like the Leap Day Deal in 2012 or the implosion of the cooling tower at Nyo'ngbyo'n in 2008."
"Now they want a more substantive deal because they feel that their leverage (in the form of bigger or efficient missile systems) has increased," he added. "Objectively that is accurate; they do bring more to the negotiation table in 2021 than in 2011."
North Korea has conducted six nuclear tests, with the latest in 2017 being more powerful than the rest combined. That same year, North Korea also tested three intercontinental ballistic missiles, displaying for the first time the country's capability to strike across the globe, including in the U.S.
Just days before Biden's January inauguration, Kim told his 8th Korean Workers' Party Congress that he would pursue even larger and more advanced nuclear capabilities.
Madden said Psaki's comments indicated Biden's policy review "is mindful" of new developments in North Korea, and keeps the door open for talks. At the same time, he did not expect a favorable response from North Korea given the messaging that's emerged from Pyongyang.
"Simply put, North Korea doesn't want to talk to us at the present time," he argued. "Any statement or comment from a U.S. official, let alone disseminating a new policy, is going to receive a negative response."
Going off of how Kim and his officials have so far reacted to the Biden administration, he predicted that North Korea would likely hit back with further calls for the U.S. to end its "hostile policy, which has become Pyongyang's panacea for not engaging with the U.S."
This oft-used phrase extends two generations prior to the youngest Kim's rule. Unlike in past times where it was linked to a discernable list of demands, however, Madden felt it has become "merely an excuse for North Korea to not come out to the negotiating table with the Americans."
There was also a "moderate probability," he argued, that the U.S. remarks could be used as a pretext for further North Korea military exercises, something the policy review appeared to expect. "Because there is a degree of flexibility in our own policy, then any North Korean belligerence is unlikely to shift America's calculus," Madden said.
That means if North Korea is unwilling to budge, then it was unclear how any substantive communication could be established.
"The burden is not really on the administration here," Madden said. "The U.S. did not close the North Korean border with China and damage the DPRK economy. The U.S. can't mollycoddle Kim Jong Un into making a decision."
But Pyongyang has so far viewed the ball as being in Washington's court, and is likely expecting far more to kindle a connection between the Cold War-era rivals. It's unclear so far as to whether Psaki's comments marked the extent to which the administration would describe its policy review.
Given the elevated stakes of U.S.-North Korea diplomacy, Jean Lee, director of the Korea Program at the Wilson Center in Washington, said there would be more to come.
"This feels like a placeholder aimed at reassuring both Seoul and Pyongyang that North Korea remains a foreign policy priority," Lee told Newsweek. "It's been a long 100 days for Koreans who are anxiously watching to see what path the Biden administration will take on a North Korea policy that will have huge implications for the Korean Peninsula."
She believed the Biden administration's latest comments were intended to tide the two rival Koreas over until more concrete words and actions were adopted.
"I suspect the administration is seeking to placate the current South Korean government, which is anxious to engage North Korea—and wants to prevent Pyongyang from returning to provocation as a way to influence the process," she added.
How a notoriously unpredictable North Korea would react remained to be seen. Kim also told his 8th Korean Workers' Party Congress that the U.S. was his country's "principal enemy," and shed doubt on inter-Korean relations as well. Since then he's delegated senior officials to issue warnings to Washington on several occasions.
"This alone may not be enough to draw the North Koreans out of their self-imposed isolation, but continued and consistent signals—even if that's all they are for now—are important," Lee said. "I think Pyongyang is desperate to know what the Biden administration has in mind, and will calibrate its strategy as more details are revealed."
And she took note of Kim's unwillingness to entirely dismiss the prospect of renewed U.S.-North Korea talks.
"In the end, as I've been saying even since the breakdown of talks in Hanoi two years ago," she said, "Kim Jong Un does ultimately want to return to negotiations—but only when he feels confident of success. We may see both sides beefing up their leverage in the meantime: weapons on the North Korean side and sanctions on the U.S. side."
Last month, North Korea tested its first short-range ballistic missile in a year. However, the country has yet to resume long-range missile or nuclear bomb testing since the self-imposed moratorium declared by Kim at the onset of the 2018 peace process.
Trump managed to make unprecedented strides that year by becoming the first sitting U.S. leader to sit down with a North Korean ruler. He would meet Kim twice more, but a comprehensive deal geared toward declaring peace and lifting tight sanctions against North Korea in exchange for the dismantling of its nuclear weapons was never reached.
Moon, who met with Kim for three summits and also attended a seemingly impromptu border meeting alongside Trump and Kim in 2019, was an avid supporter of the negotiations throughout. Even with Pyongyang having severed communications with Seoul, he continues to promote the need for a new push for rapprochement.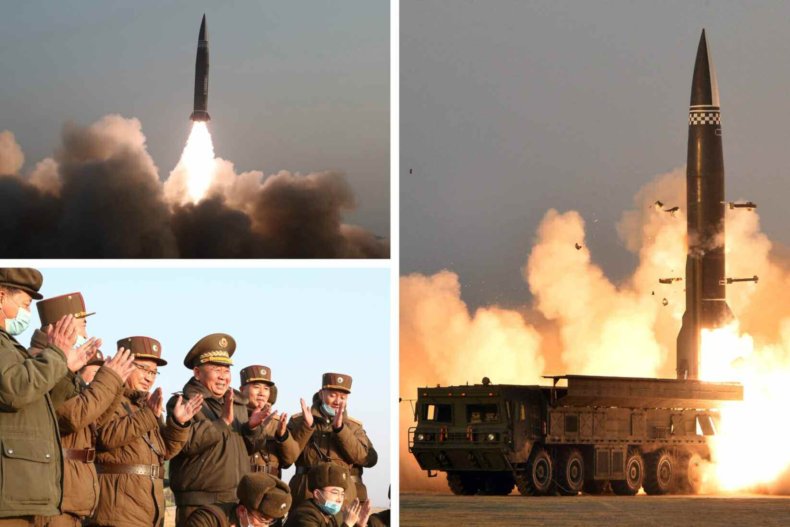 But the South Korean leader did criticize the Trump administration's approach, sharing his views last week in a wide-ranging interview with The New York Times.
Moon gave credit to Trump for breaking with tradition to sit down with Kim, but felt the former U.S. leader "beat around the bush and failed to pull it through."
"The most important starting point for both governments is to have the will for dialogue and to sit down face to face at an early date," Moon told The Times.
The remarks appeared to provoke the previous U.S. president, who issued a scathing statement in which he appeared to demonstrate a preference for Kim over Moon.
"Kim Jong-un of North Korea, who I have gotten to know (and like) under the most trying of circumstances, never respected the current President of South Korea, Moon Jae-in," Trump said in a statement by his office last Friday.
"I was always the one that stopped the aggression toward the South, but unfortunately for them, I am no longer there," Trump said. "President Moon was weak as a leader and as a negotiator, except when it came to the continued, long term military ripoff of the USA."
Biden, for his part, has sought to reemphasize alliances with South Korea and Japan at the center of the U.S. approach to Northeast Asia. That much was made clear by the White House's recent remarks, but the overall lack of detail left Harry Kazianis, senior director of the Center for the National Interest think tank, critical of the release.
"I think right now the Biden administration should have released a much more formal policy presentation as opposed to what we have now—meaningless press statements that sound more like slick talking points than actual substance," Kazianis told Newsweek. "At the moment, we have no way of telling if, in fact, there will be a true balance in approach between the Trump years of engagement or the Obama years of strategic patience."
Kazianis took note of the Biden administration's mention of diplomacy, something the president also referenced in previous remarks during his debut press conference last month. However, Kazianis said that so far, "we have no idea what that actually means."
"Will, for example, North Korea need to make the first move in terms of a concession on its nuclear program?" he asked. "Will the Biden administration be willing to work in a step-by-step manner in regards to a phased deal on denuclearization? What role will new or stepped-up sanctions enforcement play, if any?"
"Right now, we have very little information to go that we can't be sure what the actual policy will be," Kazianis said, "and that is a major miscalculation by Team Biden as we have waited months for any sort of policy guidance on this issued—a real shame, and an unforced error."