Biden Is Restoring Aid to the Palestinians. Here's Why That's a Good Thing | Opinion
Many Palestinians heaved a sigh of relief this week. On Wednesday, Secretary of State Antony Blinken announced the restoration of U.S. aid to the Palestinians three years after the Trump administration cut it off. Trump cut U.S. funding to East Jerusalem Hospitals, peace-building initiatives and the Palestinian Authority, as well as to the controversial UN Relief and Works Agency, known as UNRWA. The new aid package will restore that funding, with $150 million going to UNRWA, $75 million going toward economic and development assistance, and $10 million for USAID peace-building programs.
The new package is part of the Biden administration's commitment "to advancing prosperity, security, and freedom for both Israelis and Palestinians in tangible ways in the immediate term," as Blinken put it.
And for Palestinians, it could not have come at a more urgent time. UNRWA is responsible for the education of 500,000 Palestinian children. It provides health care and food to millions more. And it has been on the brink of financial ruin.
And yet, despite the crucial role UNRWA plays in Palestinian life, Biden's decision to refund the organization sparked a backlash. Though the new aid package falls well bellow the pre-Trump levels of U.S. aid to the Palestinians, which was set at $360 million just to UNRWA every year, many—including Israeli officials—expressed their dismay at the decision.
The backlash was concentrated on three main points: that UNRWA is "corrupt and counterproductive," as former Ambassador to the UN under Trump Nikki Haley put it; that it incites the children in its care to violence, as Israel's Ambassador to Washington Gilad Erdan put it; and that it exists not to help solve but to further perpetuate the conflict.
Each of these objections deserves a response.
Corruption and Transparency
Accusations of UNRWA's corruption peaked in 2019 after a confidential internal report was leaked to Al-Jazeera that alleged "abuses of authority for personal gain" in UNRWA's top management. This prompted Switzerland, Belgium, and the Netherlands to temporarily halt their UNRWA funding pending an official investigation by the UN's Office of Internal Oversight Services. While they did resume their UNRWA aid few months later after five OIOS investigations found no issues of fraud or misappropriation of funds, the charges of corruption continue to plague the organization.
But even if they were true, the Biden aid package addresses those concerns. Blinken's announcement insists that "the United States is deeply committed to ensuring that our partnership with UNRWA promotes neutrality, accountability, and transparency." For some, this was a hint that bilateral negotiations between UNRWA and the State Department were imminent, in which reforms to the organization would be broached to address concerns about transparency and how the funds are spent.
Certainly, the U.S. will have more leverage to address any lingering issues of corruption once bilateral negotiations are back on the table.
Perpetuating Conflict
Israel's main allegation against UNRWA is that its mere existence perpetuates the conflict. The argument is that its definition of a refugee to include later generations of Palestinians makes the conflict more intractable.
But UNRWA isn't perpetuating the conflict; it's a crucial stopgap providing stability in an unstable region, stability that is crucial to getting back to the negotiating table with the hopes for lasting peace.
Even when Switzerland, Belgium and the Netherlands temporarily defunded UNRWA, they maintained that UNRWA "plays an essential role for the security and stability in the region," as the Swiss Foreign Minister told me, sentiments shared by the Netherlands' Foreign Ministry's Director for Multilateral Organizations and Belgium's Foreign Ministry's President of the Direction Committee, who told me at the time that disrupting UNRWA's "crucial" services "could be fatal for thousands of Palestinians."
He's right: Defunding UNRWA would spell disaster, especially in the besieged Gaza Strip, where 80% of the population depends upon humanitarian aid just to survive. And here again we see how UNRWA is essential to solving the conflict, rather than a perpetuator of it, for further impoverishing an uninhabitable enclave is a recipe for radicalization. Abolish UNRWA and you will see Gaza's residents further sink into despair, with nothing to hope for and nothing to lose.
Moreover, undermining UNRWA would only bolster Hamas. As House Foreign Affairs Chair Gregory Meeks noted, hundreds of thousands of kids in Gaza would end up in Hamas-run schools if UNRWA's schools were completely defunded.
But this isn't merely the opinion of UNRWA donors; it's an assessment shared by Israel's defense establishment. Before Israeli Prime Minister Benjamin Netanyahu did an about face and demanded Trump cut all aid to UNRWA, the IDF, the Shin Bet and the Israeli Ministry of Defense all shared the opposite view; as Axios reported at the time, "the Israeli policy was that any cut in American funding of UNRWA should be gradual and without any aid cuts to Gaza, thanks to the fear of a humanitarian collapse and an escalation on the ground."
In fact, Israel itself actively coordinates with UNRWA, for instance, vis-à-vis its construction projects and the entry of humanitarian assistance and personnel to the blockaded Gaza Strip.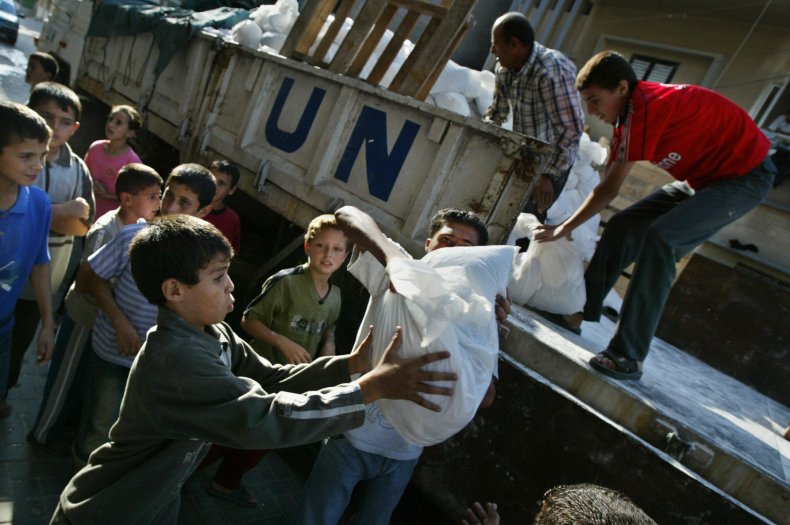 The idea that the U.S. should be more hardline on Palestinians than Israel's far-right government is preposterous and counterproductive.
Incitement and Ties to Hamas
Another prominent claim against UNRWA is that it's a conduit of anti-Semitic incitement, a charge sometimes coupled with an allegation that UNRWA has ties to Hamas. But as someone who personally studied in UNRWA schools my entire life, I can tell you this is false, at least in my experience.
It was in my UNRWA school that I learned about the Holocaust, the Jewish diaspora, and the persecution of our Jewish brothers and sisters throughout history. UNRWA back then used to organize trips to the Netherlands and U.S. for students who excelled at school. Those trips included tours of Holocaust museums and Anne Frank's house.
In fact, Hamas publicly criticized UNRWA for these activities, and in 2012, there were even talks inside Hamas about how they might possibly replace UNRWA.
UNRWA for its part has consistently fired teachers and employees with known ties to Hamas, prompting further tensions with the movement. In 2017, after the head of the UNRWA employees' union in Gaza was revealed to be a Hamas member, UNRWA gave him a choice: He could resign or be fired.
It's true that both Israeli and Palestinian textbooks contain negative bias in their portrayal of the other, according to a 2013 State Department-funded study. But the way to meaningfully reform this issue would be to require both sides to make mutual, simultaneous improvements to their respective curricula.
To continuously demand unrequited reforms and moderation from Palestinians while making no similar demands on Israel, at a time when Israel is drifting further towards the right, devalues these demands. And it makes them seem like capitulation in the eyes of Palestinians, which naturally provokes resistance to implementing them.
UNRWA's existence was never meant to be permanent. Most Palestinians yearn to a day where they won't need humanitarian aid anymore. But as long as the conflict continues, UNRWA remains crucial to keeping life going in the occupied territories, even to the minimal extent that they do.
The way to get rid of UNRWA is for Israelis and Palestinians to reach a just and lasting peace. If you hate UNRWA, your best bet for seeing it gone is to channel your energies toward peace.
Muhammad Shehada is a writer and civil society activist from the Gaza Strip and a student of development studies at Lund University, Sweden. He was the PR officer for the Gaza office of the Euro-Med Monitor for Human Rights.
The views in this article are the writer's own.