Biden Sanctions Ukraine Separatist Regions After Putin Recognition
The United States imposed new investment, trade and financing restrictions on the two pro-Russia regions in Ukraine recognized as independent by Russian President Vladimir Putin on Monday.
White House Press Secretary Jen Psaki issued a statement earlier Monday on President Joe Biden's plans to authorize the sanctions, and the president announced that he had officially signed an executive order Monday evening "to deny Russia the chance to profit from its blatant violations of international law."
"We are continuing to closely consult with Allies and partners, including Ukraine, on next steps," Biden said in a tweet.
Putin's recognition of the regions in Ukraine has drawn widespread backlash, further bolstering tensions hinged on a possible Russian invasion into Ukraine. British Foreign Secretary Liz Truss also tweeted Monday that the U.K. would announce sanctions in light of the move, but their measures would instead be aimed at Russia "in response to their breach of international law and attack on Ukraine's sovereignty and territorial integrity."
The U.S. sanctions restrict the activities by "U.S. persons to, from, or in" the self-proclaimed Donetsk People's Republic and Luhansk People's Republic, according to Psaki. The executive order will also "provide authority to impose sanctions on any person determined to operate in those areas of Ukraine," Psaki had said.
Psaki wrote that the move from Russia had been "anticipated" and the U.S. was ready to respond immediately upon Putin's announcement. She also noted that the sanctions against the regions in Ukraine were separate, added restrictions from the other economic measures the U.S., along with its allies and partners, are planning to impose "should Russia further invade Ukraine."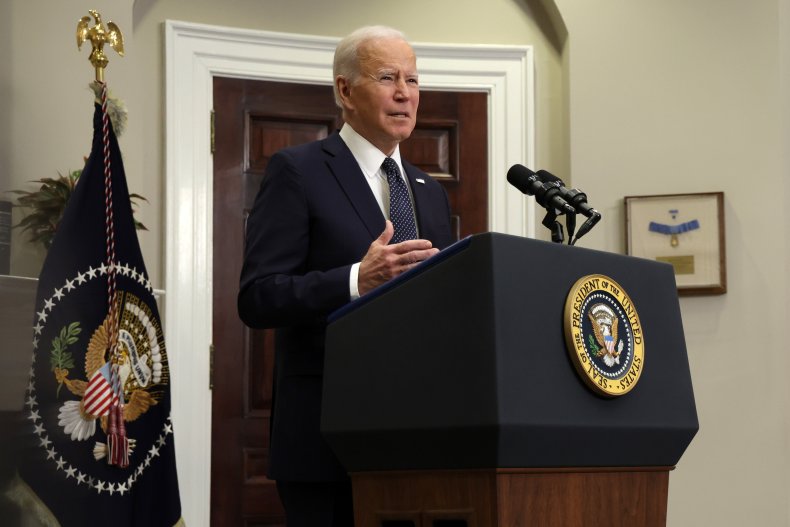 The U.S Department of State and Treasury Department would provide further details, and an announcement of "additional measures related to today's blatant violation of Russia's international commitments" was soon to come, according to Psaki.
"We are continuing to closely consult with Allies and partners, including Ukraine, on next steps and on Russia's ongoing escalation along the border with Ukraine," the statement said.
The regions in eastern Ukraine have seen conflict between pro-Russia separatists and Ukrainian forces for years, but the tensions have increased in recent weeks amid the looming threat of a Russian invasion. Putin has faced calls from some separatists to recognize the areas as autonomous and provide them military aid amid claims that Ukraine is attacking the areas, but Ukraine has denied the accusations and blamed Russia for allegedly inciting violence, Newsweek previously reported.
Putin said the situation in the areas was "critical" and described Ukrainians as "comrades" and "family" during remarks on Monday. He also said that Russian bolsheviks "completely created" modern Ukraine after the 1917 revolution, Newsweek reported.
In addition to the U.S. and the U.K., Putin's recognition of the regions has drawn condemnation by Estonia President Alar Karis, NATO Secretary-General Jens Stoltenberg, and European Union leaders, among others.
British Prime Minister Boris Johnson said during a news conference on Monday that Putin's move was "plainly in breach of international law," calling it a "very ill omen and a very dark sign."
Newsweek reached out to the White House for comment.