Biden Says Anyone Who Believes Tara Reade Shouldn't Vote for Him
During an interview with Lawrence O'Donnell on MSNBC Thursday, former Vice President Joe Biden denied allegations of sexual assault brought against him by Tara Reade.
Reade has accused Biden of sexually assaulting her in 1993 while she was working as a Senate aide. Reade has said that she filed a complaint about how Biden made her feel uncomfortable with a personnel officer but did not mention the alleged sexual assault in the report.
Biden has repeatedly said the assault did not happen.
When asked what he would tell individuals who had planned to vote for him but were reconsidering because of Reade's allegations, Biden said those people should "vote their heart."
"If they believe Tara Reade," Biden said, "they probably shouldn't vote for me. I wouldn't vote for me if I believed Tara Reade."
Biden claimed that Reade's story had been vetted, as many of his employees had been interviewed in relation to Reade's claims. "This is just totally, thoroughly, completely out of character," Biden said.
"The idea that, in a public place, in a hallway, I would assault a woman? I promise you it never happened," Biden added before promising that there was "no truth" to Reade's allegations.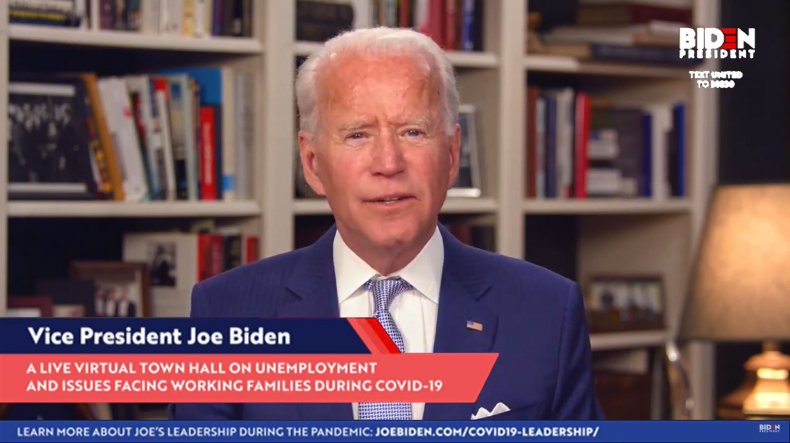 Leading Democratic lawmakers have supported Biden's claims of innocence in the matter, including Senate Minority Leader Chuck Schumer who said on Tuesday that Biden's explanation was "sufficient."
"I think he will be a great candidate," Schumer said. "I think he will be a great president. And I think he will help us take back the Senate."
House Speaker Nancy Pelosi also expressed her support of Biden, saying Tuesday that she believes "him when he said it didn't happen."
Biden is the presumptive nominee for the Democratic presidential candidacy, but Reade has called for Biden to exit the race. In a May interview with journalist Megyn Kelly, Reade called on Biden to "step forward and be held accountable."
"You should not be running on character for the president of the United States," Reade added."
Reade's attorney, Douglas Wigdor, said Monday his firm had sent a letter to Biden asking for permission to search the archive of his Senate papers in order to find information about Reade. Another letter was sent by Wigdor's firm to the Office of the Secretary of the United States Senate in hopes of obtaining a copy of a report Reade filed in 1993 detailing her complaints about Biden's behavior.
"If Biden believes that voters need to assess the credibility of Ms. Reade's claims before deciding who to vote for," Wigdor said in a statement sent to Newsweek on Friday, "then he ought to also agree that thorough independent and non partisan investigation should be conducted that includes testimony from the relevant witnesses including Biden himself as well as a review of all potentially relevant documents such as those that reside at the University of Delaware and the United State Senate."
Updated 11:09 p.m. EST 05/15/2020: This story has been updated to include a statement from Tara Reade's attorney, Douglas Wigdor.