Tara Reade Calls on Joe Biden to Exit Presidential Race: 'Step Forward and Be Accountable'
Tara Reade, who has accused former Vice President Joe Biden of sexual assault, told former Fox News anchor Megyn Kelly that Biden should withdraw from the presidential race.
Reade has accused Biden of pushing her against the wall and penetrating her with his fingers while Reade was working as his aide in 1993. Biden has denied the claims.
"It is not true," Biden told MSNBC on Friday. "I am saying unequivocally it never, never happened and it didn't. It never happened."
"In every case, the truth is what matters," Biden added. "In this case, the truth is the claims are false."
Biden also said that the claims of women who allege sexual misconduct must be "taken seriously," but the allegations must also be vetted.
During the interview, which will be posted on Megyn Kelly's YouTube channel and Instagram feed, Reade said she believed Biden needed to be "held accountable" for his alleged actions.
"You and I were there, Joe Biden," Reade said. "Please step forward and be held accountable. You should not be running on character for the president of the United States."
Reade also said she wished Biden would drop out of the presidential race completely but acknowledged that "he won't."
"But I wish he would," Reade added. "That's how I feel emotionally."
Newsweek reached out to the Biden campaign for comment. This story will be updated with any response.
When asked if she would accept an apology from Biden, Reade said she thought it was "a little late" for that gesture.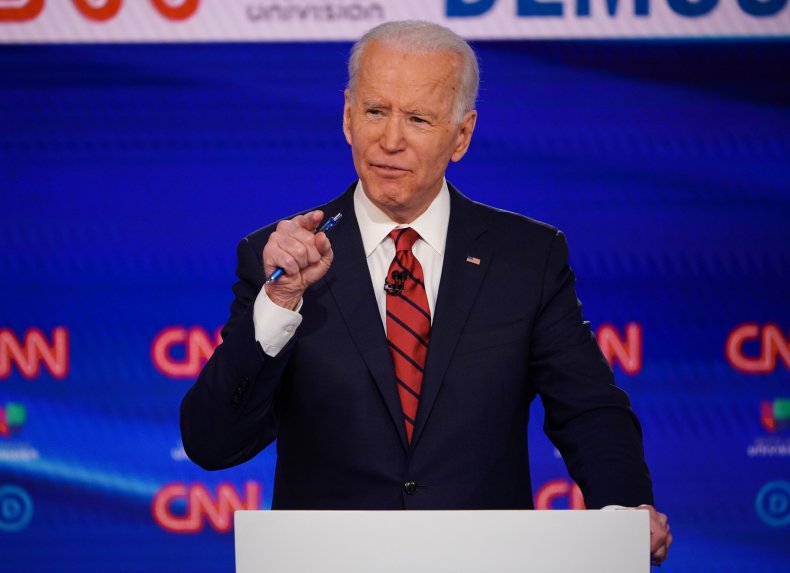 Biden, the presumptive nominee for the Democratic Party's presidential bid, has received an outpouring of support from people who do not believe Reade's accusations.
Democratic Speaker of the House Nancy Pelosi, who has endorsed Biden for president, told MSNBC's Ari Melber on Tuesday that she "believes [Biden] when he says it didn't happen."
"But I also believe him when he says let them look into the records, and that's what they should do," Pelosi added.
Stacey Abrams, who lost the election for Georgia's governorship in 2018, told CNN in April that she was on Biden's side.
"I believe that women deserve to be heard and I believe they need to be listened to, but I also believe that those allegations have to be investigated by credible sources," Abrams said. "The New York Times did a deep investigation and they found that the accusation was not credible. I believe Joe Biden."
President Donald Trump, himself the subject of multiple sexual misconduct allegations, told conservative radio host Dan Bongino on Friday that Biden should refute the charges if they are false.
"I like to get in front of it and I just deny it if it's not true," Trump said. "I mean, I've been a total victim of this nonsense, false accusations. I've been falsely accused by people that I've never even seen."
"I guess you could say I'm sticking up for [Biden]," Trump added.
However, not everyone has been quick to believe Biden over Reade. Democratic Representative Alexandria Ocasio-Cortez of New York said Thursday that the allegations are not "clear cut."
"Instead of focusing on [Reade's] account, instead of focusing on her story as a survivor, people are fast-forwarding to the political implications," Ocasio-Cortez told NPR. "'Do you want Trump to win?' 'Will you be voting for Joe Biden?' And that denies justice in this situation."