Trump Encourages Joe Biden to Say Sexual Assault Allegations Are False: 'I Guess You Could Say I'm Sticking Up For Him'
On Friday, President Donald Trump advised presumptive Democratic presidential nominee Joe Biden to deny the sexual assault allegations levied against him by Tara Reade, Biden's former aide when he served as Delaware's senator during the 1990s.
"I like to get in front of it and I just deny it if it's not true," Trump said when asked about Reade's allegations on the podcast of conservative radio host Dan Bongino.
"You deny it. I mean I've been a total victim of this nonsense, false accusations," Trump continued. "I've been falsely accused by people that I've never even seen. I've never even seen many of these people, and some of them I met them — zero interest, okay? Like zero. And all of a sudden you become a wealthy guy, or a famous guy, you become president, and people just... people that you've never seen, that you've never heard of, make charges."
"I guess you could say I'm sticking up for him," Trump said of Biden after offering his advice.
"The worst victim I've ever seen before was a very high-quality human being, Brett Kavanaugh," Trump said of the now-sitting Supreme Court Justice who was accused of rape during his September 2018 Senate hearings.
Reade claims that in 1993 Biden pushed her against a wall and penetrated her with his fingers. She has also filed a criminal complaint about the incident with the Washington Metropolitan Police Department.
In a live Friday morning interview on MSNBC's Morning Joe, Biden reasserted that Reade's allegations were untrue.
"I'm saying unequivocally it never, never happened. And it didn't. It never happened," he said.
Reade told Newsweek on Friday morning that she hadn't yet read Biden's full statement on her allegations and wouldn't respond until she had.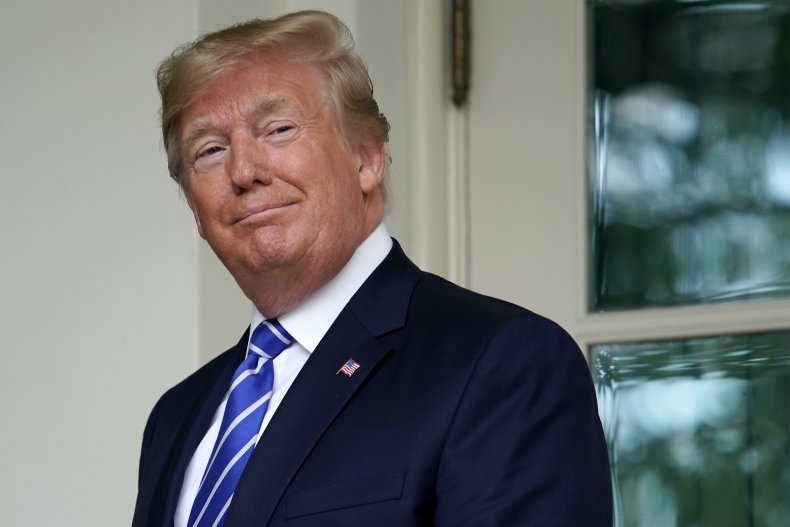 "I watch Tara and she seems very credible," Trump told Bongino. "The mother was so credible, the mother was great," he added, referencing recently resurfaced video from an August 11, 1993 Larry King Live segment in which an unnamed woman, purportedly Reade's mother, said that her daughter had serious "problems" with a senator she was working for.
During his interview with Bongino, Trump called Biden "a confused man," and added, "I look forward to the day someday, they have to sue these women because every one of them was lying. They were lying."
Trump has been accused of rape and attempted rape a total of three times.
"What they put [Kavanaugh] through and his family—his wife is an incredible woman, his daughters—for him to have to go through what he went through is a disgrace. And you know, look, I look at the double standards. You look at Biden, nobody even wants to bring up the subject," Trump said.
Although congressional Democrats like New York Democratic Representatives Hakeem Jeffries and Alexandria Ocasio-Cortez had publicly called on Biden and the Democratic Party to discuss and investigate Reade's claims, Democratic House Speaker Nancy Pelosi said on Thursday that she believes Biden.
"I have great sympathy for any women who bring forth an allegation," Pelosi said. "I'm a big strong supporter of the #MeToo movement. I think it's been a great contribution to our country, and I do support Joe Biden. I'm satisfied with how he has responded. I know him. I was proud to endorse him on Monday."
Republican House Minority Leader Kevin McCarthy (R-Calif.) called Pelosi "a hypocrite" for endorsing Biden without first investigating Reade's claims against him.