Biden Says He Would Consider Deploying National Guard to Ease Supply Chain Crisis
Democratic President Joe Biden has said that he is considering deploying the National Guard to help relieve the national supply chain crisis.
Biden made his comments during CNN's Thursday evening presidential town hall in Baltimore, Maryland. At the event, moderator Anderson Cooper asked whether Biden would be willing to deploy the National Guard to drive trucks and help distribute goods currently held in ports on the nation's coasts.
"You're actually talking about having National Guardsmen and women driving trucks?" Cooper asked Biden, noting a national shortage of truckers.
"The answer is yes," Biden responded. When pressed for a timetable, he said that he would rather first focus on getting the nation's ports operational. Biden said he had arranged for the Port of Los Angeles to remain open 24/7 in order to help resolve the issue.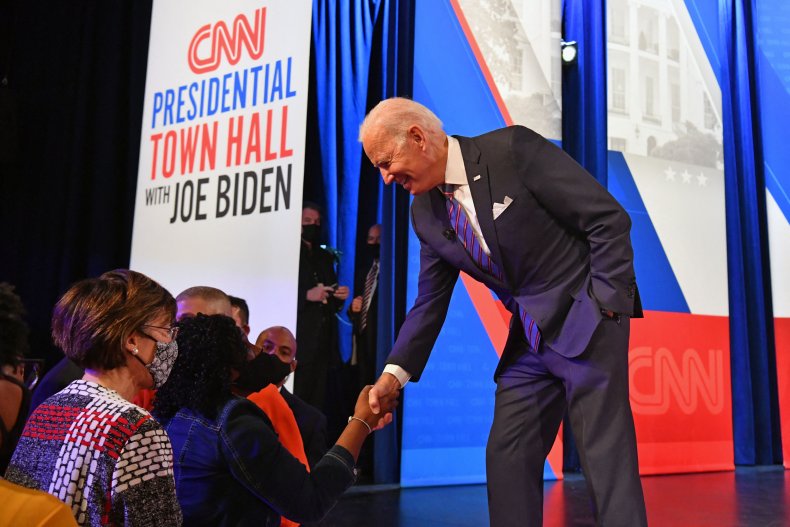 While using the National Guard as truckers could help relieve some backlogs in the supply chain, it alone is unlikely to solve the crisis.
Supply chain issues began with workplace shutdowns and the economic downturn caused by the COVID-19 pandemic. The lack of workers caused manufacturing and shipping delays. The delays made people worry about shortages of essential goods and rising consumer prices.
However, the problem has gotten worse, experts say, just as the holiday shopping season ramps up. Experts predict the crisis will likely continue into 2022.
Dozens of cargo ships are currently stuck off the California coast because coastal ports are occupied by ships waiting to unload their cargo, The Washington Post reported. Once unloaded, the cargo waits on docks in shipping containers, with not enough truckers to transport them to rail yards and warehouses.
The rail yards and warehouses, also suffering from worker shortages, are unable to unpack cargo containers. Often, these locations are forced to wait for the freight and then rushed to deliver them.
The crisis has also been exacerbated by the fact that different parts of the national supply chain rarely share their commercial data with one another. As a result, the supply chain remains fragmented rather than operating as a streamlined whole, Gene Seroka, executive director of the Port of Los Angeles, told the Post.
To help alleviate the problem, the Biden administration tapped John Porcari, a former deputy secretary of transportation, to head Biden's Supply Chain Disruptions Task Force. Porcari's job is to "knock the heads and get the immediate backlogs cleared up," as the White House's senior director for international economics and competitiveness, Peter Harrell said, according to Politico.
But because the government has limited oversight of ports and shipping companies, the task force has mostly leaned on the private sector and workers unions to expand operating hours and increase workers to help clear out the backlog.
Newsweek contacted the White House for comment.