Biden Says Infrastructure Bill Is About 'Competitiveness Versus Complacency'
Democratic President Joe Biden has said that the issue of whether to support his human infrastructure bill is about "competitiveness versus complacency."
The president's Build Back Better agenda seeks funding to expand public housing, childcare, healthcare and eldercare as well as initiatives to fight climate change.
"These bills are not about left versus right, or about moderate versus progressive or anything that pits one American against another," Biden said during his Wednesday speech in Scranton, Pennsylvania.
"These bills are about competitiveness versus complacency, about expanding opportunity versus having an opportunity denied," he continued. "They're about leading the world or continuing to let the world pass us by."
The initially $3.5 trillion proposal package has since been negotiated down to just below the $2 trillion range. It has been reduced to appease moderate Democrats like West Virginia Senator Joe Manchin who wanted it to cost less. The proposal has nonetheless been wholly opposed by Republican Congress members.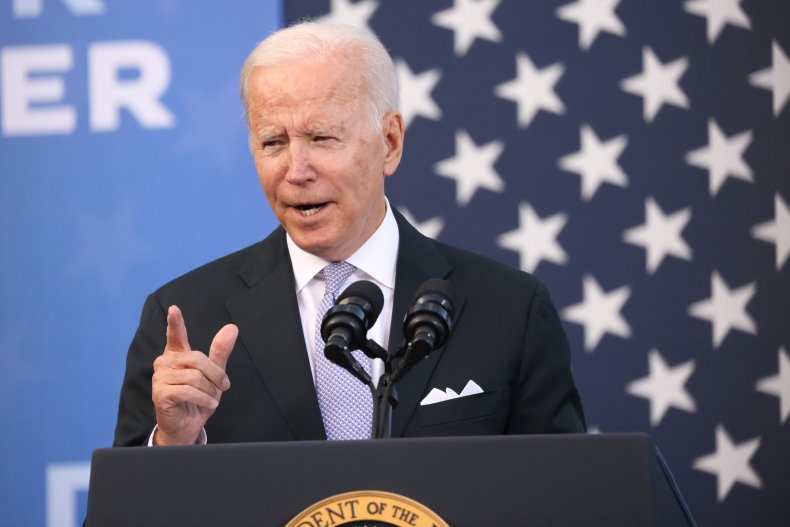 One of the infrastructure proposal's numerous initiatives would expand broadband wireless internet access to underserved communities. To illustrate his point, Biden mentioned seeing people's children sitting in cars in front of McDonald's while doing "distance learning" during the start of the COVID-19 pandemic.
"How many people did you see out in McDonald's parking lots with their kids in their cars because they couldn't get access to the internet, to be able to help the kid in school? What are we doing? This is the United States of America, dammit."
The infrastructure proposal has been upheld by ongoing negotiations between Democratic moderates and progressives. Manchin has opposed the proposal's $150 billion clean energy program, a centerpiece of Biden's climate agenda.
The proposal's clean energy initiative seeks to replace America's coal and gas-fired power plants with wind, solar and nuclear energy. Those replacements will likely be scaled back following Manchin's opposition.
Democratic progressives have said they may oppose the bill if its climate change initiatives are too weakened.
"We cannot advance legislation that makes the climate crisis worse," progressive New York Democratic Representative Alexandria Ocasio-Cortez tweeted last Friday.
Democrats are seeking to pass the legislation via budget reconciliation. Reconciliation would allow Democrats to bypass the Senate's 60-vote filibuster for passing legislation.
However, all 50 members of the Senate Democratic caucus would need to vote in favor of the legislation in order for it to pass. In other words, the Build Back Better plan cannot succeed without both Manchin's and Sanders' support.
Newsweek contacted the White House for comment.