Presumptive Democratic presidential nominee Joe Biden said Russia and China are actively engaging in attempts to undermine U.S. elections, citing intelligence briefings.
Biden made the remarks during a fundraiser event Friday night, telling approximately 200 attendees that he is now receiving intelligence briefings again.
"The Russians are still engaged in trying to delegitimize our electoral process. Fact," Biden said. "China and others are engaged as well in activities that are designed for us to lose confidence in the outcome."
Biden did not provide details on what he had seen in the briefings, which are now provided to him by the Office of the Director of National Intelligence (ODNI).
The Washington Post reported last month that the U.S. government is briefing presidential campaigns and the national parties about such election threats as part of the government's effort to ensure November does not see a repeat of the 2016 election.
"The ODNI has been providing robust intelligence-based briefings on election security to the campaigns, political organizations and Hill leaders," an ODNI official wrote in an email to Newsweek.
Biden said Friday that he is most concerned about foreign interference when it comes to voting access, particularly his campaign's efforts to fight Black voter suppression.
"Frankly, this is the thing that keeps me up most at night," Biden said. "Making sure everyone who wants to vote can vote. Making sure that the vote is counted, making sure we're all trusting in the integrity of the results of the election."
Newsweek contacted the Biden campaign for comment, but did not hear back in time for publication.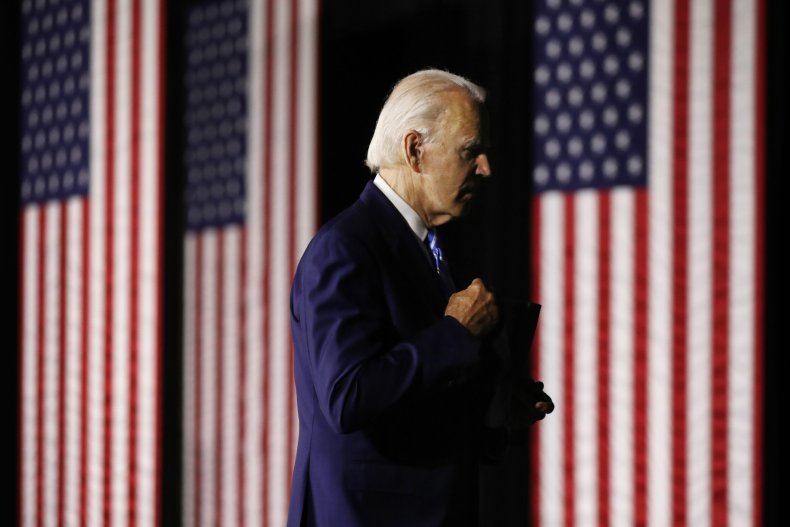 The former vice president's worries are not unfounded.
Google announced in early June that Chinese and Iranian government hackers targeted Gmail accounts of staffers working on Biden's presidential campaign and President Donald Trump's reelection campaign, respectively.
Foreign adversaries have sought to access U.S. presidential campaigns in every election for more than a decade. Perhaps the most notable of these acts occurred in 2016, when the Russians interfered in the presidential election.
Special Prosecutor Robert Mueller's two-year investigation into the matter eventually confirmed that Russia had engaged in activities meant to damage Democratic presidential candidate Hilary Clinton's campaign and improve Trump's chances of winning the election.
Earlier this month, FBI Director Christopher Wray appealed to the American people during a panel discussion about China, stating that the greatest long-term threat to information and economic vitality in the U.S. is the Chinese Communist Party.
Wray had outlined several ways the Chinese government is currently engaging in counterintelligence and economic espionage efforts, adding that the FBI is now opening a new China-related counterintelligence case about every 10 hours.
Update (07/18/20, 5:45 p.m. ET):This article has been updated to include a comment from the Office of the Director of National Intelligence.