Biden Says Sanctions Weren't Meant to Deter Putin From Invading Ukraine
U.S. President Joe Biden said that the sanctions imposed in response to the war in Ukraine were never meant to deter Russian President Vladimir Putin from invading the country but rather to unite Ukraine's Western allies and to demonstrate that the world would not back down.
"Sanctions never deter," Biden said during a Thursday press conference at a NATO summit in Brussels, Belgium. "The maintenance of sanctions, increasing the pain and the demonstration [is] why I asked for this NATO meeting today, is to be sure that after a month, we will sustain what we're doing, not just next month, the following month, but for the remainder of this entire year."
"The single most important thing is for us to stay unified and [for] the world continue to focus on what a brute [Putin] is, and all the innocent people's lives are being lost and ruined....That's the important thing," he added. "If you're Putin and you think that Europe is going to crack in a month or six weeks or two months, [that] they can take anything for another month....We have to stay fully, totally thoroughly united."
Weeks before Russia launched its invasion of Ukraine, White House National Security Adviser Jake Sullivan sent a different message, saying on February 11 that "the president believes that sanctions are intended to deter."
In the same week, Secretary of State Antony Blinken said he was at the United Nations "not to start a war, but to prevent one."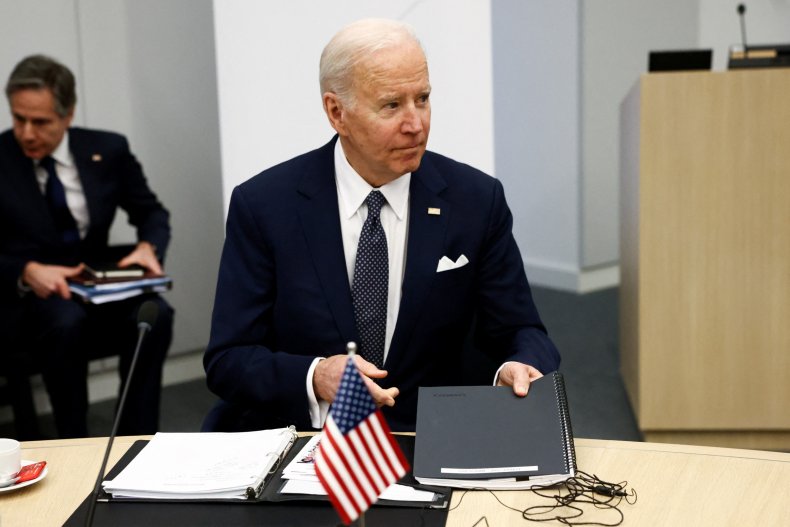 "Putin was banking on NATO being split," Biden said Thursday after meeting with NATO leaders earlier in the day. "My earlier conversation with him in December and early January, [it] was clear to me he didn't think we could sustain this cohesion.
"NATO has never been more united than it is today," he added. "Putin is getting exactly the opposite [of] what he intended to have as a consequence of going into Ukraine. We've built that same unity with the European Union and with the leading democracies in the G7."
Russian Foreign Minister Sergey Lavrov said on Wednesday that Moscow was surprised by the scope of Western sanctions imposed on the country, Russian newspaper Kommersant reported. He previously described sanctions as "a crude violation of key international legal standards."
On Friday, Biden is expected to travel to Poland, where millions of Ukrainians have fled across the border to seek refuge.
While answering questions from the press, Biden said Russia should be excluded from the Group of 20 club of leading economies and that NATO needs to create an organization that would investigate and punish countries that violate sanctions against Russia.
Update 3/24/22, 2:38 p.m. ET: This story was updated with additional information.
Update 3/24/22, 4:02 p.m. ET: This story was updated with additional information.