Scope of Western Sanctions Surprised Moscow, Russian Foreign Minister Says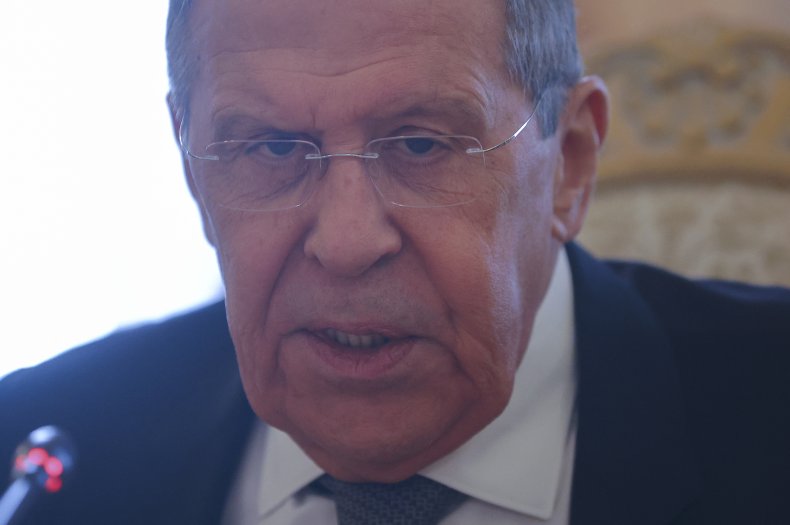 Russian Foreign Minister Sergey Lavrov has admitted that Moscow was surprised by the scope of Western sanctions imposed on the country.
Lavrov said on Wednesday that the scale of economic sanctions imposed by the United States, the European Union and others could not have been "predicted" ahead of Russia's nearly monthlong assault on Ukraine. He singled out actions taken against Russia's Central Bank, which contributed to devastating economic effects that have included the collapse of the ruble.
"When the reserves of the Central Bank were frozen, no one who was predicting what sanctions the West would pass could have pictured that," Lavrov said during a speech to students at the Moscow State Institute of International Relations, according to Russian newspaper Kommersant. "This is just theft."
"The Russian Federation must be made to never again depend on supplies from abroad," he added. "Russia has more than enough resources and brains to be self-sufficient."
During a Moscow meeting with BRICS ambassadors on Tuesday, Lavrov "stressed that the unprecedented economic war unleashed against Russia through sanctions is a crude violation of key international legal standards," according to a ministry statement. BRICS is an alliance between Brazil, Russia, India, China and South Africa.
Lavrov is not the only Russian official to recently complain about the impact of sanctions. Russian Federation Council Deputy Speaker Galina Karelova said the sanctions had put millions of Russian jobs at risk, adding that 8.4 million had experienced a change in job status since the sanctions began.
Russia became the world's most-sanctioned country this month, surpassing countries like Iran and North Korea. There has been little to suggest that the sanctions will ease while the attack on Ukraine continues. Instead, President Joe Biden is expected to announce additional sanctions against Russia during a special meeting of NATO allies in Brussels on Thursday.
Biden's National Security Adviser Jake Sullivan said during a press conference on Tuesday that the president plans to work with "our partners in imposing further sanctions on Russia and tightening the existing sanctions to crack down on evasion and to ensure robust enforcement."
"From his perspective, what we have achieved with our European partners—in terms of financial sanctions, export controls and other measures to hit the Russian economy hard—have had unprecedented impact on a large economy at a scale we have never seen before," Sullivan said.
"[Biden] feels very good about where things stand today in terms of the unity and resolve of the Western alliance on sanctions," he added. "We will have more to say on sanctions in the coming days."
During Wednesday's address to students in Moscow, Lavrov also warned that a "direct clash" with NATO countries could take place if the alliance's peacekeeping forces are sent to intervene in the Ukraine conflict.
Last week, former Russian Foreign Minister Andrei Kozyrev told Newsweek that current Russian diplomats like Lavrov had an ethical duty to resign over the Ukraine invasion.
"Like the military, diplomats have a responsibility to their country to defend and to promote the interests of their country," Kozyrev said during a phone interview. "Ukrainians are our brothers and sisters; diplomats should not participate in that."
Kozyrev said that a mass resignation of Russian politicians would leave the Putin regime "absolutely paralyzed," adding that it "would be much more powerful than any sanctions you could imagine."
Newsweek reached out to the Embassy of Russia in Washington, D.C., for comment.