Biden Silent on Black Lives, Cori Bush Says, Rejecting Police Funding Push
Congresswoman Cori Bush hit back at President Joe Biden's call for more police funding during his first State of the Union address.
"With all due respect, Mr. President. You didn't mention saving Black lives once in this speech," Bush, a progressive representing Missouri's 1st congressional district, wrote on Twitter after the speech ended. "All our country has done is given more funding to police. The result? 2021 set a record for fatal police shootings. Defund the police. Invest in our communities."
Calls to cut funding from police departments and invest in alternative social safety practices skyrocketed in 2020 amid nationwide protests against police brutality in the wake of the deaths of George Floyd, Breonna Taylor and others at the hands of law enforcement.
But Biden's remarks on Tuesday night were met with applause from many Democrats as the party shifts gears on police reform amid an uptick in crime across the country.
"We should all agree: The answer is not to defund the police. The answer is to fund the police with the resources and training they need to protect our communities," Biden said as he spoke before both chambers of Congress.
California Representative Eric Swalwell tweeted that he stood with "every member" of the House's Democratic caucus as Biden spoke about bolstering police department budgets. Republicans, including House Minority Leader Kevin McCarthy, were also seen cheering the president after his remarks.
Biden didn't mention racial issues in his 62-minute address.
Black Lives Matter responded to Biden's address on Twitter, writing: "No, @joebiden, we don't 'all agree.'"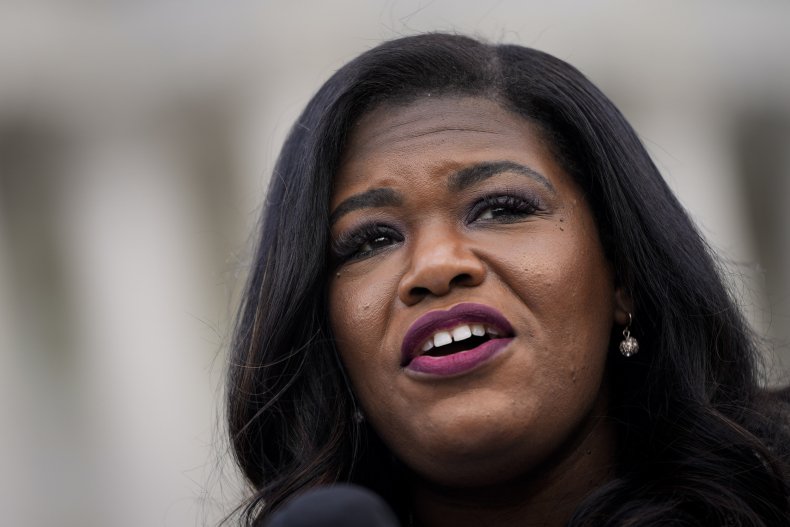 Biden touted funding provided by his American Rescue Plan that local governments can use to bolster their police force, as well as actions taken by the Department of Justice to ban chokeholds and no-knock search warrants.
The president also called on Congress to pass his budget in order to "keep communities safe" and take action to reform gun laws. Gun violence surged last year with 20,726 people dying from homicides, unintentional deaths and other kinds of gun violence in 2021, according to the Gun Violence Archive.
"I will keep doing everything in my power to crack down on gun trafficking and ghost guns you can buy online and make at home—they have no serial numbers and can't be traced," he said. "And I ask Congress to pass proven measures to reduce gun violence. Pass universal background checks. Why should anyone on a terrorist list be able to purchase a weapon?"
Newsweek reached out to Bush's office and the White House for additional comment but didn't receive a response before publication.