Biden Calls SCOTUS Texas Abortion Ban Ruling 'Unprecedented Assault on Constitutional Rights'
On Thursday, President Joe Biden criticized the U.S. Supreme Court's decision to allow a Texas law that severely restricts abortion access to take effect.
"The Supreme Court's ruling overnight is an unprecedented assault on constitutional rights under Roe v. Wade," Biden tweeted Thursday, referring to the Supreme Court's 1973 landmark abortion case.
"Complete strangers will now be empowered to inject themselves in the most private of health decisions. The law does not even allow exceptions in cases of rape or incest," he added.
"Rather than use its supreme authority to ensure justice could be fairly sought, the highest Court of our land will allow millions in Texas in need of critical reproductive care to suffer while courts sift through procedural complexities," the president said.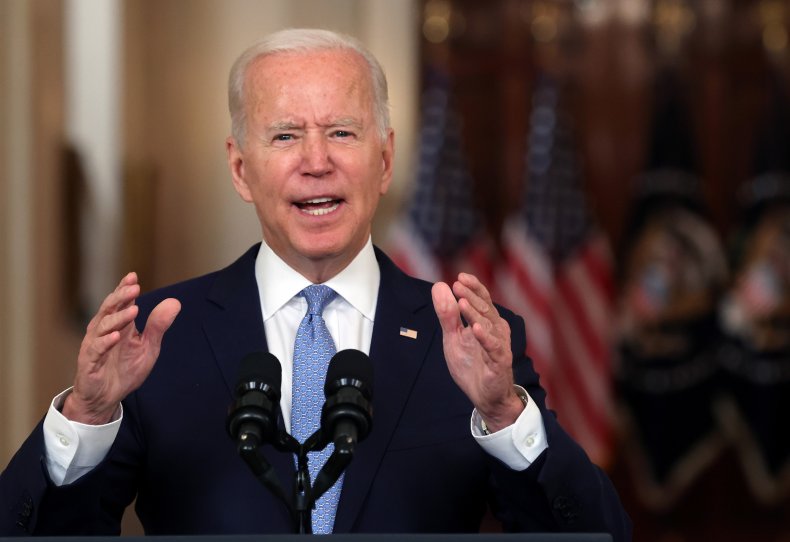 In a 5-4 vote late Wednesday night, the court moved to uphold the new Texas law, which will effectively ban all abortions in the state after around six weeks of pregnancy, denying an application for an emergency stay of the new policy.
The president said Thursday that he would be "launching a whole-of-government effort to respond to this decision" and see what steps federal government—including the Department of Health and Human Services and the Department of Justice—"can take to insulate those in Texas from this law and ensure access to safe and legal abortions as protected by Roe."
During a press conference on Thursday, White House Press Secretary Jen Psaki said the president is concerned about other states passing abortion restrictions similar to Texas'.
"Of course we're worried...that is one of the reasons why the president thinks it's so urgent and why he has asked his team to act as quickly as possible to see what our options are," Psaki said.
The new Texas law won't be enforced by state officials, but private citizens, giving them the ability to sue doctors and others who assist women in getting abortions. Anyone who sues successfully would be entitled to at least $10,000.
Justices Neil Gorsuch, Brett Kavanaugh and Amy Coney Barrett—who were all appointed by former President Donald Trump—joined Samuel Alito and Clarence Thomas in refusing the emergency effort to halt the law.
In the court's order, the majority noted that they were not addressing the constitutionality of the Texas law, and said the ruling "in no way limits other procedurally proper challenges to the Texas law, including in Texas state courts."
Chief Justice John Roberts joined the court's three liberals, Stephen Breyer, Elena Kagan and Sonia Sotomayor, in dissent.
Biden said Thursday that the four justices' dissents "all demonstrate the error of the Court's action here powerfully."
Sotomayor wrote that with Wednesday's ruling, "a majority of Justices have opted to bury their heads in the sand."
"Last night, the Court silently acquiesced in a State's enactment of a law that flouts nearly 50 years of federal precedents," she said.
Reached for comment on Thursday, White House referred Newsweek to a statement Biden released on Thursday.
"For the majority to do this without a hearing, without the benefit of an opinion from a court below, and without due consideration of the issues, insults the rule of law and the rights of all Americans to seek redress from our courts," the statement said. "While the Chief Justice was clear to stress that the action by the Supreme Court is not a final ruling on the future of Roe, the impact of last night's decision will be immediate and requires an immediate response."
When asked by a reporter Thursday how Biden can support abortion despite his own Catholic faith, Psaki said "he believes that it's a woman's right, it's a woman's body and it's her choice."
"Who does he believe then should look out for the unborn child?" the male reporter asked as a follow-up.
"He believes that it's up to a woman to make those decisions," Psaki said. "I know you've never faced those choices nor have you ever been pregnant, but for women out there who have faced those choices, this is an incredibly difficult thing, the president believes that right should be respected."
Update 9/2/2021 - 3:15 PM ET - This story has been updated with additional information, comments from a statement released by the White House, and comments from White House Press Secretary Jen Psaki.