Biden to Talk to Putin 'At Some Point' After Russian Leader Challenges Him to Live Talks
President Joe Biden has said he would eventually get around to calling his Russian counterpart, Vladimir Putin, after the Kremlin leader challenged the new U.S. head of state to live talks amid a war of words between Washington and Moscow.
"I'm sure we'll talk at some point," Biden said on Friday, when asked by a reporter about his response to Putin's offer to parlay in real-time.
The Russian president issued the proposal in response to fury in Moscow over Biden agreeing with the characterization of Putin as a "killer" and demanding he "pay a price" over allegations his government interfered in the 2020 U.S. elections during an ABC interview aired Wednesday.
Russia recalled its ambassador to Washington over the affair and Putin initially replied to Biden during a videoconference with officials the following day.
"I would say 'stay healthy.' I wish him good health," Putin said. "I am saying this without irony or tongue in cheek."
But he also taunted Biden with a childrens' saying of "whatever you call me is what you are called yourself," and lectured listeners on the United States' own troubled history, from mass killings of Native Americans, the enslavement of African Americans and the use of nuclear weapons in combat.
He again accused Biden of projecting during an interview with state-run broadcaster Rossiya-24, and shared his new idea.
"I want to invite President Biden to continue our discussion, but on the condition that we do it actually live," Putin said. "But with no delays, directly in an open, direct discussion."
He said the event "would be interesting for the Russian people, for the U.S. people, and for many other countries as well."
Putin said the pair had a special responsibility as commanders of the world's two largest nuclear forces, and said the affair should take place as soon as possible.
"I wouldn't put this off for too long," he added. "I want to go to the taiga on the weekend to get some rest, but we could do it tomorrow or, let's say, on Monday."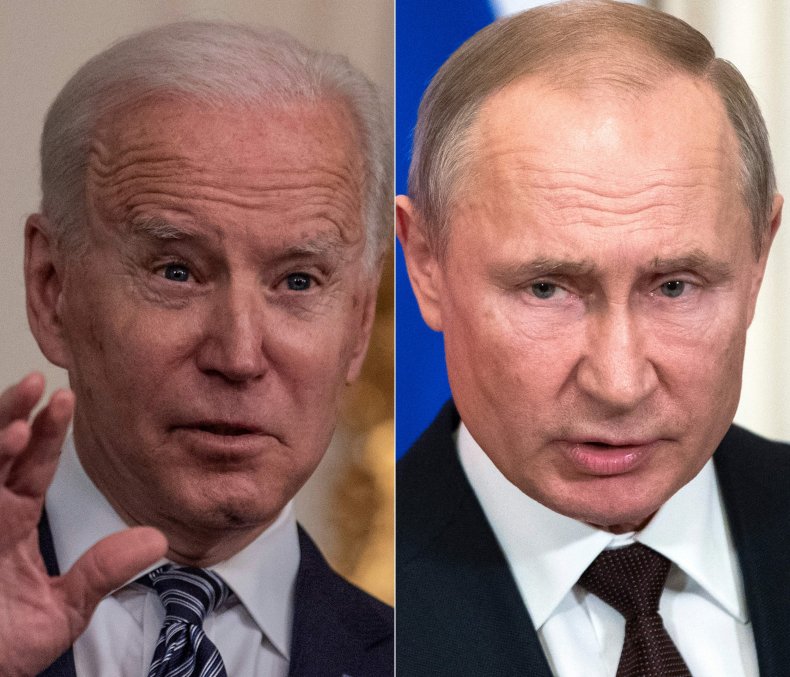 Kremlin spokesperson Dmitry Peskov confirmed earlier Friday that Putin was serious, and had ordered the Russian Foreign Ministry to attempt to initiate contact for a discussion to be held at any time.
"And now, in light of President Putin's initiative, the Russian side is showing initiative itself and sending it via diplomatic channels. It will wait for a response," Peskov told reporters Friday, according to the state-run Tass Russian News Agency.
Both the Kremlin and the White House have noted that Biden had a previously scheduled working trip to the state of Georgia on Friday, but Peskov left the option open for Monday or "at any time convenient for the U.S. president."
A recently released declassified version of an Intelligence Community Assessment, initially shared in full with former President Donald Trump on January 7, assessed that "Russian President Putin authorized, and a range of Russian government organizations conducted, influence operations aimed at denigrating President Biden's candidacy and the Democratic Party, supporting former President Trump, undermining public confidence in the elector process, and exacerbating sociopolitical divisions in the U.S."
This is the second presidential election in which the U.S. Intelligence Community has charged Russia with meddling in favor of Trump, who ultimately won in 2016 but was not found of colluding with the Kremlin after a special counsel probe. This time around, however, the latest assessment "did not see persistent Russian cyber efforts to gain access to election infrastructure."
It did, however, claim Russia exploited Trump's inner circle and other institutions to push an agenda.
"A key element of Moscow's strategy this election cycle was its use of proxies linked to Russian intelligence to push influence narratives — including misleading or unsubstantiated allegations against President Biden — U.S. media organizations, U.S. officials, and prominent U.S. individuals, including some close to former President Trump and his administration," the report found.
Russian officials have vehemently denied interfering in U.S. politics and Foreign Ministry spokesperson Maria Zakharova referred to the latest claims as "groundless accusations."
"We consider this yet another fabrication which is built entirely on the groundless belief that 'Russian influencers,' including Donald Trump's support base and the entire opposition, if you follow this line of thinking, were behind widely circulated online criticism of the Democratic candidate," she told reporters at a press briefing Thursday. "This sounds strange, especially if you look at this from the U.S. approach to democracy."
Biden and Putin have experience in dealing with one another dating back to the administration of former President Barack Obama, whom Biden served as vice president. Biden was part of efforts at the time to "reset" relations between the two former Cold War foes but continued policy clashes alienated Washington and Moscow, which again failed to mend their ties under Trump.
While Putin was among the first world leaders on Biden's call list since taking office in January and the two quickly extended their New Strategic Arms Reduction Treaty (New START), Biden has not signaled any intent to pursue a warming in diplomatic ties in the near future.
Rather, his administration has signaled a tough line against Russia and China, which have increasingly invested in their own strategic partnership in order to counter the U.S.