The head of the U.S. military command dedicated to operations south of the U.S. border in Central America, South America and the Caribbean has warned that it appears China and Russia are working together against Washington's interests across the region.
U.S. Southern Command chief Navy Admiral Craig Faller listed China, along with transnational criminal organizations, as "the two biggest threats" his forces face in the SOUTHCOM area of operations during a press conference Tuesday.
Echoing earlier remarks by his counterpart in charge of the Indo-Pacific Command, Faller said that "China is the greatest long-term strategic threat to the security in the 21st century, the Chinese Communist Party's insidious, and corrosive and corrupt influences at work globally and in this region."
He provided a list of actions China has taken in his area of command.
"Some examples include their pursuit of multiple port deals, loans for political leverage, vaccine diplomacy that undermines sovereignty, state surveillance I.T., and the exploitation of resources such as illegal, unregulated and unreported fishing," he said.
Faller said China had outpaced the U.S. in vaccine diplomacy, and was rapidly developing economic networks and infrastructure projects. Beijing, he claimed, "is globally engaged and engaged in this hemisphere to further their interests in economic dominance."
As for Moscow, Faller said that "Russia continues to try to spoil and undermine U.S. interest globally" and had been especially active in the social media domain. He claimed much of this was "disinformation aimed at discrediting the United States."
Faller said that one of the top SOUTHCOM priorities is identifying how Washington's top two rivals are actually pooling their resources.
"We see and are looking with our fellow combatant commanders at areas where China and Russia may be collaborating," Faller said. "That is a particular focus of ours and is a concern where and when we see it."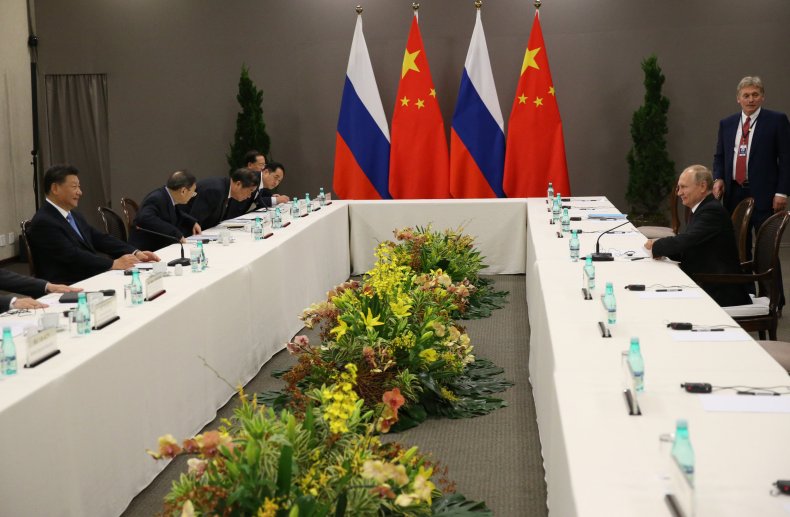 He then identified one venue where China and Russia's interests especially appeared to be converging: Venezuela.
"Venezuela is the most notable example, where, at the diplomatic level, they were certainly and continue to be engaged to block any effort at U.N. solutions or global solutions," Faller said.
Both nations have offered support for Venezuelan President Nicolás Maduro, with whom the U.S. cut ties in January 2019 in a bid to back opposition-controlled National Assembly leader Juan Guaidó's claim to the presidency. Guaido accused Maduro of rigging his electoral victory, and he garnered international support for his claims from dozens of countries in the region and abroad.
But dozens more nations still recognize Maduro's rule, and his government retains its seat at the United Nations. Shortly after former President Donald Trump launched his "maximum pressure" campaign to oust the socialist leader, a gathering of nations calling itself the "Group of Friends in Defense of the Charter of the United Nations" gathered in protest.
This group recently shared with Newsweek a concept note calling for, among other things, "promoting the prevalence of legality over force and for discussing, articulating possible means and coordinating joint initiatives for fostering respect to the principles of sovereignty, equality of States, non-interference in the internal affairs of States, peaceful settlement of disputes, and to refrain from the use or threat of use of force against the territorial integrity or political independence of any State."
The 17-member coalition includes China and Russia, along with Venezuela and its closest Latin American ally Cuba, the target of a decades-long trade embargo shored up under Trump.
Also supporting Maduro is Iran, which also has been hit by crippling economic sanctions seeking to coerce the country into altering its policies. Instead, the Islamic Republic has shored up assistance to Venezuela, sending oil tankers to assist the financial crisis-stricken nation,. The U.S. has seized some of these vessels and sold off the cargo in acts both Caracas and Tehran have described as "piracy."
During Tuesday's briefing, Faller said it was Maduro's administration that was "illegitimate," and argued he "is fully entrenched and Cuba security forces, Russia and Iran and China all are supporting his entrenched reign of power."
Beijing and Moscow have also heavily invested in other countries across the region. He noted in his testimony Tuesday to the Senate Armed Services Committee that the influence of the two powers is growing, while "our influence is eroding" across the SOUTHCOM area of operations.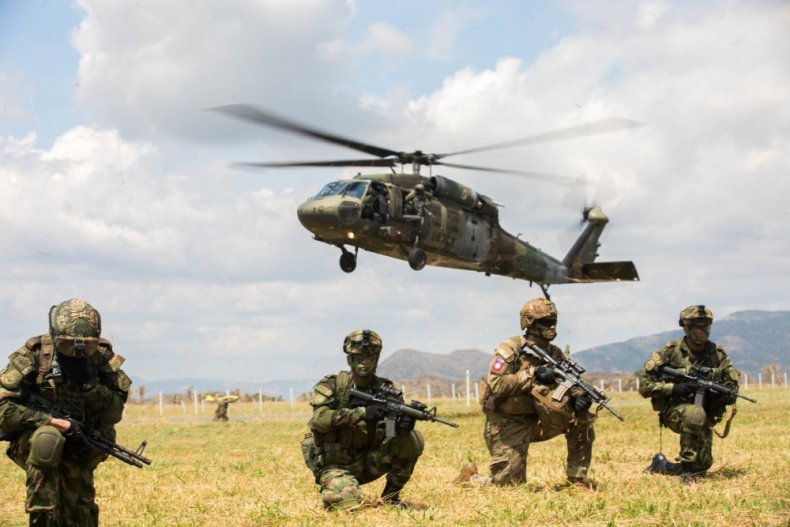 China and Russia have no formal alliance, but the two countries have increasingly fostered a strategic partnership based on warming diplomatic, economic and military cooperation. Both countries have complained about the extensive U.S. presence in their neighboring regions of Asia and Europe.
Yet they have both appealed to President Joe Biden's administration for better, more stable relations.
Chinese Foreign Ministry spokesperson Zhao Lijian previewed on Wednesday the upcoming initial conversation between top Chinese and U.S. officials set to take place Thursday in Anchorage, Alaska.
"We hope that, through this dialogue, the two sides can follow through on the consensus reached between President Xi Jinping and President Joe Biden in their phone call on the eve of the Chinese lunar new year, work toward the same direction, manage differences and bring China-U.S. relations back to the right track of sound development," Zhao told reporters.
But he also accused Washington officials of attempting to "sway public opinion in the run-up to the dialogue in an attempt to pressure China," a move he argued was "futile and doomed to fail."
Moscow's embassy in Washington, meanwhile, countered what it called "groundless accusations" in a recently released U.S. intelligence report claiming that Russian President Vladimir Putin attempted to undermine Biden's chances of victory in the 2020 election.
"We state that Washington continues to practice 'megaphone diplomacy,' with the main goal to maintain a negative image of Russia," the embassy said in a statement, "to blame external players for destabilizing the situation inside the country."
The statement said that U.S. policy stood in the way of productive relations between the powers.
"This attitude of the administration hardly corresponds to our proposed equal and mutually respectful expert dialogue in search of solutions to the most pressing issues," the statement said. "Washington's actions do not lead to the normalization of bilateral relations."