Biden Is Teaching Democrats How to Talk to the Working Class Again | Opinion
Joe Biden wants to make America great again.
That was the takeaway from his speech before a joint session of Congress Wednesday night. Like a kindly grandfather, the President assured a fretful and frankly traumatized nation that everything will be okay, because he has a plan and a Werther's Original. That plan includes a $2 trillion investment in the nation's infrastructure over the next decade—creating millions of jobs in the process—and $1 trillion in America's families, including universal pre-k and making community colleges free.
As a leftist, the President's agenda is more than I could ever have hoped for. He is effectively ending 40 years of Reaganomics and neoliberal consensus. The government is not the problem, as Reagan once said, but it can be the solution. It is a bold and progressive list of policy priorities.
But as important as what Biden said is how he said it. Rather than talking down to the working class, he spoke in a language that they understand—the language of the flag, family, and freedom. And as importantly, he did not speak the language of wokeness.
A truth that many on the left fail to acknowledge is the working class is not "woke." This is a problem James Carville, the storied Democratic strategist who propelled Bill Clinton to victory in 1992, noted this week in an interview with Vox. Bemoaning what he called "faculty lounge" politics, Carville correctly pointed out that regular folks don't talk the same way much of the left does. "I don't know anyone who lives in a 'community of color,'" Carville said. "I know lots of white and Black and brown people and they all live in... neighborhoods."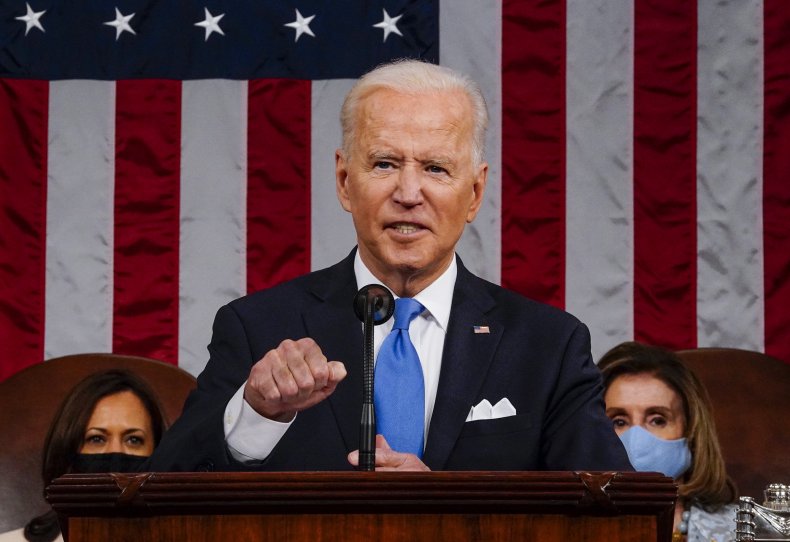 This does not mean, as Carville said, that we shouldn't talk about issues such as racism. We absolutely must. But it means having these conversations in ways that do not alienate half the country, in language that people understand.
Joe Biden understands this. The working class is more parochial and less cosmopolitan than your average Democrat. They are patriotic, proudly decorating their homes with barnstars and American flags. They are rooted to place, in many instances being able to trace their families back generations in the same town.
And while Democrats have been alienating voters like this for a generation, Trump tapped into their sense of pride in America, and their desire to see it flourish. It was this same patriotism that President Biden appealed to on Wednesday night.
"American tax dollars are going to be used to buy American products, made in America, to create American jobs," the President said last night.
A line like that seems like it might be lifted from a Donald Trump speech, except it lacks the underlying racism and xenophobia. That's because Joe Biden senses what Donald Trump sensed: the heartland is hurting. Unlike Trump, though, Biden knows that these Americans are not necessarily hateful. They are proud of their country, but not jingoistic or even nativist.
Members of the working class just want a decent job, and for someone to pay attention to their needs, too—something neither party has done since Ronald Reagan began the push towards outsourcing and globalization. They want to feel included in the fabric of America, not demonized and ostracized as hicks and hillbillies for failing to have read Karl Marx or Kimberlé Crenshaw. I'm a big fan of both, but their works should not be some sort of leftist litmus test to determine who is worthy of respect.
Again, Biden understands this. "So many of you, so many of the folks I grew up with, feel left behind, forgotten, in an economy that's so rapidly changing; it's frightening," Biden said Wednesday night, speaking to those who wonder whether his jobs plan includes them and, crucially, acknowledging their pain and fear. Because the changing economy is frightening, not least because no one knows what—if anything—will replace the jobs that are being lost, and no one has made a go at answering that question in 40 years.
That is, until now. Joe Biden made sure working class Americans understood that he includes them in his vision for this nation, promising that "these are good-paying jobs that can't be outsourced" and noting that 90 percent of the jobs created will not require a college degree: "The American Jobs Plan is a blue-collar blueprint to build America."
The President spoke directly to the working class. But he did so without abandoning the issues of police reform, ending violence against women, and the Equality Act—important planks of the progressive social justice platform that Democrats should not give up on. Crucially, Biden highlighted their importance in a way that did not alienate those who might oppose him, urging Congress to act without moralizing or insulting opponents of these bills.
In doing so, he gave a masterclass in how Democrats up and down the ballot and from sea to shining sea should talk to voters. The new census figures show political power is moving into the heartland—the South and the West—and that Democrats are going to need to increasingly tailor their message to voters in places where "faculty lounge politics" simply won't cut the mustard. We can win those voters, but only if we talk to them about the issues that matters to them and in language they understand.
Last night, Joe Biden showed us how it's done. Now it's time to get to work.
Skylar Baker-Jordan writes about the intersection of identity, politics, and public policy based in Tennessee.
The views in this article are the writer's own.