Want an official Joe Biden "Will you shut up, man?" tee-shirt? You may have to wait.
Biden's Team Joe Store was selling shirts to commemorate one of the several times Biden was interrupted by President Donald Trump during the presidential debate last night.
The unisex black tee shirts with the phrase imposed over a black-and-white image of a grumpy looking Trump were for sale ranging in price from $30 to $33. The swag hit the market during the debate last night, as per New York Post, but since have been removed from Biden's Team Joe Store online.
The Biden Victory Fund will receive profits from each shirt purchase. Other items for purchase on Biden's campaign merchandise site include stickers, tee shirts, masks and even a cat collar that reads "No Meowlarkey."
Newsweek reached out to the Team Biden Store to find out when the "Will you shut up, man?" tee-shirts will be available, and did not receive comment at the time of publication.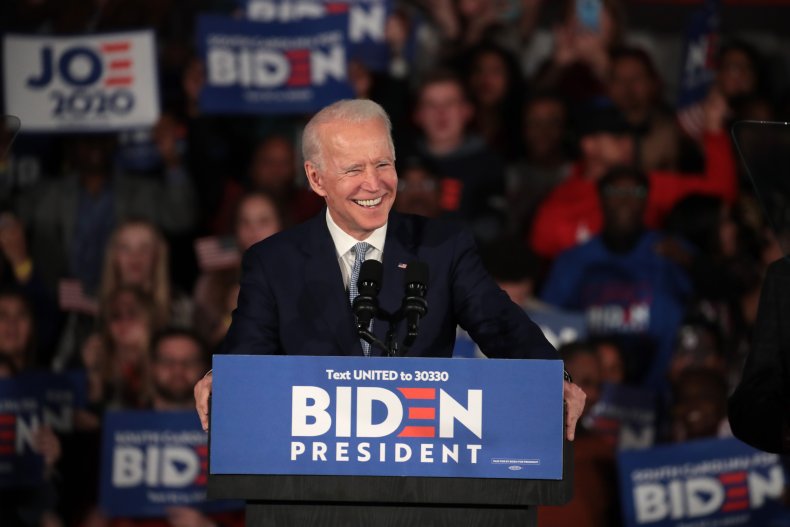 The outburst occurred within the first 20 minutes of the debate when Trump appeared to lambast Biden over filling the Supreme Court with liberal-leaning justices. Trump kept asking Biden who he had in mind to fill the vacant seat, which was previously filled by liberal Ruth Bader Ginsburg.
Biden had also previously said that he should be the one to fill the vacant seat if he wins the election.
"Whatever position I take on that, that'll become the issue. The issue is the American people should speak," Biden said during the debate, regarding whether he supports ending the filibuster or packing the court. "You should go out and vote. You're voting now. Vote and let your Senators know strongly how you feel."
"Are you going to pack the court?" Trump asked, while Biden continued to encourage folks at home to vote.
"Why wouldn't you answer that question? You want to put a lot of new Supreme Court Justices. Radical left," the president chided.
"Will you shut up, man?" the former Vice President snapped at Trump. "This is so unpresidential," he added of Trump's behavior during the debate.
On October 7, Vice President Mike Pence debate Biden's selection for Vice President, Senator Kamala Harris. The following two weeks, the next presidential debates will take place on October 15 and 22.
Whether or not we will get more debate-inspired tee-shirt designs in the coming weeks remains to be seen.