Biden to Tell Progressives Reconciliation Bill Will Be Lower Than Original $3.5T Price Tag
President Joe Biden planned to make it clear to progressives Monday that the final reconciliation bill will be smaller than the original $3.5 trillion proposal, according to the White House.
Press secretary Jen Psaki said the virtual meeting was scheduled for Monday afternoon "in order to have a discussion about the path forward, which includes the recognition that this package is going to be smaller than originally proposed."
"What he wants to hear from them is what their priorities are, what their bottom lines are so he can play a constructive role in moving things forward," she said.
Biden will also likely meet with moderate Democrats later this week, the White House said, as negotiations continue on the sprawling spending package after Congress came to a deadlock last week.
Reconciliation will allow Democrats to bypass the Senate's 60-vote filibuster to implement much of Biden's "Build Back Better" agenda. Priorities for the bill include expanding education, health care and child support, as well as combating climate change through additional infrastructure investments.
But Democrats can't afford to lose a single member of their caucus in order for the bill to pass, and moderates such as Arizona Senator Kyrsten Sinema and West Virginia's Joe Manchin have stated they will not support a $3.5 trillion price tag.
Manchin has proposed a $1.5 trillion topline—an amount progressives have balked at. Progressive Caucus Chair Pramila Jayapal said Manchin's suggestion is "not going to happen."
Biden has floated a roughly $2 trillion limit for the reconciliation package.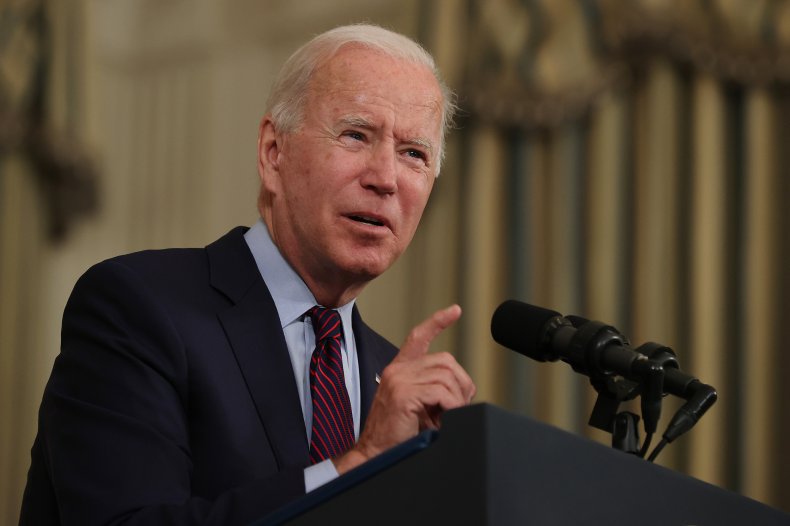 Senator Bernie Sanders told ABC News over the weekend he expects there to be some "give and take" on the price of the bill, but reiterated his view that $3.5 trillion "should be a minimum."
Progressives have threatened to sink the House's vote on the bipartisan $1.2 trillion infrastructure bill already passed by the Senate until the reconciliation package is passed.
Senate Majority Leader Chuck Schumer wrote in a letter to colleagues on Monday that Congress and the White need to reach an agreement on the details of the spending bill "preferably within a matter of days, not weeks."
Schumer said the bipartisan infrastructure bill and the spending package must be put on Biden's desk by the end of October.
"None of this is going to be easy," the majority leader said. "It'll require sacrifice, compromise and finding common ground. Nobody is gonna get everything they want. ... I'm confident we'll be proud of the end result, a bill that will dramatically improve the lives of every American not just for today but for generations."