Biden Threatens U.S.-U.K. Relationship | Opinion
The Joe Biden-Boris Johnson press conference held this week was the most embarrassing spectacle involving two world leaders that I have ever seen. The two men wore face masks which rendered them barely audible at times. (Perhaps this was a blessing). But to make it even more excruciating, Biden showed his advanced age by reading from printed notes perched on his knee while Johnson tried—and failed—to make light of his botched mission to secure a bilateral trade deal. The whole thing was woeful.
British people have been astonished in recent days to learn that Biden doesn't take questions from journalists at press conferences. Indeed, after news trickled back to London that his press team was furious at Johnson for allowing a couple of British reporters to speak on Tuesday, that sense of astonishment grew to downright alarm. If the U.S. president refuses to be open to scrutiny, the democratic process in America is in a bigger mess than anybody realized.
The tone of what little Biden did volunteer reminded me very much of Barack Obama's attitude towards the U.K. In 2016, Obama infamously intervened in the Brexit referendum debate to threaten that the U.K. would be at the "back of the queue" in any trade deal with the U.S. if the country dared to vote to leave the EU. The back of the queue is exactly where Britain now finds itself under Biden's bungling administration. Frankly, Biden's inflexibility is so puzzling that it forces me to wonder—not for the first time—about his mental faculties.
As has been the case for some years, the U.K. is the biggest foreign investor in the USA and, in turn, the USA is the biggest investor in our country. Each depends on the other for millions of jobs. In fact, since the Brexit vote five years ago, American money has been flooding into Britain thanks to a seemingly endless stream of commercial acquisitions. Even without a trade deal the levels of mutual financial interchange will only continue to grow. Yet in areas like financial services, in which New York and London have such similar cultures, regulatory barriers still exist for doing business.
Now that Britain is free of the EU, not having a trade deal seems like utter folly. Not only would such an agreement benefit both countries economically—its symbolism would be important, too. Biden is not prepared to move, however. He appears wedded to an outdated view of the European Union and an inaccurate perception of the relationship between the U.K. and Ireland.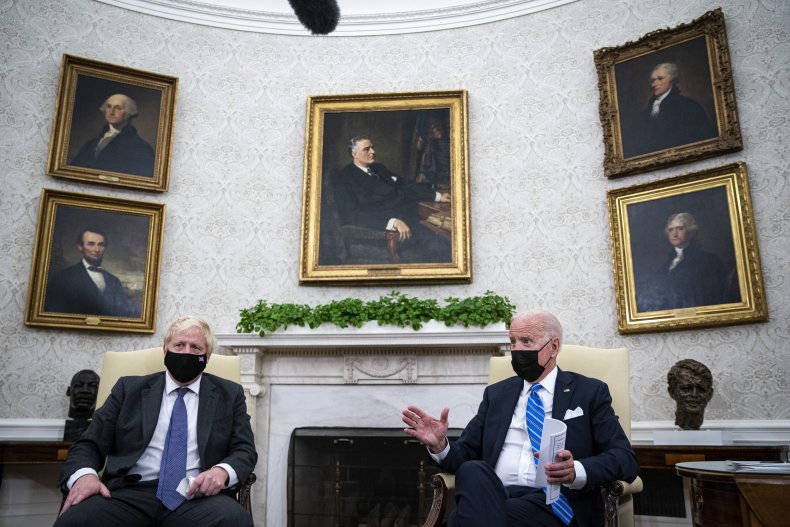 What this means is that Biden is willing to put the interests of his highly questionable globalist ideology above the basic commercial interests of his country. True, there have been some minor concessions recently in the areas of Scotch whiskey and British beef and lamb, but the real prize of trade in services, which dominate Britain's economy, now looks to be many years away.
Britain has been America's closest friend and partner for well over a century. But today—as we face a potential confrontation with France over a poison pill in the Brexit agreement that has effectively cut off Northern Ireland from the rest of the U.K.—Biden has come down emphatically on France's side. There are no circumstances in which Britain would ever erect a hard border on the island of Ireland. I doubt Biden understands that. Indeed, his embarrassment concerning French outrage over the recent AUKUS submarine pact suggests he was on the phone with France's president, Emmanuel Macron, before Boris Johnson had even left American soil.
France's petulance over the AUKUS deal is at odds with the reality that French diesel submarines represent nothing more than out-of-date 20th-century technology. It also conveniently ignores the fact that the contract to build these inferior machines was over budget and behind schedule. By ending the deal, Australia made the same rational choice that any right-thinking country would make—including, one assumes, America. Yet not only has Biden agreed to a summit with the French next month; he has also announced a new strategic alliance with the EU on coronavirus vaccines. This desperate attempt to mend fences was, to my mind, as bad as Biden stabbing Johnson in the back before he'd even left the Oval Office.
In light of all this, perhaps there are some on my side of the Atlantic who might wish to reconsider their position on Donald Trump. Yes, his New York style and language may not have been to the taste of many, but Trump would never have chosen France over Britain. More than that, he would have made a trade deal with Britain a priority.
Biden's bungled withdrawal from Afghanistan last month effectively froze relations between Britain and America until this month's brief period of sunshine, courtesy of the AUKUS deal, thawed them. After Biden's behavior this week, I take no pleasure in saying our relationship is back in the deep freeze—to the detriment of both countries.
Nigel Farage is senior editor-at-large of Newsweek's "The Debate" platform.
The views expressed in this article are the writer's own.