As Joe Biden Touts Vaccines, Republicans Remain Unconvinced
As President Joe Biden pushes for every American adult to be eligible for a COVID-19 vaccine by the summer, a rump of Republican voters remain skeptical of the shot and plan to refuse it, according to new poll data.
A NPR/PBS/Marist poll released on Thursday found that 41 percent of GOP voters would choose not to be vaccinated, even if a shot were offered to them. Fifty-six percent were either vaccinated already, or planning to accept a vaccine.
By comparison, only 11 percent of Democrats and 34 percent of independent voters told Marist pollsters that they would not be vaccinated. This still means as many as 30 percent of U.S. adults could refuse to receive a vaccine.
A separate poll released by Monmouth University on Monday revealed similar levels of vaccine skepticism or reluctance among GOP voters and the wider population.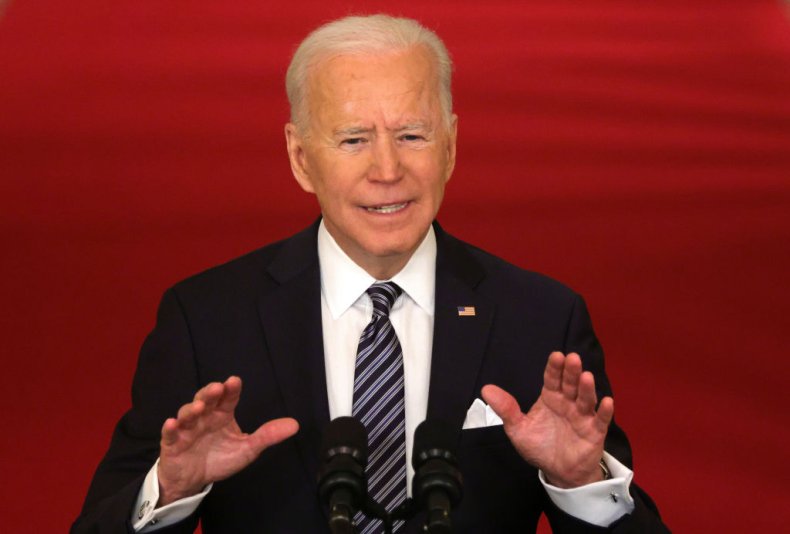 Thirty-six percent of Republicans told Monmouth pollsters that they would avoid being vaccinated, compared to six percent of Democrats and a little less than a third of independent voters.
However, there were signs of improvement as the rate of vaccine reluctance among Republican voters had declined by six percentage points since January. Vaccine skepticism among Democrats also dropped by four percentage points, but growing reluctance among independents offset that trend.
"Partisanship has always been the main dividing line on the pandemic," Patrick Murray, the Monmouth University Polling Institute director, said in a statement. "A new challenge for the Biden administration is the possibility of more independents joining Republicans in becoming vaccine skeptics."
Monmouth University surveyed 802 U.S. adults from February 25 to March 1 for the new poll. Its margin of error stands at 3.5 percentage points. Marist pollsters quizzed 1,227 adults between March 3 and March 8 for their latest survey, which has a 3.6-percentage-point margin of error.
President Biden announced on Thursday night that he would be directing all U.S. states, tribes and territories to make all adults eligible for a COVID-19 vaccine by a deadline of May 1.
Delivering his first primetime address, the commander-in-chief said: "To do this, we're going to go from the million shots a day that I promised in December, before I was sworn in, to beating our current pace of two million shots a day, outpacing the rest of the world."
According to The New York Times' COVID vaccine tracker, more than 2.2 million doses are being put into arms every day on a seven-day average. This is up from an average of 1.6 million on February 22.
Centers for Disease Control and Prevention (CDC) figures show more than 64 million Americans, roughly 20 percent of the population, have received at least one dose of a COVID-19 vaccine, while a little under 34 million have been fully vaccinated.