Biden Tries to Clarify Anti-MAGA Speech After Backlash
President Joe Biden appeared to walk back Thursday's statements criticizing former President Donald Trump and his supporters, saying that his speech was condemning the efforts to overturn a legitimate election rather than an attack on conservative voters.
Speaking to reporters on Friday, Biden said he wasn't referring to "any Trump supporter" when he spoke about the threats posed to American democracy the night before.
"I don't consider any Trump supporter to be a threat to the country," Biden said. "I do think anyone who calls for the use of violence, fails to condemn violence when it's used, refuses to acknowledge an election has been won, insists upon changing the way in which we rule and count votes, that is a threat to democracy."
The president's comments came less than 24 hours after he delivered a speech in Pennsylvania, criticizing the Republican Party for being "dominated, driven and intimidated by Donald Trump and the MAGA Republicans."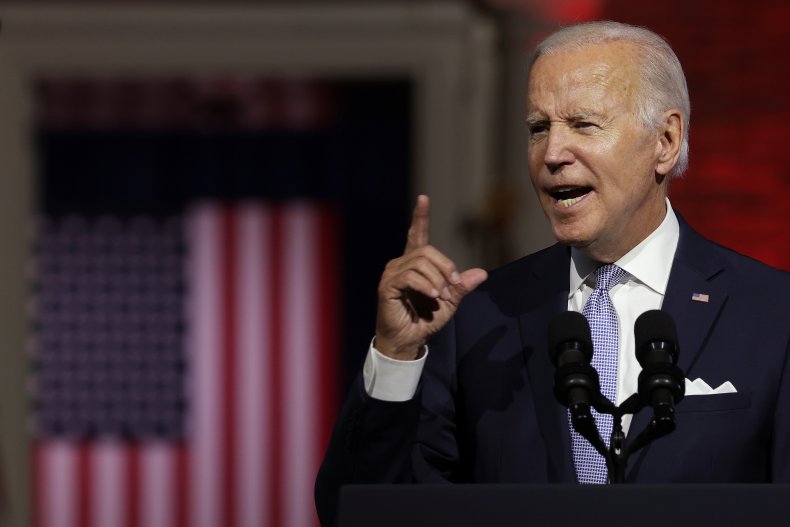 "And that is a threat to this country," Biden said on Thursday.
Despite saying: "Not every Republican embraces their extreme ideology," Biden's remarks were heavily criticized by Trump loyalists, who compared the president to Nazi leader Adolf Hitler. Other social media users suspected that the imagery behind Biden during his speech played into the "Dark Brandon" memes.
On Friday, Biden told reporters that Americans who voted for Trump "weren't voting for attacking the Capitol," in reference to the January 6, 2021, riot in Washington D.C.
"They weren't voting for overruling an election. They were voting for a philosophy he put forward," Biden said, adding that what he was really trying to get at in his speech was "a failure to recognize and condemn violence whenever it's used for these purposes."
"Failure to condemn an attempt to manipulate electoral outcomes. Failure to acknowledge when elections are won or lost," he said.
More than a year and a half since the 2020 presidential election, Trump has continued to assert that the election was "stolen" and claimed that he was the "rightful winner." On Monday, he called for a "new election."
Biden's victory was certified by the Electoral College on January 6, 2021.
During Friday's press briefing, White House Press Secretary Karine Jean-Pierre said the administration did not consider Thursday's speech to be "political."
"Standing up for democracy is not political. Denouncing political violence is not political. Defending rights and freedom is not political," Jean-Pierre said. "Making clear that the challenges facing the nation is not political.
"We do not call any of that political. We see that as leadership and we see that as presidential."