Trump and Biden Would Tie in Texas if Presidential Election Were Held Today: Poll
President Donald Trump and presumptive Democratic presidential nominee Joe Biden would tie in Texas if the presidential election were held today, a poll shows.
The survey of 1,183 randomly-selected registered voters conducted by the University of Texas at Tyler for the Dallas Morning News revealed Republican incumbent Trump and former Vice President Joe Biden would both take 43 percent of the vote across the state.
A total of 192 participants took part by phone and 995 in online surveys for what marks the third of five Dallas Morning News-University of Texas at Tyler polls on the upcoming presidential election.
According to the Dallas Morning News, the poll was conducted between April 18 and 27, before the former vice president addressed allegations of sexual assault on Friday.
The results mirrored those of aIBD/TIPP poll carried out between April 26 and 29 involving 948 registered voters, which again put both Trump and Biden at 43 percent. Overall, however, Biden was leading Trump in most national polls last week.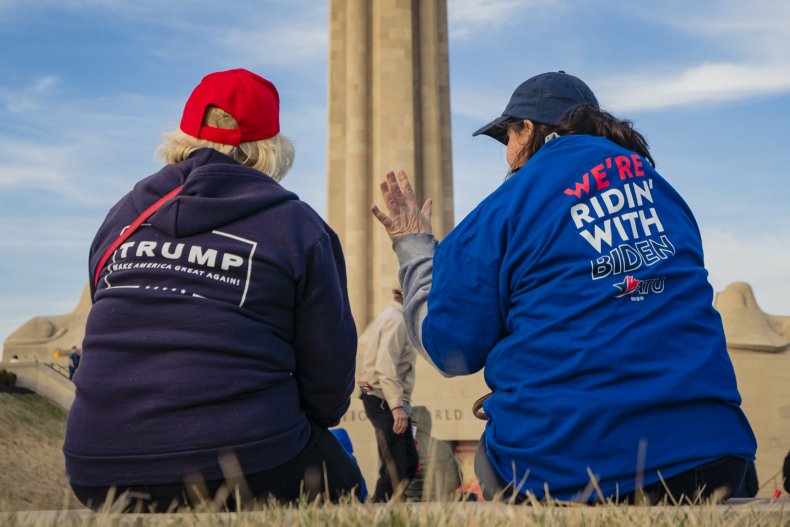 Tara Reade, an ex-staffer at the Senate, alleges Biden sexually assaulted her in 1993. Reade claims the then-Delaware senator placed his hand up her skirt and penetrated her with his fingers. Biden and his campaign have repeatedly denied the allegation. Newsweek contacted Biden's team for comment.
Biden said in a statement on Friday that the allegations "aren't true." Later that day, Biden addressed the claims on MSNBC's Morning Joe.
The presidential hopeful told co-host Mika Brzezinski: "You have to look at the circumstances and the facts and the facts, in this case, do not exist. They never happened and there are so many inconsistencies with what happened in this case," adding: "I assure you it did not happen."
The poll also comes as voters weigh up Trump's response to the COVID-19 pandemic. Last week, the president was criticized for asking members of his White House coronavirus task force whether chemical disinfectants or ultraviolet light could be used to treat people with COVID-19. Trump later claimed he was being sarcastic during the press briefing on April 24.
Of the total poll participants, 43 percent approved of how he has handled the crisis, while 44 percent disapproved.
Kenneth Bryant Jr., a political scientist at UT-Tyler political scientist who helped to design the poll, told the Dallas Morning News voters' opinions of how leaders have dealt with the worst public health crisis in a generation is "more polarizing the higher up you go."
He said: "And certainly, once you get to Donald Trump, that's when you see the numbers plummet in terms of positive reaction to the job performance."
According to Johns Hopkins University, more than 66,300 people have died of COVID-19 in the U.S. in over 1.1 million confirmed cases. As the Statista map below shows, the U.S. is the country with the most known COVID-19 cases.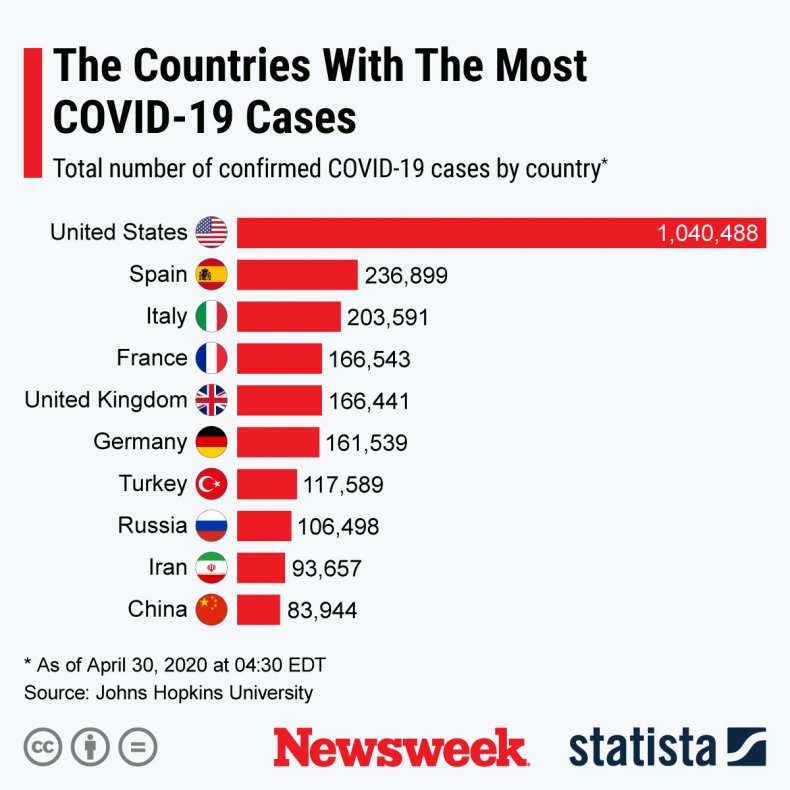 Trump and Biden Would Tie in Texas if Presidential Election Were Held Today: Poll | U.S.