Biden Is Undermining the Law and Throwing Israel Under the Bus | Opinion
Last week, the Biden administration closed the Palestinian Affairs Unit operating within the U.S. embassy in Jerusalem, replacing it with a new "Office of Palestinian Affairs" (OPA). While a spokesman tried to downplay the significance of the move—framing it as merely overturning a Trump-era decision and referring to it as just a "name change"—it actually established a new and independent reporting line directly to Washington, D.C., outside of the normal diplomatic channels.
This move is illegal, immoral and represents the latest in a failed foreign policy strategy of Palestinian appeasement that makes a durable and lasting peace in the region ever harder to achieve.
There is no other place in the world in which the U.S. maintains both an official embassy and a separate office reporting directly to Washington in the exact same city—and the opening of the OPA, a de facto consulate, signals that the Biden administration is treating Jerusalem as if it is not one, but two distinct cities. Doing so is illegal under the plain terms of the Jerusalem Embassy Act of 1995, which provides that "Jerusalem should remain an undivided city" (and which was passed, incidentally, by an overwhelming bipartisan consensus in both houses of Congress). The move is also likely illegal under Articles 4, 7 and 8 of the 1963 Vienna Convention on Consular Relations, which require a receiving state (Israel) to give consent and approval before a foreign consulate may be established in its sovereign territory.
The announcement came just days before Assistant Secretary of State for Near Eastern Affairs Barbara Leaf (to whom the OPA will now report on "substantive matters") met with Palestinian Authority (PA) President Mahmoud Abbas for discussions on increasing U.S.-Palestinian assistance. As such, the opening of the new office, which is clearly designed to help facilitate that aid, is also illegal under the 2018 Taylor Force Act, another law passed by a massive bipartisan congressional consensus. That law put a hold on any assistance that directly benefits the PA unless and until the PA stops paying terrorists to kill American and Israeli citizens. Both Abbas and Biden's own State Department recently confirmed that the PA has yet to do that.
Of course, this administration does not seem terribly concerned about violating these laws, as well as disrespecting Israel, Congress and the people who were killed under the PA's "pay-for-slay" program. In their rush to undo any of the progress that has been made under policies that actually hold Palestinian leadership accountable, the Biden administration is content to ignore the roughly two dozen Palestinian terrorist attacks that have been committed in Israel since March alone.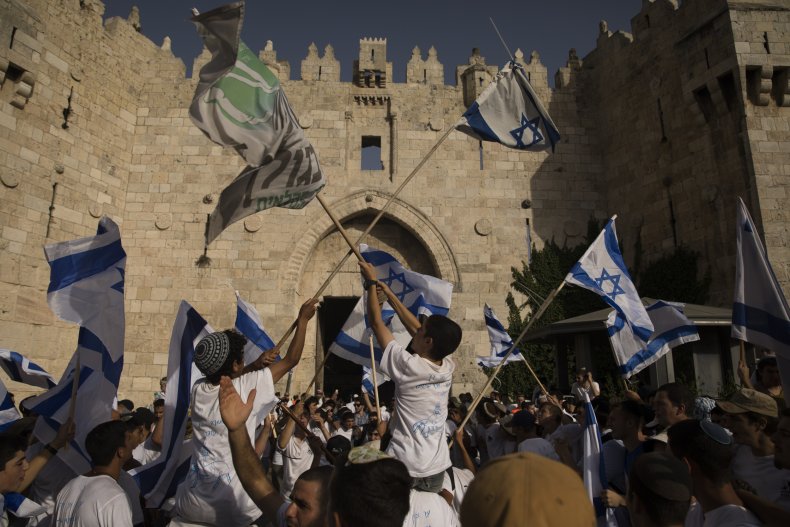 Under the soft bigotry of (illegally) low expectations, the administration has labeled Abbas—an anti-Semite who traffics in blood libels, has an actual Ph.D. in Holocaust denial and consistently supports and calls for violent uprisings and intifada—a legitimate "partner for peace." Just last week, in a phone call with Secretary of State Antony Blinken, Abbas threatened to take "retaliatory" steps against Israel; in response, Blinken told him he was considering appointing current Assistant Secretary for Israeli and Palestinian Affairs Hady Amr to be "special representative for Palestinian affairs." Notably, Amr, a former coordinator of the anti-Israel Middle East Justice Network, once wrote that he was "inspired by the Palestinian intifada." He also speaks favorably of terrorist organizations like Hamas, and has accused Israel of ethnic cleansing.
When it comes to recent decisions and appointments, the Biden administration seems to be taking all its cues from the radical left wing of the Democratic Party. Just last month, Karine Jean-Pierre was introduced as the new White House press secretary. Like Amr, Jean-Pierre has accused Israel of war crimes, but she has also went a step further in openly attacking American citizens who push for a strong U.S.-Israel relationship. In an essay calling for the boycott of AIPAC, the American Israel Public Affairs Committee (an American lobby with American supporters who advocate for American policies), she smeared the organization and its members by calling them racist and anti-progressive—despite AIPAC's long demonstrable history of supporting women, people of color and political progressives. Of course, Jean-Pierre could not offer even a single example of the "alarming" and "severely racist, Islamophobic rhetoric" that AIPAC allegedly engages in—but why waste a good narrative with facts?
The fact is that the Biden administration fails not only Israel, but also the Palestinian people every time it raises an anti-Israel liar to a position of power, and every time it breaks the law in its eagerness to reward recalcitrance with a shiny new diplomatic office. All those actions do is further entrench Palestinian inflexibility and diminish any momentum toward compromise. Why tell the truth when people will lie for you? And why bend when the bar will soon be lowered?
If the Biden administration wants to symbolically affirm its willingness to engage with the Palestinians, it could, with Israel's permission, open a consulate in Abu Dis, a suburban neighborhood that belongs to the Palestinian governorate of Jerusalem but is located just outside the Israeli city limits; or in Ramallah, the actual seat of the PA government. But in the meantime, the administration must follow the 1995 law when it comes to Jerusalem, the undivided capital of Israel; it must respect the 2018 law that cuts off aid to those who won't stop paying terrorists; and it must stop appointing officials who spread false narratives that justify violence and make peace an impossible dream.
Rabbi Dr. Mark Goldfeder, esq. is the director of the National Jewish Advocacy Center.
The views in this article are the writer's own.