Terror Wave in Israel Demands Biden Administration End False Equivalencies | Opinion
Israelis last week went from experiencing a national high, as Israel hosted for the first time on her soil a regional summit with the foreign ministers of four Arab countries and U.S. Secretary of State Antony Blinken, to national mourning as a wave of terror attacks in the country led to a bloodbath that left 11 Israelis dead. These events are related. Also related is the Biden administration's posture toward Israel, reverting back to failed American polices that would pretend that the obstacle to achieving a durable Israeli-Palestinian peace is Israel, rather than Palestinian intransigence and Palestinians' rejection of the very existence of a Jewish state.
John Kerry famously stated at the Saban Forum in December 2016: "There will be no separate peace between Israel and the Arab world. I want to make that very clear to all of you." The Trump administration proved John Kerry, and all previous U.S. administrations, wrong by neutralizing the Palestinian "veto" over peace and brokering the Abraham Accords—warm peace deals between Israel and the United Arab Emirates and Bahrain, later followed by Sudan and Morocco. These countries have shown the region that a path to coexistence and partnership with the Jewish state exists.
Extremist Palestinians, their Arab-Israeli sympathizers and the mullahs in Iran are all hell-bent on destroying this burgeoning peace. The historic Negev Summit, hosted by Israeli Foreign Minister Yair Lapid and also featuring Lapid's Bahraini, Egyptian, Moroccan and Emirati counterparts, was a significant step forward in advancing the Abraham Accords. The optics of four Arab foreign ministers intertwining hands with Israel's Lapid and America's Blinken were powerful. Powerful too was the agreement to make the summit a "permanent forum" with "shared capabilities."
The terrorists' attacks on Israelis began on March 22, in the southern town of Beersheba, where a Bedouin-Israeli ISIS sympathizer ran over a woman with his car and then stabbed and killed four Israelis. The following Sunday, as the Negev Summit was taking place, in the northern city of Hadera, two Arab-Israelis shot and killed two people and injured six others. And last Tuesday in Bnei Brak, a gunman shot and killed five additional people.
That same previous Sunday, March 27, Blinken met with Palestinian Authority (PA) President Mahmoud Abbas. In remarks following their meeting, Blinken created a moral equivalency between Israel's supposed "settlement expansion, settler violence, home demolitions [and] evictions" with the PA's "payments to people convicted of terrorism [and] incitements to violence."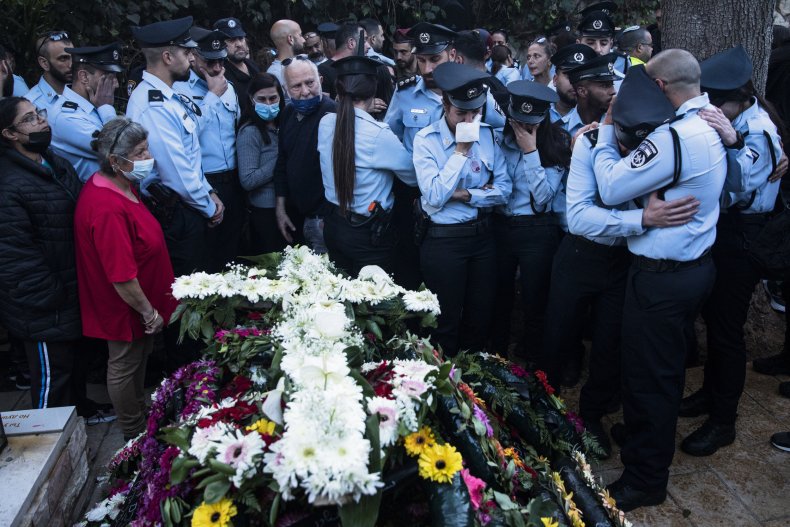 How the U.S. secretary of state could possibly equate actions such as Israel condoning Jewish communities' organic growth or evicting illegal occupants, with Abbas' "pay-for-slay" policy of financially rewarding terrorists or their families after murdering Israelis, is beyond comprehension. These equivalencies pose a danger to Israeli lives, as they signal to Palestinians that their terror and violence will be met with American statements about Israeli settlements—instead of demands for accountability for reprehensible Palestinian actions. The Biden administration last year went so far as to resume U.S. funding to the PA despite the PA's "pay-for-slay" policy, and against the animating spirit of the duly enacted Taylor Force Act legislation. The Trump administration had ended funding to the PA for this very reason.
In remarks at the conclusion of the Negev Summit, rather than keeping the focus on the growing Arab world ties to Israel, Blinken found it necessary to insert the Palestinian issue: "As we do, we have to be clear that these regional peace agreements are not a substitute for progress between Palestinians and Israelis," he said.
The reality is that the Palestinian leadership has been offered generous peace deals time and time again; they have responded by rejecting those deals time and time again, and then launching intifadas.
Israelis today are bracing themselves for a new intifada, as reports come in almost hourly of thwarted terror attacks—or successful ones, including a terrorist who attacked an Israeli man with a screwdriver late last week. Israeli security forces have launched "Operation Break the Wave" in response, sending additional battalions into the West Bank and the Gaza border and establishing a new border police brigade. Prime Minister Naftali Bennett has called on all Israelis with gun licenses to begin carrying their firearms. In speaking to the Israeli people, Bennett stated, "We will fight terrorism with persistence, diligence and an iron fist. They will not move us from here. We will win."
Clearly, the Israeli premier understands that these terror threats aim to rid the Middle East of a Jewish presence. This desire is shared by the Iranian regime, which routinely threatens to "eliminate" Israel.
It is high time for the Biden administration to recognize the reality of the new Middle East. In this post-Abraham Accords era, there are two clear paths for nations to choose from. One is the path of coexistence, peace and prosperity. That was the path on display at the Negev Summit. The other is the path of radicalism, terrorism and, ultimately, war. That is the path on display in this wave of incitement and terror attacks against innocent Israeli civilians. The Biden administration must now also choose between these paths, and decide which side to support in the new Middle East.
Ellie Cohanim is a senior fellow with Independent Women's Forum and the former U.S. deputy special envoy to combat antisemitism. Follow her on Twitter: @EllieCohanim.
The views expressed in this article are the writer's own.