Almost a week has passed since the U.S. House passed a bill that would pave the way for legalizing and decriminalizing marijuana on a federal level, but there is still a long path to approval. However, some experts tell Newsweek that if the Marijuana Opportunity Reinvestment and Expungement Act (MORE) passes the Senate and hits President Joe Biden's desk, he would be "hard-pressed" to veto it.
The bill, which was sponsored by New York Representative Jerry Nadler, would remove marijuana from the Controlled Substances Act as the legislation is "long overdue legislation that would reverse decades of failed federal policies based on the criminalization of marijuana."
"It would also take steps to address the heavy toll these policies have taken across the country, particularly among communities of color," Nadler added. Medical marijuana is legal in 38 states and Washington, D.C. and adult recreational use has been legalized in 18 states and D.C.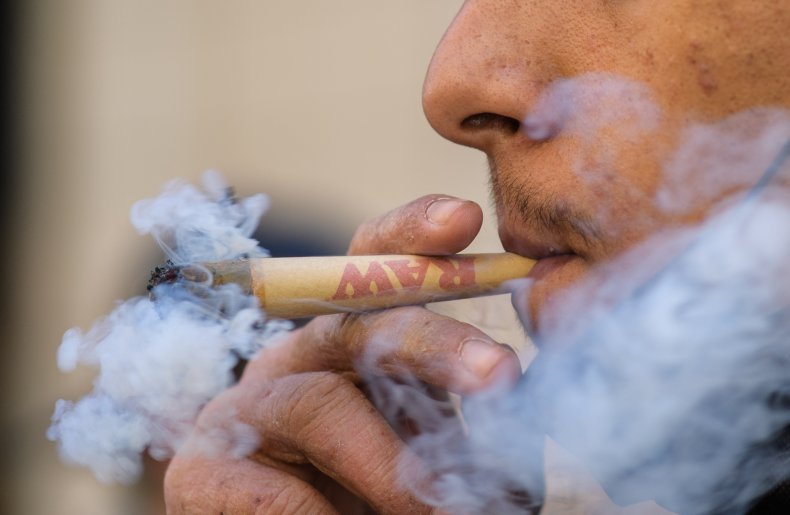 Paul Quirk, a political scientist at the University of British Columbia in Canada, told Newsweek that Biden "would be hard-pressed to veto" legislation that supports the use of marijuana because he can't afford to lose young voters.
"Legalization is favored by two-thirds of all Americans, an even higher percentage of Democrats, and the vast majority of younger people," he said. "The 18-39-year-old age group is exactly where Biden has lost the most support since his inauguration."
"Vetoing marijuana legalization would make Biden public-official enemy No. 1 to many of the young voters whose support he badly needs to win back," he added.
Marsha Cohen, a law professor at UC Hastings College of the Law, also thinks that this legislation will help Biden win back young voters, even though she doesn't believe the bill will pass the Senate.
"Young people may also be those least likely to be responsive to pollsters right now because they might not care. This [bill] might 'talk' to them," Cohen told Newsweek.
Lisa Jordan, Vice President of marketing at cannabis consultancy firm Canna Advisors, echoed Quirk's remarks, telling Newsweek she believes that Biden would sign the bill if it reached his desk because of the "growing" public sentiment across the country toward legalizing marijuana. She also said that it would improve his approval rating, which has taken a downturn.
"Signing the bill would be positive for the cannabis industry and serve as a unifying topic across party lines," Jordan said. "Without a doubt taking the final step to remove federal prohibition on cannabis would make a noticeable improvement in his ratings."
Jordan also noted that if Biden agrees with the legalization of marijuana, potential challenges that might arise "should be limited to the extreme ends of people who will find fault with anything Biden or his party endorse."
However, Biden's stance on legalizing marijuana remains unclear. On the same day that the bill was passed in House last week, White House Press Secretary Jen Psaki said that Biden believes that marijuana laws need to be approached differently.
"As the president said during the campaign, our current marijuana laws are not working. He agrees that we need to rethink our approach, including to address the racial disparities and systemic inequities in our criminal justice system, broaden research on the effects of marijuana and support the safe use of marijuana for medical purposes," Psaki said.
Addressing marijuana-related issues was among Biden's announced objectives during his presidential election campaign. In 2019, he tweeted that he believes that no one should be jailed for marijuana use and called for decriminalizing recreational marijuana use, legalizing its medical use, and expunging prior convictions.
However, five people on Biden's staff were fired last year over past marijuana use. Psaki said in March 2021 that the White House updated its policies to ensure that past marijuana use will not automatically disqualify staff from positions in the White House.
"As a result, more people will serve who would not have in the past with the same level of recent drug use. The bottom line is this: of the hundreds of people hired, only five people who had started working at the White House are no longer employed as a result of this policy," she tweeted at the time.
Whether or not Biden agrees to sign the marijuana legalization bill, Ryan Vandrey, a professor at the Behavioral Pharmacology Research Unit at Johns Hopkins University School of Medicine, believes that there is an "urgency" for the cannabis industry to be regulated by the federal government.
"The lack of federal regulatory oversight is harmful to public health because the current reality is that most Americans now have legal access to cannabis through state-level legalization initiatives, but the states are poorly equipped to establish and enforce science-based policy and control of cannabis relative to federal regulatory bodies such as FDA and USDA," Vandrey told Newsweek.
"The lack of uniform standards for cultivation, processing, testing, and labeling products has resulted in repeated examples of poor quality control and confusion among businesses, consumers, and health care providers."
He added that the current federal stance toward cannabis has helped maintain a "large black market for cannabis products" and "bred extensive misinformation about both the risks and benefits of cannabis use."
Vandrey also pointed out that Biden and Congress should have a science-based approach when dealing with marijuana regulations.
However, Quirk believes that might not be fulfilled because a "handful of Senate Democrats oppose cannabis legalization so the current support looks short of a Senate majority and well short of the sixty votes that would be needed to overcome a Republican filibuster."
"Senator Schumer is not likely to pull out all the stops to push for a bill that Biden opposes," he added.
But, there is room to achieve federal legalization, according to Quirk, because cannabis is already legalized for medical use in most states as the industry continues to grow, and therefore "it is hard to see what Biden hopes to accomplish by holding out."
"[Biden] has already promised to decriminalize possession and grant clemency for people with marijuana convictions. He has not articulated clear grounds for maintaining prohibition," Quirk concluded. "If he flipped on the issue and pushed the Senate to pass a bill, enactment of federal marijuana legalization might come sooner, rather than later."
Newsweek reached out to the White House for comment.