Biden's Gun Control Plan Updates: Biden Says 'Vote Against' Assault Weapons
President Joe Biden visited his home state of Pennsylvania on Tuesday to talk about his plans to curb crime and gun violence.
During a speech in Wilkes-Barre, Biden called out Republicans for opposing his proposal to restore a ban on assault weapons and highlighted how his American Rescue Plan is making communities safer.
On Thursday, Biden will travel to Philadelphia for a prime-time speech on the "continued battle for the soul of the nation" and efforts to protect democracy, according to the White House.
Biden's visits come days before former President Donald Trump is scheduled to host a rally in Pennsylvania on Saturday. Pennsylvania is a key battleground state.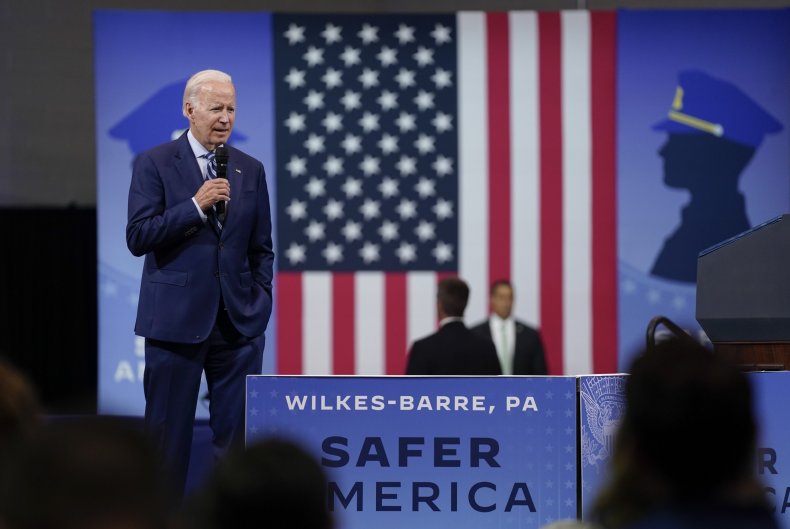 Live updates have ended.
Biden Says 'Vote Against' Assault Weapons
President Joe Biden urged voters on Tuesday to "vote against" politicians that refuse to support the idea of reviving a ban on assault weapons.
Biden spoke about gun policy and his determination to reinstate the ban during remarks about his Safer America Plan in Wilkes-Barre, Pennsylvania. An earlier assault weapons ban that went into effect in the mid-1990s expired in 2004, after which Biden said mass shootings in the U.S. tripled.
"It's time to ban these weapons," Biden said. "We did it before. We can do it again."
While Biden acknowledged the recent bipartisan Safer Communities Act as the "most significant gun safety law we passed in 30 years," he said the "vast majority" of congressional Republicans "couldn't even stand up and vote for it because they're afraid of the NRA."
Those Republicans voted against legislation that is supported by law enforcement, teachers, victims of gun violence and more, Biden said, a point he later reiterated on Twitter.
In a seeming nod to the upcoming midterm elections, Biden then called upon voters to cast out the politicians who refuse to support his proposed assault weapons ban.
"It's time to hold every elected official's feet to the fire and ask them: Are you for banning assault weapons, yes or no? Ask them," Biden said. "If the answer's no, vote against them."
Crime a Major Issue Before Midterms
A new CBS News/YouGov poll identified crime and gun policy as some of the top issues for voters ahead of the fall midterm elections.
A total of 2,126 registered voters were polled from August 24 to 26. One of the questions they were asked involved identifying a slew of issues as "very important," "somewhat important" and "not too/not important."
While the economy, inflation and voting-related problems topped the list of issues that voters said will be "very important" in deciding how they will cast their ballots this fall, more than six in 10 voters also identified crime and gun policy as "very important" to their forthcoming voting decisions.
According to the poll's results, 67 percent of participants labeled crime as "very important" and 25 percent said it was "somewhat important." When asked about gun policy, 66 percent of respondents said it was "very important" while 24 percent identified it as "somewhat important."
Abortion and immigration were the issues that immediately followed in terms of the percentage of voters who viewed them as "very important," followed by climate change, the Capitol riot and 2020 presidential election, COVID-19 and race-related issues.
The poll was conducted days before President Joe Biden described some of the goals of his Safer America Plan during a Tuesday appearance in Wilkes-Barre, Pennsylvania. According to the poll's results, a majority of voters—about 58 percent—disapprove of how Biden is handling crime in the U.S. while 42 percent said they approve of his efforts.
Biden Condemns Attacks on FBI
President Joe Biden condemned calls to defund the FBI made by some Republicans after the raid of former President Donald Trump's home earlier this month.
He called the recent violent threats made against FBI agents "sickening."
"There's no place in this country for endangering the lives of law enforcement," he said.
Biden said he is "opposed to defunding the police" and "opposed to defunding the FBI."
Biden Emotionally Recalls Uvalde
President Joe Biden grew emotional during a Tuesday afternoon speech while recalling his recent visit to Uvalde, Texas.
He visited the city in June following the deadly shooting at Robb Elementary School.
Speaking to a crowd on Tuesday in Wilkes-Barre, Pennsylvania, Biden recalled how some parents in Uvalde had to supply investigators with their own DNA samples in order to identify some of the victims because the kind of assault weapon used in that shooting "just rips the body apart."
With his voice raised, Biden acknowledged how people under 21 are able to purchase assault weapons in many parts of the country.
"What the hell is the matter with us?" Biden said. "I'm not joking. Think about it: What are we doing?"
Biden Urges MAGA Republicans to Condemn Jan. 6 Riot
President Joe Biden condemned all forms of political violence while speaking about his Safer America Plan in Pennsylvania Tuesday.
The president said some of his "friends on the other team," referring to Republicans in Congress, "think political violence is necessary."
"Did any of you think...you'd ever be in an election where we talk about [whether] it's appropriate to use force or political violence in America?" he asked the crowd.
Biden said political violence is "never appropriate."
"No one should be encourage to use political violence," he said.
Biden called out "MAGA" Republicans who defend the people who stormed the U.S. Capitol on Jan. 6, 2021. He recalled how police officers were attacked and some were even killed during the riot.
To the "MAGA" Republicans in Congress, Biden said: "Don't tell me you support law enforcement if you won't condemn what happened on the 6th."
"For God's sake, whose side are you on?" he said. "You're either on the side of the mob or the police?"
You're either on the side of the mob or the side of the police."
Biden said Republican officials "can't be pro-law enforcement and pro-insurrection."
"You can't be the party of law and order and call those who attacked the police on January 6 patriots," he said.
Biden 'Determined' to Ban Assault Weapons
President Joe Biden said he is "determined" to ban assault weapons in the U.S. after signing gun safety legislation into law last month.
His remarks on assault weapons came during a speech delivered Tuesday in Wilkes-Barre, Pennsylvania.
Biden said legislators recently took on the NRA successfully, "and we will win again."
"We're not stopping here," Biden said. "I'm determined to ban assault weapons in this country. Determined."
Biden went on to say he had helped ban assault weapons previously, referring to the 1994 ban he helped usher in while serving in the U.S. Senate.
"I did it once before," he said. "I'll do it again."
Biden Calls for Funding, Accountability for Police
While speaking to a crowd at Wilkes University, President Joe Biden made it clear that he supports law enforcement and dismissed calls to defund the police.
Biden said his Safer America Plan is based on the "simple notion" of funding law enforcement.
"When it comes to public safety in this nation, the answer is not defund the police, it's fund the police," he said.
He said we as a nation expect police officers to "do everything" but do not give them enough support.
"I'm tired of not giving them the help they need," he said.
His said his plan promises to give local and state law enforcement additional resources to "get the job done."
Biden also said there are plenty of "bad cops" out there, in the same way there are "lousy" doctors, Senators and Presidents.
"I don't know a police officer who feels good fact that may be lousy cop" on the street, he said.
His Safer American Plan also includes knew protocols for training and reforms.
Biden said there communities need to hire more officers and officer more training and accountability to restore public trust.
Without public trust, Biden said law enforcement "cannot do their jobs."
Biden to Call MAGA Agenda 'Threat'
President Joe Biden is expected to criticize the Make America Great Again (MAGA) agenda encouraged by former President Donald Trump during his speech in Wilkes-Barre on Tuesday afternoon.
A White House official with information about Biden's upcoming speech told MSNBC's Jesse Rodriguez that the president will identify the pursuit of the "extreme" MAGA agenda by Republican members of Congress as threatening to the country's rule of law, Rodriguez reported.
The official also reportedly said that Biden will juxtapose being in favor of supporting law enforcement with support for people who participated in the riot at the U.S. Capitol on January 6, 2021.
The White House said Biden's speech overall will explore how his Safer America Plan can "further reduce gun crime and save lives." Biden first introduced his plan last month "to build on the progress he has made to reduce gun violence," according to a White House fact sheet.
PA Leaders Boast Biden's Gun Control Plan
Several Pennsylvania leaders took the stage at Wilkes University ahead of President Joe Biden's remarks to discuss his Safer America Plan.
Pennsylvania Governor Tom Wolf, Attorney General Josh Shapiro, Democratic Senator Bob Casey and Democratic Representative Matt Cartwright all spoke about the details of the Biden administration's plan to support law enforcement and reduce gun violence.
Both Shapiro and Cartwright are facing tough midterm races in the fall. Shapiro is the Democratic candidate in the governor race and will face Trump-backed Republican candidate Doug Mastriano.
After highlighting the actions he has take towards gun control, Wolf said the Safer America Plan is the "next step." He said he hopes the plan will show that the country is "moving in the right direction" to "make sure gun violence is less of a problem."
Senator Casey also celebrated the passage of the Bipartisan Safer Communities Act as "the most significant legislation to tackle gun violence in nearly three decades."
"This law expands background checks, closes loopholes, cracks down on gun traffickers and invests in community violence programs to address the epidemic of gun violence plaguing communities across the Commonwealth," he said in a tweet.
Watch Biden's Remarks on Gun Crime
President Joe Biden will be addressing gun crime in the U.S. during public remarks delivered Tuesday afternoon in Wilkes-Barre, Pennsylvania.
Biden is scheduled to begin speaking at 3:15 p.m. ET. He will be delivering remarks on his Safer America Plan at the Marts Center at Wilkes University.
Biden first introduced his Safer America Plan in July. The White House released a fact sheet earlier this month that explained some of the details included in the plan, which the White House said aims to "further reduce gun crime and save lives."
The president's speech can be streamed live on the White House's website or below:
Biden Arrives in Pennsylvania Ahead of Speech
President Joe Biden has arrived in Pennsylvania to deliver a speech on his Safer America Plan and his administration's efforts to curb crime and gun violence.
Biden stepped off Air Force One at Wilkes-Barre Scranton International Airport in Avoca, PA moments ago.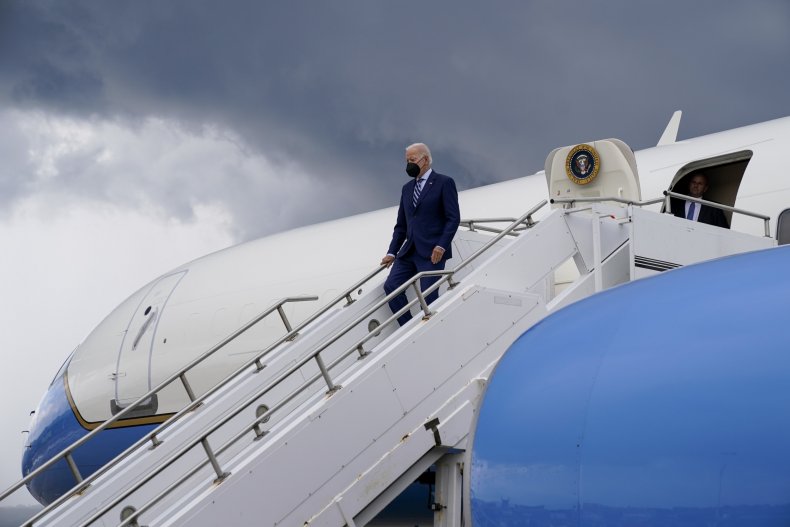 The president was greeted at the airport by Pennsylvania Governor Tom Wolf and Democratic Senator Bob Casey of Pennsylvania.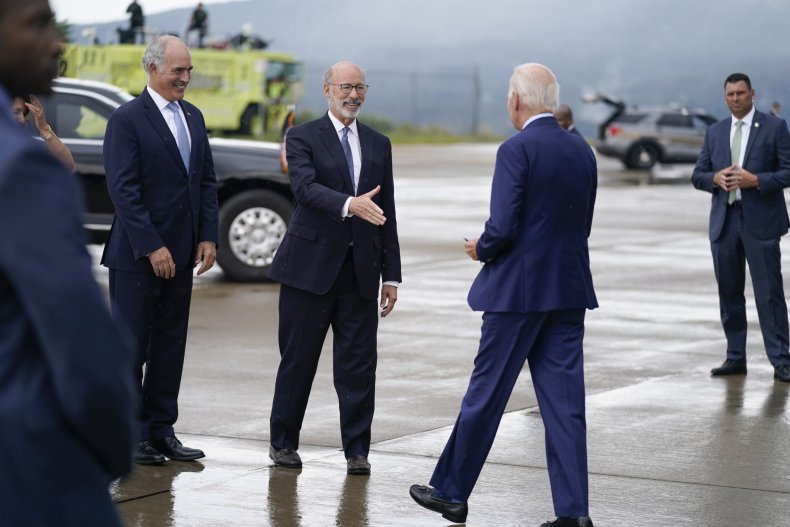 He is now on his way to Wilkes-Barre. This trip was originally scheduled for July 21, but was canceled when Biden contracted COVID-19.
Biden to Speak on Safer America Plan
President Joe Biden is about to arrive in Pennsylvania shortly to speak on his plans to curb crime and gun violence.
During his remarks in Wilkes-Barre, PA, Biden is expected to speak about his Safer America Plan that supports police and enforces stricter gun control measures.
Under the plan, the Biden administration will provide funding for hiring and training police officers, invest in crime prevention and ensuring fairness in the justice system and takes "commonsense" gun control measures to keeps guns out of communities and out of the hands of violent criminals, like background checks and bans on assault weapons.
To support police officers, the plan will:
Put 100,000 additional police officers on the street
Encourage local police departments to undertake reforms, such as banning chokeholds
Provide task forces to reduce homicide and gun violence
Clear court backlogs and modernize data systems to make the justice system more efficient
Impose tough penalties for fentanyl-related crimes
Crack down on organized retail theft
To prevent crime and ensure a more fair justice system, the plan will:
Fund mental health, substance abuse and homelessness services to prevent crime and ease the burden on police officers
Repeal mandatory minimums for non-violent crimes and change other laws that contribute to increased incarceration rates without making our communities safer
Provide $5 billion over 10 years to expand community violence intervention
Crack down on racial disparities in sentencing of drug-related crimes
Help formerly incarcerated individuals successfully reenter society
Promote reforms for state justice systems
To take steps toward commonsense gun control laws, the plan will:
Ensure $1.7 billion in discretionary funding to the Bureau of Alcohol, Tobacco, Firearms and Explosives (ATF) to enforce commonsense gun laws
"Keep guns out of dangerous hands" by strengthening the background check system by requiring background checks for all gun sales, with limited exception. This will keep felons and domestic abusers from purchasing firearms
Close the terrorist, dating violence restraining order, stalking, and Charleston loopholes in our existing gun background check system that make it easier for violent criminals to purchase guns
Establish a national extreme risk protection order program and require safe storage of firearms
Ban assault weapons and high-capacity magazines
Ban the manufacture, sale, or possession of unserialized firearms, often referred to as "ghost guns"
Small Group of Protestors Gather Downtown
A small group of protestors gathered in downtown Wilkes-Barre, Pennsylvania ahead of President Joe Biden's arrival Monday afternoon.
Two women were seen holding banners for former President Donald Trump, reading "Women for Trump" and "Trump 2024, Save America Again!" A group of men were also seen holding signs reading "Let's Go Brandon."
Several roads are also closed for Biden's visit, including some exits off of Interstate 81, according to WBRE-TV.