Joe Biden's Rallying Approval Rating Has Been Underwater for Entire Year
President Joe Biden's approval rating continues to rise, as Tuesday marks a year since the U.S. completed its withdrawal of armed forces from Afghanistan, when the president's popularity started going underwater.
When he took office in January 2021, Biden had an approval rating of 53 percent, according to the political polling website FiveThirtyEight. But after August 13 that year, as America was withdrawing its final troops from Afghanistan, the president's approval rating decreased to under 50 percent, and it has not reached that figure since, according to the website's data.
But the president's approval has been starting to bounce back after a series of wins. On Tuesday, his approval rating stood at 42.4 percent, and it has been climbing since early August. It is the highest Biden's approval rating has been in three months.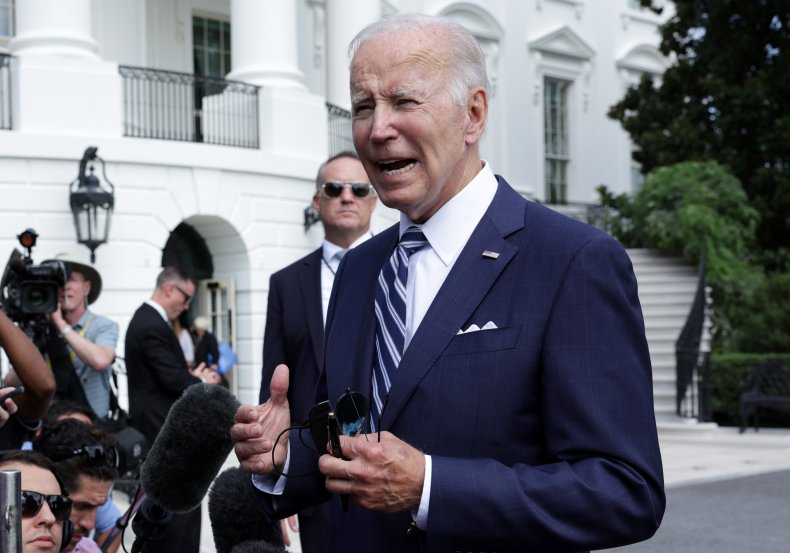 There are several factors that may be contributing to this bounce in approval rating. Thomas Gift, the founding director of University College London's Center on US Politics recently told Newsweek that it might be due to "political wins" such as the signing of the Inflation Reduction Act, falling gas prices in the U.S., as well as the killing of the al-Qaeda leader Ayman al-Zawahiri.
Biden may have also seen his popularity rise after pledging to forgive up to $10,000 in federal student loan debt for those earning less than $125,000 per year ($250,000 for married couples) and up to $20,000 for Pell Grant recipients.
"Biden's rising approval rating comes after a string of summer legislative victories, most notably the passage of the Inflation Reduction Act, focused largely on climate and health care, as well as popular bipartisan bills addressing gun safety, veteran care, and innovation," Dr. Julie Norman, associate professor in politics and international relations at University College London, told Newsweek.
"Perhaps more importantly, those wins aligned with a dip in gas prices and slow-down of inflation (which had peaked in July). To be sure, it's likely that Biden's approval rating moving towards November will continue to hinge on the state of the economy," Norman said, adding that the White House will welcome the uptick in popularity.
As of Tuesday, Biden has been in office 587 days and his approval rating of 42.4 percent is higher than Donald Trump's was at the same stage of his term. At that time, Trump had an approval rating of 41.5 percent, and his approval rating remained under the 50 percent threshold until he left office. ­
Democrats will be looking to increase popularity ahead of the midterms in November, seen by many as a referendum on Biden's administration. The party is expected to lose a large number of Congressional seats to Republicans in the midterms, as historically, the party in power tends to lose seats in midterm elections.
While Democrats are concerned that they may not hold onto their majorities in the House and the Senate, the mood in the party has recently become more upbeat.
Biden is headed to some of the key midterm battlegrounds for Labor Day on September 5, including Milwaukee and Pittsburgh, to celebrate "the dignity of American workers", the White House announced on Monday.