Democrat Moods Shifting Ahead of Midterms as GOP Faces Challenges
Democrats' mood has shifted ahead of the November midterms, with more reportedly confident that they could salvage their majority in the House.
Meanwhile, some Republicans fear that a recently predicted red wave propelling them to regain control of Congress isn't coming.
A new poll released on Sunday indicated that Democratic prospects may not be as bleak as once feared.
The CBS News Battleground Tracker still estimates that Republicans will win back a majority in the House, but their predicted share is now 226 seats—down from the 230 seats predicted in July. They need to win 218 seats to gain control.
The nonpartisan Cook Political Report had projected that Republicans could gain as many as 35 House seats. But, that was revised to 10 to 20 seats last week, with analyst Dave Wasserman noting that Democrats maintaining control is "not out of the question."
"That momentum is real," Jaime Harrison, the chair of the Democratic National Committee, said on CBS' Face the Nation on Sunday.
"And I've been predicting since I became chairman that Democrats are going to keep their majorities in the House, that they're going to grow the majorities in the United States Senate, and we're going to pick up some governor's mansions along the way."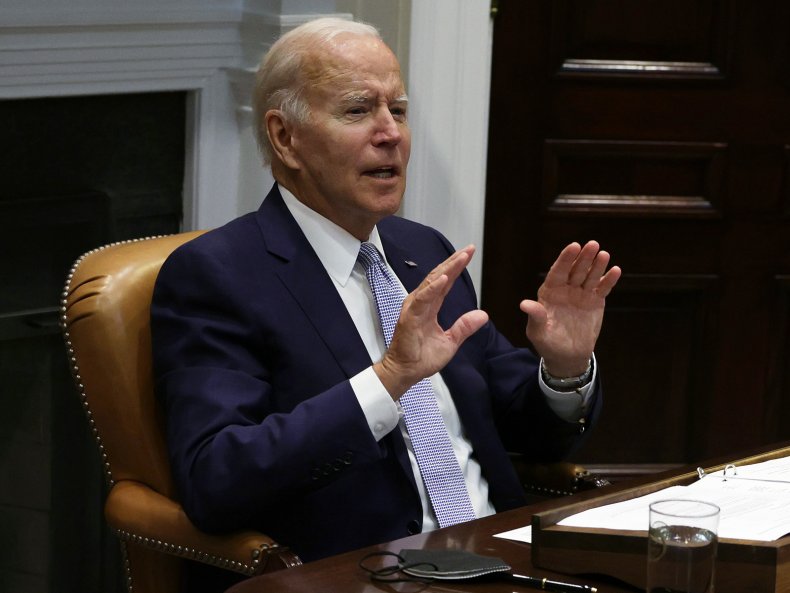 Harrison said there's "some presidents who've served for eight years can't add up to what Joe Biden has been able to do" in two years, citing the Inflation Reduction Act, the American Rescue Plan, the CHIPS, and Science Act among his accomplishments.
"What we're seeing is that the American people are waking up to how Democrats under Joe Biden have been delivering for the American people, while the Republicans definitely don't have a plan," Harrison said.
The Washington Post reported that the Democratic Party has become more optimistic about retaining the House and is shifting to a more offensive strategy ahead of Election Day.
"Six months ago I think people were putting safe bets on a real blowout," Rep. Elissa Slotkin, of Michigan, told the paper. "And I don't see that happening."
Democrats are seeking to make contests a referendum on abortion rights, which party strategists told the Post is a major factor in the party's improved outlook.
Democrats outperformed Biden's margins from 2020 in four special elections for House seats since the U.S. Supreme Court struck down Roe v. Wade, including in New York's 19th district where winner Pat Ryan campaigned on the issue in a hotly contested race.
Ryan this week said he was able to capitalize on the "catalyzing, energy driving" calls for abortion rights to remain untouched and felt the "ground shifting" away from the GOP in the campaign's final few weeks.
Biden also said abortion rights would galvanize voters, telling officials during a meeting on reproductive rights on Friday: "You're going to hear women roar on this issue, and it's going to be consequential. So, I'm optimistic that we'll get to a place where we're already making your voices heard."
Some Republicans have voiced concerns that the GOP will gain only a slim majority in the midterms.
"I expect a narrow majority for the GOP that may not be all that much greater than what (Nancy) Pelosi has today," congressman Fred Upton, a moderate Michigan Republican, who isn't running for reelection, told CNN. "Will be very hard to have any sense of a governing majority."
Others have grown nervous about the shifting landscape and are calling for a strategic response, particularly about their message on abortion rights.
"We are losing ground because of it," a GOP lawmaker told CNN. "Roe caught Republicans off guard and we haven't used it to paint the left as extreme nor shown any sort of compassion on the issue."
Some Republicans also signaled that former president Donald Trump's legal woes could hurt the party's chances in the midterms.
Most Republicans had rallied around Trump when news broke about the FBI's August 8 raid on his Florida estate earlier this month, but some voices have quietened as more details have emerged about Trump's handling of classified documents.
"When you look at some of the president's biggest kind of cheerleaders—Marjorie Taylor Greene, Jim Jordan—have gone kind of silent," Rep. Adam Kinzinger, a Trump critic, noted on NBC's Meet the Press on Sunday. "That tells you all you need to know."
Correction 08/29/22, 12.08 p.m. ET: Corrects to Republicans' predicted share of seats rather than predicted lead.