Rep. Fred Upton, Who Voted to Impeach Trump, to Retire From Office
Representative Fred Upton, a moderate Michigan Republican who was one of the few GOP members to vote to impeach former President Donald Trump following the January 6 Capitol riot, will not seek re-election and will retire after his current term expires.
Upton, 68, announced his decision on the House floor Tuesday morning. He sent an email to supporters that cited positive poll numbers for his upcoming Republican primary but said he believes it's "time to pass the torch," according to The Detroit News.
Three of the other 10 House Republicans who voted to impeach Trump have already announced that they will not seek re-election this year.
"Someone asked my wife, Amey: 'What would be the next chapter?'" Upton said, holding back tears. "She said, 'And they lived happily ever after.' Indeed we will. I thank Amey, our two kids, three grandkids, for giving me so much to look forward to. Thanks again to the people of my district, who placed their faith and confidence in me all these great years."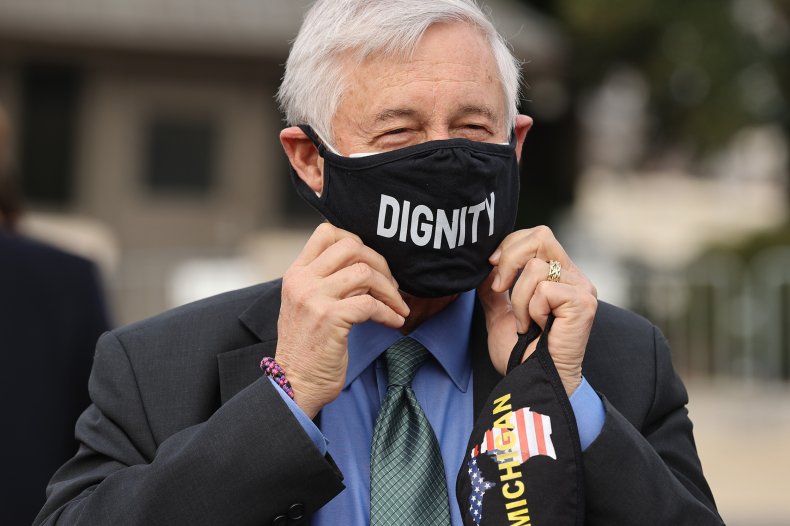 Upton reflected in his speech on his decades in the chamber since he was first elected to the House in 1986, and his stated commitment to working across the aisle to pass bipartisan legislation for the economy and health care.
"I've worked with seven administrations, seven House speakers," Upton said. "None of them would call me a rubber stamp. If it's good enough for Michigan, it's good enough for all of us."
His speech was followed by comments from other lawmakers about his career, including Ben Cline and Doug LaMalfa, Republicans from Virginia and California, respectively, along with Debbie Dingell, a Democrat from Michigan.
"It is his civility that I and Congress will miss the most," Dingell said. "Fred really believed that he was an American first, that reaching across the aisle was important, that working together is how we get things done for the American people. His retiring is a loss for this country, and especially the people of Michigan."
Upton became a target of Trump after voting to impeach him following the January 6 riot, and has said that his family has received death threats from Trump supporters, The Detroit News reported.
Following the 2020 Census, a Michigan commission was tasked with redrawing the state's district maps. Upton's western Michigan district was included with portions of another to create a new 4th District, in which Upton was set to face Representative Bill Huizenga, another Republican, in a primary before the November midterms, The Detroit News reported.
Political analysts in the state said that Upton would likely have a fundraising advantage and a geographic advantage as the new district covers more of his old district, The Detroit News reported.
However, Huizenga's endorsement from Trump and counties included in the district that protested Upton's vote for impeachment could have made the race closer, and until Tuesday, Upton was said to be weighing the "tough" decision.
Upton did not endorse Huizenga in his House floor speech, and has not publicly commented on what the district's race will look like after he leaves.
Fifty-three members of Congress have announced that they will not run for re-election in 2022, with six Senators—one Democrat and five Republicans—announcing their retirement, and 47 representatives announcing retirement or plans to run for other offices. Of 31 retiring representatives, 22 are Democrats and nine are Republicans.
Update 4/5/22, 1:01 p.m. ET: This story has been updated with additional information.