A self-effacing former mortgage broker, Mike Detmer has never thought of himself as a particularly polarizing figure. But that changed the moment Donald Trump endorsed him for the Michigan state senate in a race few outside of the district were paying attention to until the former president weighed in.
Detmer, who previously mounted an unsuccessful run in the 2020 Republican primary for the U.S. congressional seat representing southern Michigan's 8th District, is now challenging Lana Theis, an incumbent Republican state senator representing District 22 in the Detroit exurbs. Theis easily won her race in 2018 and had been considered a relatively safe bet for reelection in the solidly red district until Trump's backing of her competitor provided a jolt of fundraising to his campaign. Now, some state GOP officials worry, Trump's intervention in the race will force Theis to spend more resources to fend off the primary challenge and put a relatively safe seat in jeopardy. State Democrats are suddenly energized, believing that an ugly primary fight on the Republican side could open the door for an upset in November.
"Donald Trump may help our dreams come true in Michigan 22," says Abby Rubley, communications director for the Michigan Democratic Party.
Therein lies the challenge for the GOP in 2022—and beyond. As the former and possibly future president of the country, Trump holds more power and sway than anyone else in the party; who he backs in state races makes a big difference in fundraising and, ultimately, votes. Increasingly, though, Trump seems to be choosing candidates based on whether they support his claims, despite all evidence to the contrary, that the 2020 presidential election was stolen from him—even if they're not the Republicans with the strongest chance of winning.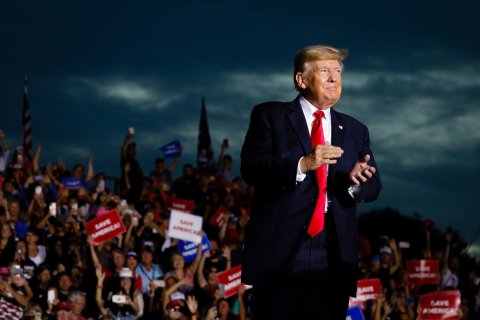 Interviews with GOP politicians, staffers, consultants and operatives indicate many are worried that this obsession with the 2020 results, combined with Trump's brash style and desire to seek political vengeance against those whom he believes wronged him, could upset what polling otherwise indicates should be a historic victory for the GOP in the midterms and a good shot at retaking the White House two years later.
"We've got everything going for us, in 2022 and 2024," one GOP senator who is friendly with Trump tells Newsweek. "[But] not many voters are interested in relitigating the 2020 election. I've told the president this, I know others have told him, and it doesn't seem to have any effect. It's frustrating, for sure."
Looking Back, Not Ahead
The endorsement of a candidate in a relatively obscure race for a state senate seat in Michigan is just one example of Trump getting involved in a 2022 race because he wants to relitigate the 2020 presidential election. And there's little question in anyone's mind that that is the reason the former president got involved in the District 22 race: Theis, Detmer's opponent, served on a committee that looked into, and ultimately dismissed, allegations of voter fraud in Michigan's presidential election last year.
As the GOP's dominant figure with a rock-solid base of support, party insiders, though, are looking to Trump to help Republicans secure the future, not rewrite the past. Most Republicans believe their party's presidential nomination in 2024 is Trump's should he want it, and polls indicate that the majority of GOP voters want him to run again. Late this past summer, Trump's political action committee began hiring staff in Iowa—significant, of course, because it's where the first presidential nominating contest is held every four years—and the former president has strongly hinted that he'll run again.
Trump's message, and the party's, should be a simple and straightforward "help is on the way," says Iowa GOP strategist Terry Nelson. Many Republicans believe Trump could successfully contrast his presidency with Biden's first year and ask, simply, "Miss me yet?"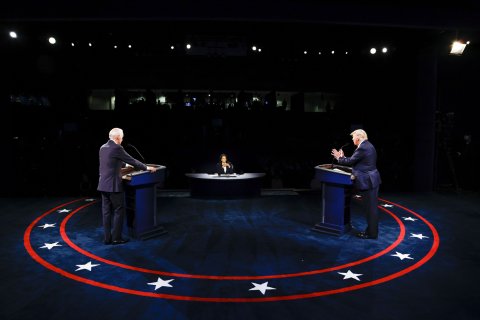 Instead, Trump seems hyper-focused on replaying his claims of election fraud on whatever public stage he can find—including those meant to promote his party's 2022 candidates. And though it's true that polls indicate a majority of GOP voters share Trump's view that the election was stolen, it's not an issue many believe will motivate voters next year, or in 2024.
Many Democrats, on the other hand, view Trump's eye on the rearview mirror as the gift that keeps on giving. If he wants to keep the focus on 2020, they are more than happy to oblige. Congressional Democrats are leading the hearings into the Capitol riot on January 6, 2021, and hope to demonstrate that Trump's post-election rhetoric helped spur the so-called "insurrection." They also love the fact that he is stirring up trouble for many establishment Republican candidates, by endorsing rivals who are more "MAGA-friendly."
In Arizona, for example, Trump has endorsed political neophyte Kari Lake—a former local news anchorwoman—in her bid to succeed incumbent Governor Doug Ducey, who Trump refers to as a "RINO" (Republican in name only). Lake is the only candidate seeking the office who has said flatly that she thinks Trump won the state of Arizona in the 2020 election, echoing Trump's own claim, and is thus another example of an endorsement rooted in perpetuating the stolen election fallacy.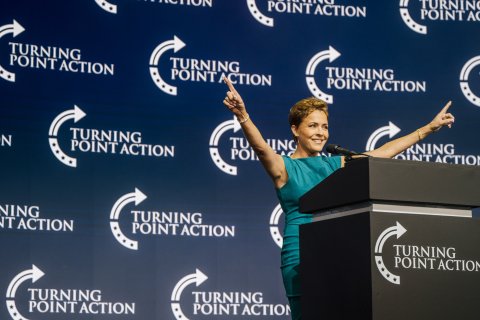 Arizona is a hotly competitive purple state. Both of its U.S. Senate seats flipped blue in recent years, and Biden won a narrow victory there, a first for a Democratic presidential candidate in this century. Now Trump's intervention in Arizona is giving Republican establishment operatives heartburn. Many of them are backing former Representative Matt Salmon in the crowded primary, a former congressman who narrowly lost the Arizona governor's race to Democrat Janet Napolitano in 2002.
Salmon has name recognition and the ability to raise large sums of money for what will likely be a very competitive general election next fall. Lake is a political unknown who is basing her candidacy mainly on the issue of election integrity, when polls show that other issues, such as inflation and border security, are more important to Arizona voters.
Lake has called Trump's endorsement "one of the greatest honors of my lifetime," and nearly all of the candidates Trump has endorsed across the country so far have welcomed the former president's support. That's not surprising. A Newsweek analysis of public campaign fundraising data for the first 40 candidates endorsed by Trump in 2021 shows the former president's lucrative effect: The Trump-backed candidates raised, on average, 50 percent more money in the month after receiving his support than they did in the month before the endorsement. In Detmer's case, the impact was even greater: In the three weeks after Trump backed him, his campaign raised $25,000, compared to $10,000 in the previous three weeks.
Election fraud isn't the only issue fueling Trump's anger—and his endorsements. For Congress from Michigan, Trump is also backing Steve Carra, a state representative who is running a GOP primary race against Fred Upton, a longtime incumbent who infuriated Trump by voting for his impeachment after the January 6 Capitol riot. Carra says he not only got an infusion of much-needed campaign funds after Trump's endorsement, but also got an infusion of energy.
"We had a bunch of people come out of the woodwork to volunteer once the president gave us his endorsement. I'm so thankful to him," Carra says.
A Double-Edged Sword
Not all the candidates Trump has backed need or needed his support, and a few have had mixed feelings about it. Former private equity executive Glenn Youngkin raised a record $68 million—the most ever for a GOP gubernatorial candidate in Virginia—for his successful race against former Governor Terry McAuliffe for the statehouse in Richmond. While he publicly welcomed Trump's May 11 endorsement, aides to Youngkin made it clear they did not want their candidate to campaign with Trump.
The reason was obvious: His opponent, McAuliffe, and all the surrogates he brought in to campaign for him, including President Joe Biden and Vice President Kamala Harris, desperately tried to make the race all about Trump. And it's no wonder—Virginia had become an increasingly blue state, voting for former President Barack Obama in 2008 and 2012, and Hillary Clinton in 2016. Biden, who won Virginia by 10 points in 2020, mentioned Trump repeatedly in his October 26 appearance with McAuliffe in Arlington, Virginia.
But the only things the affable Youngkin has in common with Trump are that he's a former businessman and a Republican. To deflect the Youngkin-equals-Trump attacks, "all he had to do was be himself," Jeff Roe, the campaign's chief strategist, says. As a result, Youngkin performed well among suburban voters—both men and women—who Trump had turned off.
While the former president's most loyal supporters love his brusque combativeness, and GOP operatives and elected officials understand that it is an essential part of his political brand, it's not for everyone, and in 2020 it motivated many voters to cast ballots for his opponent. Now, over a year after voters handed him a pink slip, the former president's obsession with alleged voter fraud drives many in the GOP to distraction.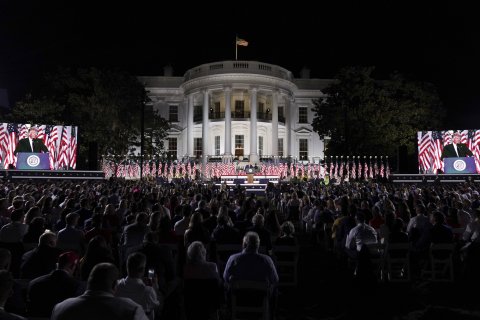 With Biden's popularity declining, the overwhelming majority of the GOP wish Trump would focus on issues that matter to most voters: surging inflation and crime rates, an uncontained virus and the southern border. They believe doing so would make victory in the midterms a slam dunk—and set up Trump well for 2024. Conversely, they believe if Trump continues to obsess over the 2020 election, his intervention in races across the country could ultimately hurt the party.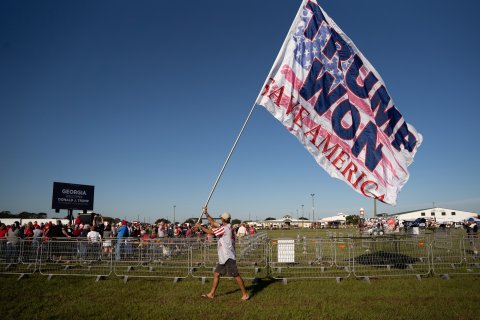 Consider Georgia, for instance, where Trump was quick to endorse former Senator David Perdue when he entered the gubernatorial race, fresh off his own narrow defeat in January 2021. Trump loathes the incumbent Republican governor in Georgia, Brian Kemp, because in Trump's view he wouldn't aggressively pursue alleged irregularities in the presidential vote. Kemp's supporters note that he backed a recount, and pressed his secretary of state, Brad Raffensperger, to conduct an audit of ballot signatures on votes cast in the state. They also note that the state economy is booming. But for Trump, his narrow defeat in a state that had voted for the Republican candidate in each of the six previous presidential elections is a particular sore point, and Kemp an obvious target for his ire.
If Kemp staves off his primary challenge, he will go up against Stacey Abrams, one of the Democratic Party's biggest rising stars in recent years, for the second time. Abrams lost by less than two percentage points when she ran against Kemp in 2018. Incidentally, she challenged the validity of the 2018 vote, alleging voter suppression and—like Trump in 2020—initially refused to accept the results. Kemp could use that issue against Abrams in the campaign, but first has to fend off Perdue's claims that he didn't do enough to investigate alleged fraud last year.
"It's just a shame we have two good Republicans going up against each other needlessly when we'll need to be unified next fall," says Georgia GOP strategist Eric Tanenblatt.
Trump's endorsement has already caused some awkward moments in that race. Perdue, in an interview with Fox News' Sean Hannity where he was questioned about the "integrity" of the voting system in Georgia, said he wanted to run a race "looking forward, not backward." But three days later, Perdue told Axios that if he had been governor at the time of the 2020 election, he would not have certified the vote, as Kemp did—a claim that virtually guarantees his race against Kemp will be dominated by that issue. Perdue has also signed on to a lawsuit claiming that fraudulent ballots were counted in Georgia's Fulton County.
If Not Trump, Then Who?
Sources close to Trump say the results of the midterm elections will factor into his decision on whether to run again in 2024. "If we win back the House and Senate, he's in," a source familiar with the former president's thinking tells Newsweek.
What the GOP is trying to figure out is whether that's a good thing. Most current polling now shows Trump edging Biden in a hypothetical rematch in 2024—a reflection of the abysmal year the president has had in 2021. But much can change in three years. Will COVID-19 still be rampant in 2024? Will the economy be better, or worse? Will a foreign policy crisis emerge? Will Biden appear healthy enough to withstand a campaign in which he'd have to be far more active than in 2020, when the pandemic severely restricted the usual activities of campaigning?
As it stands now, Republicans believe that Trump—if he can run a campaign not fixated on unproven allegations of voter fraud, but rather based on his record while in office and his plans for a second term—would be able to beat Biden or whomever the Democrats may nominate in 2024.
Even Trump's friends and political allies acknowledge that is a big "if." They worry that Trump's rambling, off-the-cuff style at campaign rallies or in interviews will inevitably lead him "down the rabbit hole of 2020," says a senior official at the Republican National Committee who didn't want to be quoted publicly.
"He just can't seem to comprehend that three years from now no one's going to want to hear it," a Republican senator who speaks frequently with Trump tells Newsweek. "He has such contempt for Biden that it doesn't seem possible to him that he actually lost to the guy. That thought drives him to distraction."
Some GOP officials also worry that Trump's polarizing style will drive away the same voters it did in 2020: moderate Republicans, particularly women, and a significant number of independents. They point to Youngkin's recent victory in Virginia, and note that he brought back many of the moderate, suburban Republicans who had deserted Trump. Wouldn't Trump at the top of the ticket drive them away again?
Veteran political analyst Larry Sabato of the University of Virginia believes he would, in Virginia and across the country. "This is why so many Democrats are hoping he's the nominee again," Sabato says.
But Trump's looming presence, and the possibility he may run again, is enough to freeze the field of potential GOP presidential aspirants. Only former New Jersey Governor Chris Christie seems likely to seek the nomination regardless of whether Trump runs. The other prominent candidates from last time, including Senators Marco Rubio and Ted Cruz, won't challenge Trump if he declares. Some have speculated that Florida Governor Ron DeSantis, who many GOP operatives believe would be the front-runner for 2024 absent Trump, might mount a challenge, but no one around Trump world in Mar-A-Lago believes that, and DeSantis deflects any questions about a possible presidential run. Moderate Maryland Governor Larry Hogan, who says he doesn't believe Trump will or should run, has flirted with the idea. On December 19 he told Fox News he would decide in 2023, after his second term as governor ends.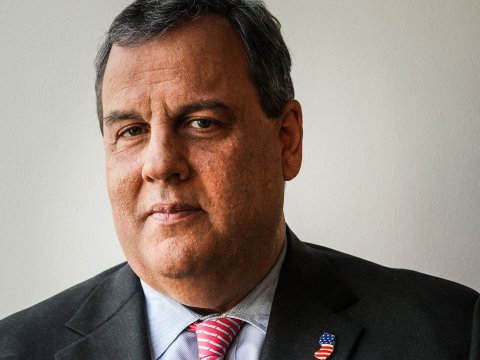 That leaves former Vice President Mike Pence, with whom Trump clashed over his role in certifying the Electoral College results in 2020—as was Pence's duty as president of the Senate. Assuming Trump emerges relatively unscathed from the House's January 6 investigation, no GOP official or operative interviewed for this article believes Pence would stand a chance against Trump. "[Trump's] base is too big and too loyal, and doesn't much like Pence," Atlanta-based pollster Robert Cahaly of the Trafalgar Group tells Newsweek.
Democrats, for their part, are hoping and praying for a Trump run that clears the GOP field and leaves him the nominee again. No one revs up the Democratic base, and drives away independents or moderate Republicans, quite like Trump. "I get down on my knees every night praying for [another Trump run]," says David de la Fuente, a senior political analyst at Third Way, a Washington-based Democratic consulting firm.
But recent polling has been poking holes in the theory that a rematch in 2024 would go the same way as did 2020. An Emerson College poll released in November had Trump beating Biden, and a subsequent Wall Street Journal poll had Biden up just one point. In the near term, a CNBC poll released December 10 showed the GOP 10 points ahead of Democrats in a generic midterm ballot, the largest GOP lead in the 20-year history of that poll. If Republicans gain control of either the House or Senate in the midterms, it would bring Biden's agenda to a halt, which could make it harder for him to make his case to voters for a second term.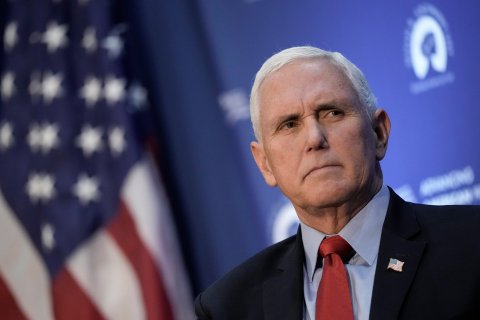 Still, even among Democrats despondent about the party's current standing, the prospect of Trump 2.0 puts a spring in their step. As Jake Rubenstein, a former adviser to the McAuliffe for Governor campaign puts it, "we'd win every state we won in 2020. Yes he [Biden] will be older then, but he still won't be Donald Trump, and that's what matters."
Precisely that issue nags at a lot of Republicans. For now, the political winds are at their backs, and they are at gale force. Republicans believe the midterms next year will be a blowout in their favor, with the White House sitting there for the taking just two years later. Are they really going to nominate the one man many fear could lose in 2024 because he can't stop obsessing about losing in 2020? Then again, can they afford not to?