States With GOP Governors That Democrats Are Most Likely to Flip in Midterm
Democrats appear poised to flip several governorships during the midterm with less than three months ahead of the November 8 elections.
Currently, Democrats hold governorships in 22 states, while Republican governors lead 28 states. Open races in states easily won by President Joe Biden in 2020—and abortion emerging as a key issue after the Supreme Court overturned Roe v. Wade, the case that guaranteed abortion-rights to women across the country—raises Democratic hopes of flipping the top office in several states despite a national environment favoring Republicans.
Recent polling shows Democrats are strongly favored to win the gubernatorial races in Massachusetts and Maryland, two of the most Democratic states in the country that are currently led by moderate Republican governors who have spoken out against former President Donald Trump. Democrats also lead polls in Arizona, one of the most evenly divided states in the United States. In Georgia, Democrats hope Stacey Abrams will pull off a win against incumbent GOP Governor Brian Kemp despite a polling deficit.
Massachusetts
Attorney General Maura Healey appears well-positioned to flip the governorship in the Bay State, as GOP Governor Charlie Baker declined to run for reelection despite racking up comfortable margins in past races.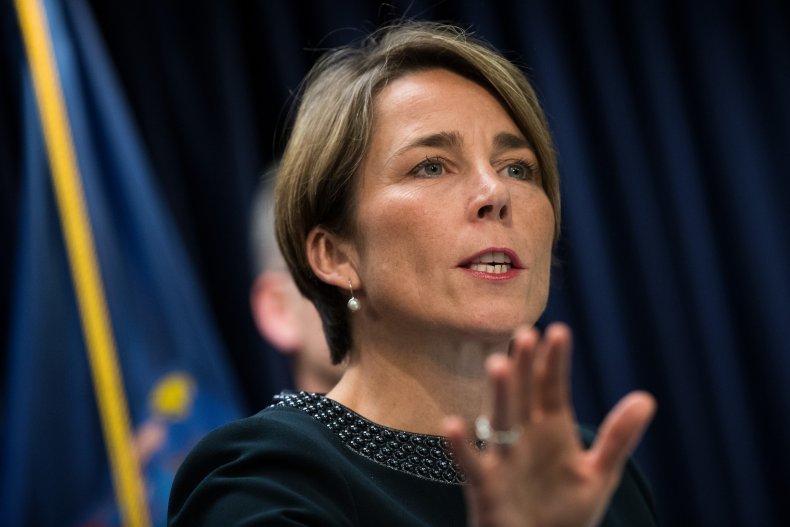 The state's primaries are set to be held Tuesday, September 6, but all of Healey's opponents have dropped out of the race. On the Republican side, attorney Geoff Diehl, who challenged Senator Elizabeth Warren in 2018, leads GOP primary polls, making him the most likely candidate who will face off against Healey in November. Diehl has received the endorsement of Trump, but that may be a liability in a general election in the state where Biden won by more than 33 points.
Healey holds a massive lead against Diehl in recent polls. A survey conducted by Suffolk University and The Boston Globe from July 20 to 23 found Healey winning 54 percent of the vote, compared to Diehl's 23 percent, giving her a lead of 31 percentage points. An Emerson College poll conducted from May 2 to 4, meanwhile, found Healey with a similar 28-point lead.
Maryland
Democrat Wes Moore is generally considered to be favored to win Maryland's governor race against Trump-backed Republican Dan Cox. Like Massachusetts, Maryland is a solidly blue state that previously elected moderate GOP Governor Larry Hogan. However, Cox, who beat out the Hogan-backed Kelly Schultz in the primary, has embraced Trump and right-wing positions that may be difficult to sell to liberal Maryland voters.
No high-quality polling on the race has been conducted, but several indicators point to a likely victory for Moore. The Cook Political Report, an organization that tracks elections across the U.S., considers the race "Safe Democrat," meaning it is not competitive for Republicans.
Biden, meanwhile, carried the state by about 33 points, potentially making it difficult for a Trump-aligned candidate to succeed.
Arizona
In Arizona, Democratic Secretary of State Katie Hobbs currently holds a narrow lead against former TV news anchor Kari Lake, a Republican endorsed by Trump.
Arizona narrowly voted for Biden and is again expected to be home to some of the most competitive races across the country. Democrats hope Lake's positioning on issues such as the integrity of the 2020 presidential election and other controversial statements will steer moderate voters toward Hobbs in November, while Republicans are banking on Lake's ability to move their conservative base to turn out in November.
An aggregate of recent polls from FiveThirtyEight shows Hobbs with a 3.2 point lead against Lake. Meanwhile, a Fox News poll conducted from August 12 to 16 showed Hobbs winning 47 percent of the vote, compared to Lake's 44 percent—equating to a 3-point lead for Hobbs.
Georgia
Georgia, another state Biden narrowly won, appears to offer odds for Republicans as polls indicate Kemp is favored to win reelection. Kemp, once a Trump ally, refused to go along with the former president's claims that the election was stolen from him in Georgia. Trump endorsed his primary challenger David Perdue, who Kemp easily defeated in a rebuke against Trump.
He now faces Stacey Abrams, a rising star among Democrats, in a rematch of 2018. Abrams rose to prominence during that midterm after nearly winning the gubernatorial race, as Georgia was considered to be a Republican-leaning state beforehand. Her near-win proved Democrats can be competitive in Georgia, and many say her organizing was paramount to their party's success in the state in 2020.
However, polls show her floundering against Kemp in the hotly contested race. An aggregate of polls from FiveThirtyEight shows him with a 5.6 point lead, and a Fox News poll conducted July 22 to 26 showed Kemp with a 3-point lead against Abrams. The Cook Political Report considers the race as "Lean Republican," meaning it's competitive, but Kemp has an advantage.
Newsweek reached out to the Republican Governor's Association for comment.